Copycat Starbucks Egg White Wrap with Spinach and Feta – with Video!
Make a copycat Starbucks Egg White Wrap with Spinach and Feta. So easy and you can't beat the flavor! Filling and satisfying, it is the perfect breakfast.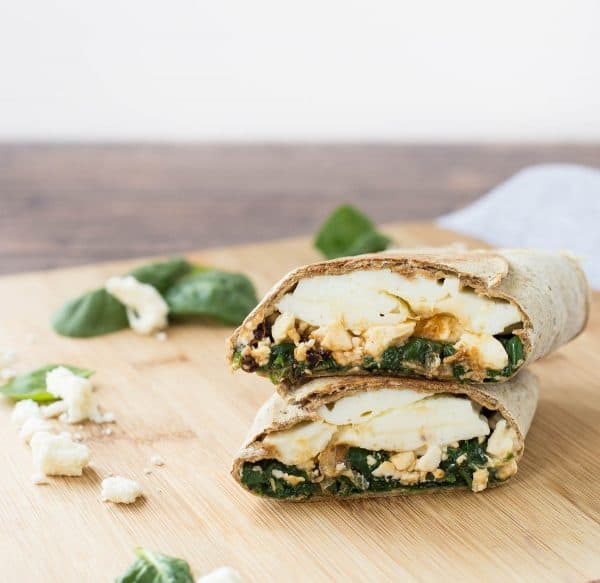 When I get the (very very very very) rare opportunity to work outside the house for a few hours to get writing and site administration type tasks checked off my to-do list, Starbucks is my number two choice of location.
Number 1 being the library because it's quieter and because I think Starbucks keeps their thermostat on 40 degrees Fahrenheit and I can only tolerate that for a little while before my teeth are chattering. (I'm actually in Starbucks writing this right now and I've been here less than two hours and I'm already turning into an ice cube.)
But Starbucks gets bumped right up to number one when:
a) I haven't had breakfast OR
b) I want to work before 9…dang library opens too late. <— That's what happened today.
So if I land in Starbucks wanting breakfast, I get the biggest blonde roast they can offer me (black) and a spinach feta wrap. I'd say it's due time I remake this sucker at home, right? Everyone is crazy (one way or another) over my copycat Panera macaroni and cheese or Panera's squash soup. Time for Starbucks to get a little love.
I teamed up with Flatout Flatbread again for this recipe and the wrap tastes identical. One of the great things about the Multi Grain wraps used in this recipe is that only have 100 calories but have 9 whopping grams of protein, just in the wrap itself even before you add the egg whites.
(Minor/major side note: Allergy alert! Starbucks' recipe contains sesame flour. Kinda weird, right? Flatout does not include sesame in their Multi Grain wraps, which is a huge bonus for my family.)
About this Copycat Starbucks Egg White Wrap
So I did a little stalking research on Starbuck's website and found that they use a cream cheese base on their wrap. I couldn't find an identical product for this copycat Starbucks egg white wrap so I substituted with garden vegetable cream cheese (the best cream cheese on a toasted everything bagel, as a side note). A quick sauté of some spinach and sun-dried tomatoes goes right on top of the cream cheese, topped by feta of course and egg whites. I used the same pan for the spinach, the egg whites, and then to crisp up the wrap once it was assembled.
This is going to come in handy when we move to our house in the middle of nowhere and have to drive 30 minutes to a Starbucks.
Do you guys have a favorite Starbucks item? I'd love to recreate it!
Watch this short video to see how to make this starbucks egg white wrap!
Copycat Starbucks Egg White Wrap with Spinach and Feta
Make a copycat Starbucks Egg White Wrap with Spinach and Feta. So easy and you can't beat the flavor! Filling and satisfying, it is the perfect breakfast.
Ingredients:
1 MultiGrain Flatout Flatbread
1/2 teaspoon olive oil
1 tablespoon finely diced sundried tomatoes
2 cups firmly packed fresh spinach
3 large egg whites
1 tablespoon garden vegetable spreadable cream cheese (I use reduced-fat)
2 tablespoons reduced-fat feta crumbles
Directions:
In a small frying pan, heat 1/2 teaspoon olive oil with sun-dried tomatoes over medium-low heat. (If you have tomatoes packed in olive oil, you can skip this step and omit the olive oil). Cook, stirring frequently, until tomatoes are softened (3-4 minutes) . Add spinach and cover for 2-3 minutes or until spinach is wilted, stirring once or twice as needed.
Remove from pan and set aside.
Carefully wipe out pan with paper towel (optional) and return to medium-low heat. Add egg whites, stir once and cover and cook for 4-5 minutes or until set.
While the egg is cooking, spread wrap with cream cheese. On top of cream cheese, layer on spinach and then feta. Once egg is cooked, place on top of feta cheese.
Wrap tightly into a roll.
If desired, return to dry pan (medium heat) to crisp outside of wrap. Start seam side down and flip after 2-3 minutes or until golden brown on each side. Cut in half and enjoy immediately.
Nutrition Information
Yield: 1 wrap, Serving Size: 1 wrap
Amount Per Serving:
Calories:

234 Calories

Total Fat:

12g

Saturated Fat:

5g

Cholesterol:

28mg

Carbohydrates:

21g

Fiber:

10g

Sugar:

3g

Protein:

18g
Actual nutrition may vary depending on how recipe is prepared.
All images and text ©
.
Verdict: Loved this copycat Starbucks egg white wrap – it's definitely a good substitute if you're looking to make a version of this healthy breakfast at home.
Husband's take: You guys must think I haven't been feeding Ben because all of my "husband's take" comments lately have been that he hasn't tried the recipe. He's been working at his new job for 8 weeks already so I had been flying solo temporarily.
Changes I would make: None!
Difficulty: Easy.
You can easily find Flatout Flatbread near you using FlatoutFinder.com. You can also follow along for recipe ideas on Facebook, Twitter, or their blog.
Disclosure: I'm excited to partner with Flatout Flatbread to bring you quick and delicious recipes. I have been compensated for my time but all opinions are always my own. Thank you for supporting Rachel Cooks by reading about brands we love and use in our own home.