Pumpkin Bran Muffins Recipe
Pumpkin Bran Muffins – all the flavors of fall and pumpkin spice, in a healthy muffin. Perfect for breakfast or snacking.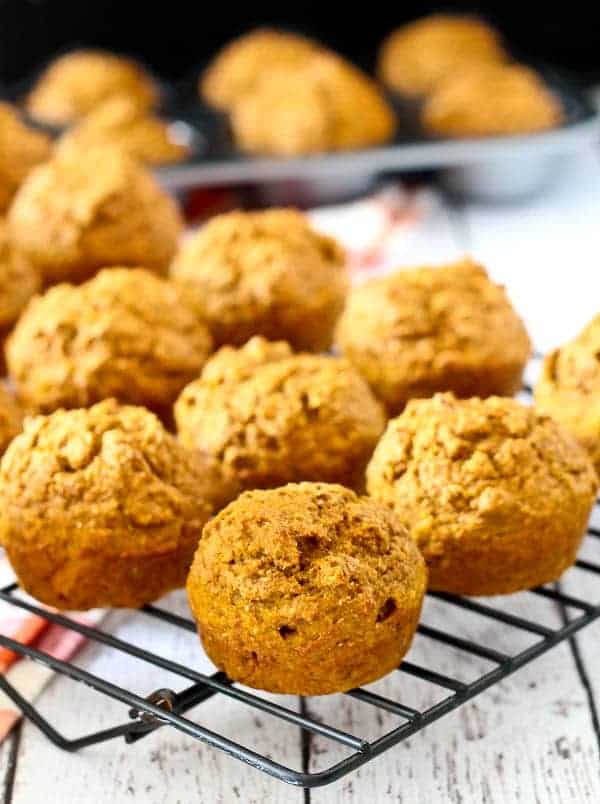 I'm writing this post after learning terrible news of a loss of a friend, Joan of the blog Chocolate, Chocolate and More. Joan and I were just talking on Facebook about how we were finally going to meet at a food blogging conference in a couple weeks. I know it seems weird to call someone a friend that you've never met, and truthfully, if I wasn't immersed in the blogging world, I probably wouldn't understand it myself. But Joan's heart shined through even across the internet. We chatted, we laughed, and we celebrated successes together. She will be so dearly missed.


"I'll be there."
Less than 24 hours later, she was suddenly and unexpectedly gone. She leaves behind three children who need endless prayers and support right now. Beyond praying, we can support her children by visiting Joan's blog frequently. The traffic will provide income which will help her children immensely.
Hug your loved ones tight. Forget about small worries and "problems." Life is so, so, so short and we never know when it may be taken away from us. Shortly after I got the news, I took a shower and heard this song come on Pandora.
"We're not promised tomorrow."
"I'll make the most of the minutes and love with no regrets."
"I won't take you for granted 'cause we'll never know when….When we'll run out of time."
You will be missed Joan. You'll forever be remembered by the food blogging community. And we'll do everything we possibly can to help take care of your kids.
It seems weird to talk about muffins now but I wanted to write about this so that you can head over to Joan's blog, browse her great recipes not only to remember her but also to keep her blog alive financially to help support her kids.
Not much left to say…the pumpkin bran muffins are good. They're pumpkin, they're good for you, and they are delicious. Get in the kitchen and bake with your family. Have fun, enjoy every. single. second. After the recipe, as always, I'll link to some pumpkin recipes. They're all Joan's. Please take time to visit them.
Pumpkin Bran Muffins
Pumpkin Bran Muffins – all the flavors of fall and pumpkin spice, in a healthy muffin. Perfect for breakfast or snacking.
Ingredients:
one 15 ounce can pumpkin puree (not pumpkin pie filling)
3 large eggs
1 cup sugar
3/4 cup plain Greek yogurt
3/4 cup water
2 teaspoons pure vanilla extract
2 cups whole wheat flour
1 and 1/2 cups all-purpose flour
1 cup wheat bran flakes
2 teaspoons pumpkin pie spice
2 teaspoons baking soda
1 teaspoon baking powder
1 teaspoon salt
Directions:
Preheat oven to 350 degrees Fahrenheit. Spray muffin tins with nonstick baking spray. In a large bowl, combine pumpkin, eggs, sugar, yogurt, water and vanilla. Whisk until combined.

In a medium bowl, combine remaining ingredients. Add these dry ingredients to the pumpkin mixture and stir until combined but do not over mix.

Divide into 24 muffin tins and place in preheated oven for 18-20 minutes or until golden brown and a toothpick inserted in the middle comes out clean.

Let cool 10-15 minutes in pans before removing to a wire rack to cool completely.
All images and text ©
.
More Pumpkin and Pumpkin Spice from Joan Hayes of Chocolate, Chocolate and More:

Pumpkin Pie Spiced White Hot Chocolate

Pumpkin Spice White Chocolate Pudding Cookies