Turkey Quinoa Chili (under 400 calories!)
Extra filling (28 grams of protein!) and extra flavorful, this healthy (less than 400 calories!) turkey quinoa chili is the perfect quick and easy weeknight meal — and it freezes well!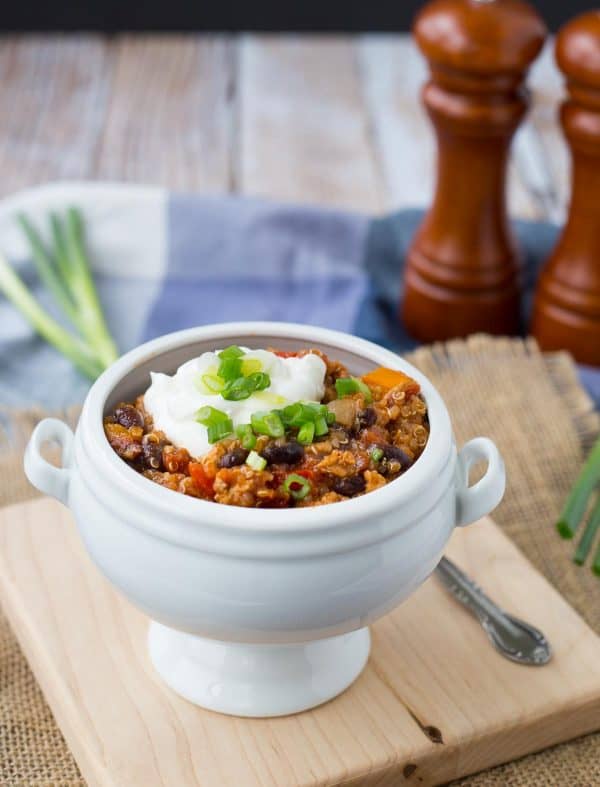 Me and Michigan are in a fight right now. I work two mornings a week while my son attends preschool. As you can imagine, these are valued hours. Last week, both of those days were "snow" days, and this week we're 1 for 1 so far with another "snow" day. So here I am writing this post late at night while the kids sleep, the day before it goes live on my site, which I dislike very much. Mostly because I'm tired. And I write "snow" in quotations because it's actually ice and freezing rain which is annoying me more than anything. We can't play outside, we can barely walk in our driveway, and our backyard is one giant pond.
But like I said before, spring will come, just as it always does. I sure do hope it hurries up though.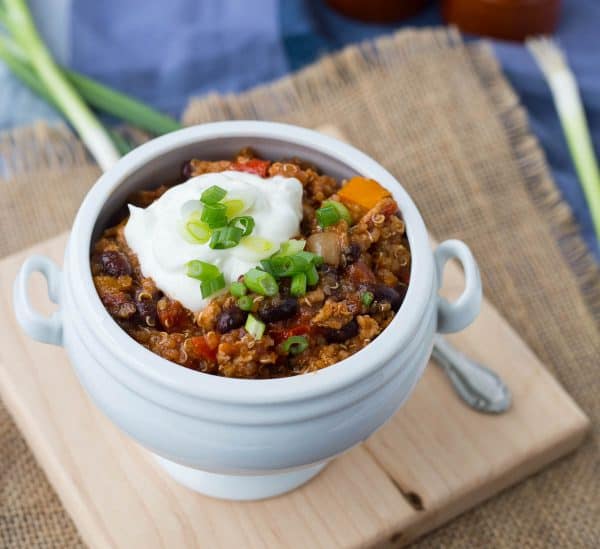 In the meantime, I'll be curling up with a hot bowl of chili trying to stay warm.
PS: Funny story, today my kids were upstairs playing and I hear my 4-year-old son call to my daughter, "Do I need to keep my underwear on?"
So of course, I yell to them, "Keep your underwear on!!!!"
Minutes later, they run down the stairs with their bathing suits on. I must say, I was a bit relieved. Obviously we're all slightly stir-crazy.
I love this turkey quinoa chili because it's SUPER easy to make (the quinoa cooks right there with the rest of the ingredients as it simmers on the stove) and it's packed with protein but still relatively low in calories. It freezes great but it's also perfect for meal prep. You can make a big batch of this and you'll have lunches ready for the whole week.
Enjoy and stay warm!
Are you as cold as I am? Try these delicious soup recipes:
Turkey Quinoa Chili Recipe
Extra filling and extra flavorful, this turkey quinoa chili is the perfect quick and easy weeknight meal — and it freezes well!
Ingredients:
1 teaspoon olive oil
1 pound ground turkey breast (99% lean)
1/2 large sweet onion, diced (1 heaping cup)
2 bell peppers (any color), diced
1/4 teaspoon salt
1/4 teaspoon pepper
2 tablespoons tomato paste
2 tablespoons chili powder
1 1/2 teaspoon ground cumin
1 teaspoon oregano (Mexican oregano if you have it)
1/4 teaspoon garlic powder
1 bottle (12 oz) dark Mexican beer (I like Dos Equis Amber)
1 can (28 oz) petite diced tomatoes and their juice
1 cup water
3/4 cup dry quinoa, rinsed
1 can (15 oz) reduced-sodium black beans, drained and rinsed
Optional toppings: sour cream, green onions, cilantro, cheese, etc
Directions:
In a large pot, heat olive oil over medium high heat. Add turkey, onion, bell pepper, salt and pepper and cook, breaking up turkey, until turkey is cooked through and onions are translucent.
Add tomato paste, chili powder, cumin, oregano, and garlic powder. Cook for 1-2 minutes or until tomato paste coats all ingredients and spices are fragrant.
Add beer and cook for 1-2 minutes. Add tomatoes and water and bring to a boil.
When boiling, add quinoa and black beans. Reduce to a simmer and cook, covered, for 15 minutes or until tails appear on quinoa. If desired, add more water or chicken broth to thin. We like ours super thick!
Serve with desired toppings.
Note: If you want to omit the beer, substitute 12 ounces broth (chicken or beef) or water

Note: Make it vegetarian! Omit turkey and add an additional can of beans (black, pinto, or kidney).
All images and text ©
.
Verdict: I love this hearty turkey quinoa chili — it's one of my favorite things to make with ground turkey.
Husband's take: He loves anything that is this thick, hearty, and filling. We love it for lunch too.
Changes I would make: None are necessary but see my recipe notes if you need a couple ideas.
Difficulty: Easy!