Gingerbread Shortbread Cookies with Cranberries
These melt-in-your-mouth gingerbread shortbread cookies are simple to make and will be a hit at any holiday party.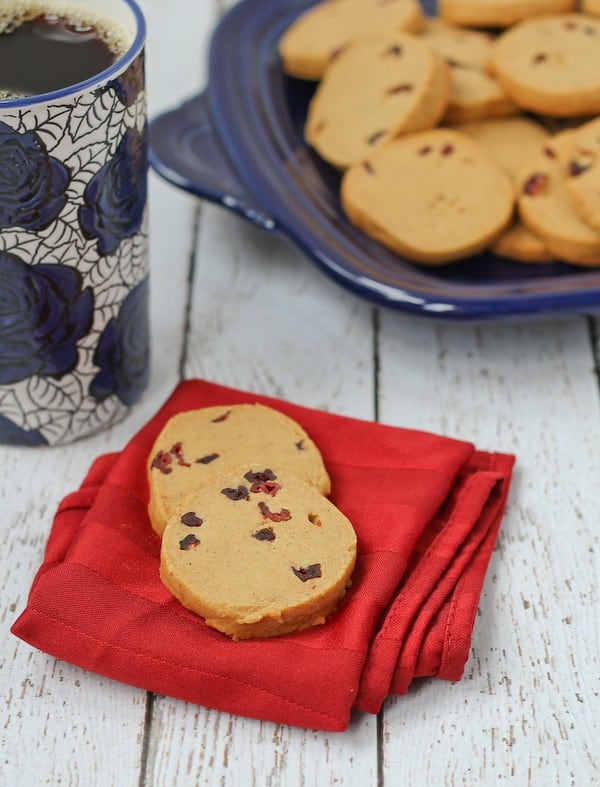 More cookies! I have to say, I think these cookies were my favorite new cookie creation of this year. It's no secret that I love shortbread cookies.
They are super easy to make (hello slice and bake!).
They are endlessly customizable (try my peppermint shortbread or some other favorites at the end of this post).
They taste soooo good. Butter is a KEY ingredient and you can tell by the way it the cookie melts in your mouth and of course the wonderful flavor that butter gives to the cookies.
I'm on a gingerbread kick this season (did you see my gingerbread breakfast cookies?) so gingerbread shortbread cookies were a no-brainer. I'm so happy with the way these turned out. Thanks to ginger, cinnamon, nutmeg, molasses, cardamom, and cloves, these cookies are not lacking on flavor. They are exciting to eat. The dried cranberries add a bit of chewiness as well as tartness that really rounds these out perfectly.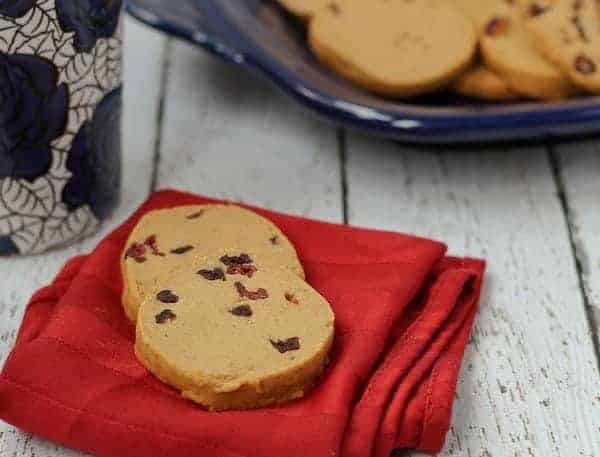 The great part about shortbread cookies is that you can make them ahead of time (although Christmas is quickly approaching!) and freeze them. Pull them out of the freezer and slice and bake as many as you want. It's always nice to serve guests some fresh cookies. If you're having a hard time slicing the frozen dough, let it sit at room temperature for about thirty minutes before taking a super sharp knife to it.
Enjoy!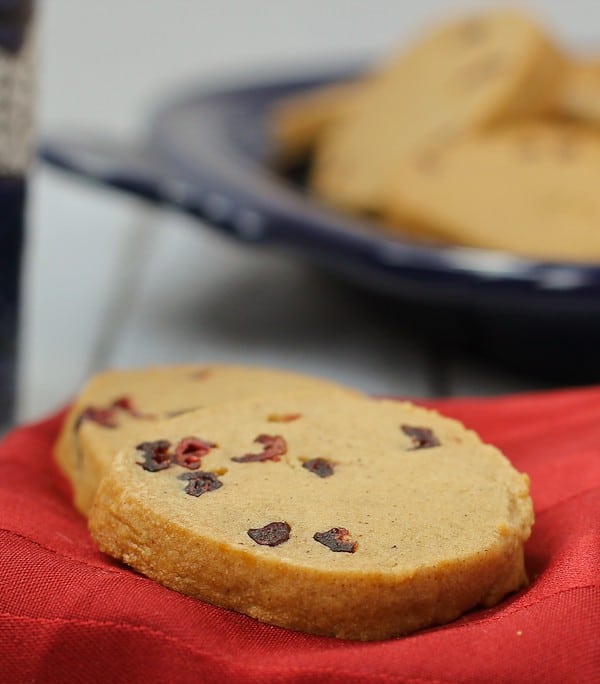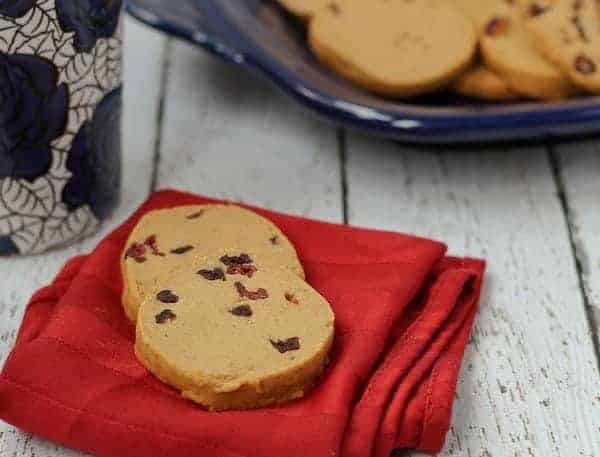 Gingerbread Shortbread Cookies with Cranberries
Yield: about 24 depending on thickness
Prep Time: 15 minutes
Cook Time: 15 minutes
Total Time: 30 minutes
These melt-in-your-mouth gingerbread shortbread cookies are simple to make and will be a hit at any holiday party.
Ingredients
1 cup (2 sticks) unsalted butter, softened
3/4 cup powdered sugar
2 tablespoons molasses
1 teaspoon pure vanilla extract
1/2 teaspoon salt
2 and 1/3 cups all-purpose flour
1 1/2 teaspoons ground ginger
1 teaspoon ground cinnamon
1/4 teaspoon ground cloves
1/4 teaspoon freshly grated nutmeg
1/8 teaspoon ground cardamom
1/3 cup dried cranberries
Instructions
In a stand mixer fitted with the paddle attachment, cream butter, powdered sugar, molasses, vanilla, and salt until smooth. Gradually add flour and spices and mix on low until combined. Add in cranberries and mix until combined, by hand if needed. On wax paper or parchment paper, form into a 12- to 14-inch log and freeze at least 30 minutes or until firm.
When ready to bake, preheat oven to 350°F. Cut the shortbread dough into 1/4-inch slices and bake for 11-14 minutes on parchment lined baking sheets.
Notes
Note: If you freeze the dough for longer than 30 minutes, you may have to let it set out at room temperature for 30 minutes or so to achieve uniform slices.
Nutrition Information:
Yield: 24
Serving Size: 1 cookie
Amount Per Serving:
Calories: 130
Total Fat: 8g
Saturated Fat: 5g
Trans Fat: 0g
Cholesterol: 20mg
Sodium: 50mg
Carbohydrates: 14g
Fiber: 0g
Sugar: 6g
Protein: 1g
Verdict:
SO good. Definitely making these again. They have everything you want in a cookie – melt in your mouth with a little chewiness and tons of fantastic holiday flavor thanks to all the spices.
Husband's take: He's a traditionalist and prefers my whole wheat chocolate chip cookies, but my mother-in-law and my mom both loved these cookies.
Changes I would make: None!
Difficulty: Easy!
Craving more shortbread cookies? Try: Holiday Funfetti Shortbread Cookies, Honey, Lemon, Apricot and Pine Nut Shortbread Cookies, Honey Lemon Shortbread Cookies, Apple Cheesecake Shortbread Cookies, Peppermint Shortbread Cookies, Cream Cheese and Cocao Nib Cookies, Christmas Tree Shortbread Cookies from Just a Taste, or Hazelnut Shortbread Cookies from Diethood.