Savory Corn Cakes
These savory corn cakes are easy to make and will be a perfect side to any southwest meal. We even ate them for breakfast!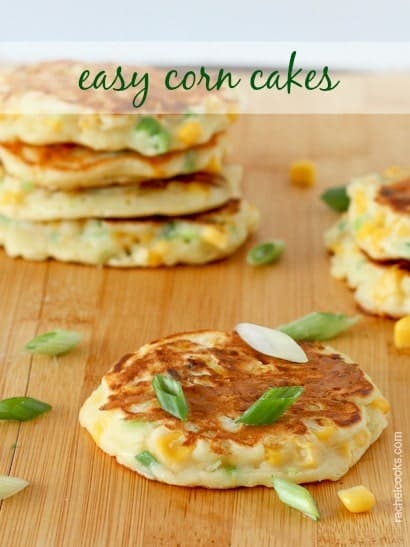 Today, I'm excited to tell you about another friend's book — The New Southwest. The book is written by Meagan Micozzi of Scarletta Bakes (<–that's my "a day in the life" feature of her — if you want to head to her site, click this link).
I had a hard time choosing what recipe I would make from this beautiful book. It's full of great southwestern recipes — in Meagan's words, "classic flavors with a modern twist."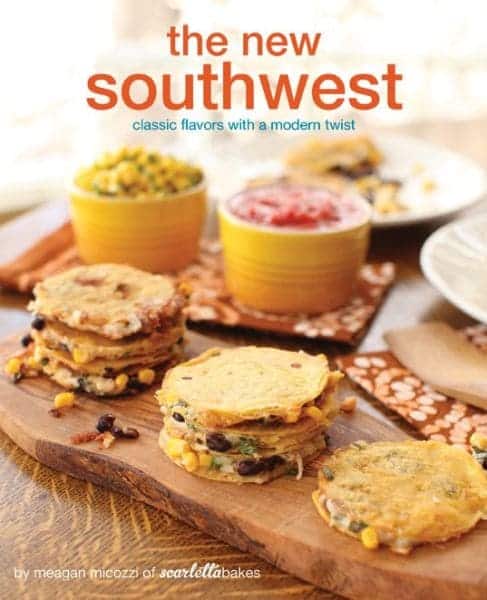 Meagan starts by going through the basic ingredients of southwestern cooking so that you're well-acquainted with everything and there are no surprises. This section of the book will make sure you have the essential ingredients and tools to create any recipe in this book. Then she delves into building block recipes: Salsas, sauces, tortillas, fry bread, condiments and more. Then comes more deliciousness — for every meal of the day! Breakfasts include Mushroom and Leek Migas, Sweet Glazed Avocado Doughnuts, and Caramel Soaked Mexican Chocolate Pancakes. She covers some mouth-watering southwestern beverages before moving on to appetizers and snacks where I bookmarked Black Bean and Corn Quesaditas (on the cover!), Spiced Snack Mix, and Savory Baked Pumpkin Flautas. There is a section on breads and then you'll find these Savory Corn Cakes tucked in with other great side dishes.
Then she moves on to main courses, things to be made on the grill (I'm starting to forget what the grill is, but I have faith the weather will get warm eventually), then desserts and some extras at the end for that extra special meal or occasion. There is definitely something for everyone in this book.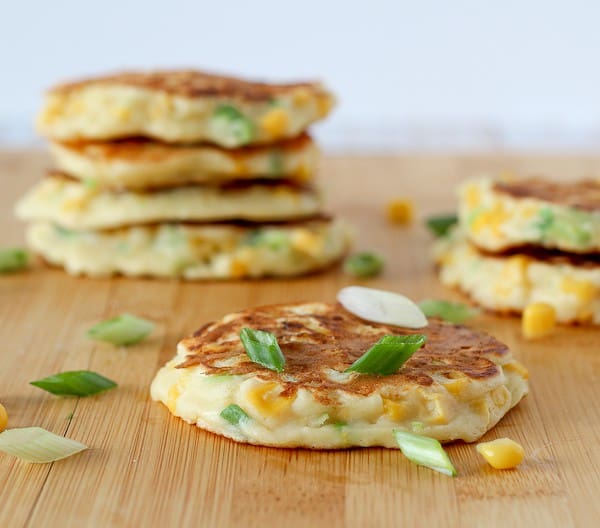 I'm so glad I chose these corn cakes as my first recipe to try out from Meagan's book. They are so good and quickly became a favorite. The crispy corn tucked away in the soft cakes with the flavorful green onions make these a perfect side dish or even a breakfast! I hope you love them as much as we did.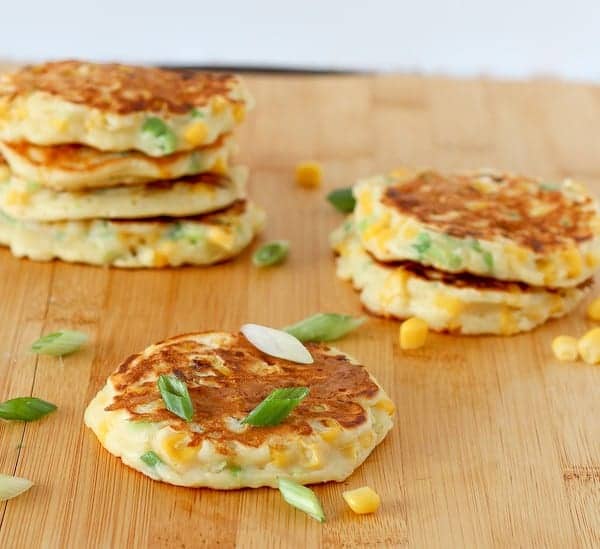 Savory Corn Cakes
These savory corn cakes are easy to make and will be a perfect side to any southwest meal. We even ate them for breakfast!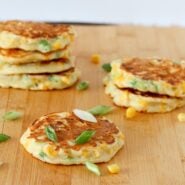 Ingredients:
1 cup all-purpose flour
1 teaspoon baking powder
1 teaspoon salt
3/4 cup whole milk
1/2 cup sour cream
1 large egg
2 1/2 cups canned or cooked fresh whole corn kernels
1 cup diced green onions
vegetable oil for frying
Directions:
Whisk the flour, baking powder, and salt together in a large bowl.
In a separate bowl, whisk the milk, sour cream, and egg together. Whisk the wet ingredients into the dry ingredients, mixing just until you have a smooth, uniform batter. Fold in the corn and green onions.
Heat 1 tablespoon oil in a heavy-bottomed skillet over medium heat (assuming you will be frying these corn cakes in batches, I recommend adding approximately 1 tablespoon of oil to your pan before cooking each batch). Using 1/4 cup measure, portion out 3 or 4 corn cakes into the skillet. Fry corn cakes for approximately 3 minutes on the first side, until air holes appear across the top of each corn cake, and their shapes are set and matte colored. Flip and cook 3 to 4 more minutes, until corn cakes are cooked through. Serve immediately. Continue cooking batches of corn cakes until all the batter is used.
Recipe reprinted with permission from The New Southwest by Meagan Micozzi

All images and text ©

.
Order the book and have it in time for Cinco de Mayo!
Disclosure: I was provided a copy of the book to review at no charge but was not compensated for my review. All opinions are my own as always. Post contains an affiliate link.