Turn on your blenders! Listed below are over 50 juice and smoothie recipes to help you get off to a healthy and tasty start this year!

I'm not sure if you've noticed, but I took a couple of weeks off from blogging. If you didn't notice, don't tell me. I'll pretend you missed me like crazy. The game plan, while my husband was off work on Christmas break, was to get a lot of blogging done and get a couple of weeks ahead. And here I am writing this the day before it is schedule to post. So obviously that plan worked out well. But between working a bit at the hospital, some traveling, and tons of family time and relaxation, sitting down at the computer and working just didn't happen.
And I don't regret it a bit. I feel refreshed and relaxed. I could probably take a couple more weeks off actually. So…before my little break, I left you with a decadent New Year's Eve round-up. This one is much healthier and should get you off to a great start this year. Hopefully you got a blender for Christmas. Tomorrow I have an awesome giveaway lined up for you guys and then Monday I'll be back with recipes! (finally. sorry.)
Enjoy! Happy juicing/smoothie-ing.
Juices {a rainbow}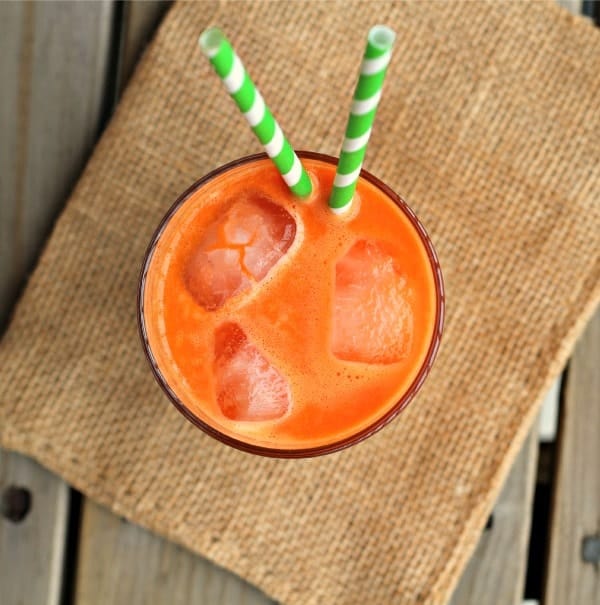 Orange and Yellow
Carrot, Orange, and Ginger Juice without a Juicer {Rachel Cooks}
Carrot Pineapple Orange Juice {Two Peas and Their Pod}
Carrot, Apple and Ginger Juice {With Style & Grace}
Pineapple and Cucumber Refresher {With Style & Grace}
Carrot, Pear, Raspberry, Cucumber Juice {Tasty Yummies}
Pinky Promise Me Carrot Juice {Beunovida}
Beet Green, Carrot, Apple, Orange Juice {Cafe Johnsonia}
Green
Green Juice without a Juicer {Rachel Cooks}
Green Juice In a Blender {Just A Taste}
The Ultimate Green Power Juice {Picky Palate}
Lauren's Favorite Green Juice {Lauren's Latest}
Photo: Running to the Kitchen
Pink & Red
V8 Juice {Running to the Kitchen}
Grapefruit Veggie Lime Juice {Sugar Free Mom}
Grapefruit Mint Juice {With Style & Grace}
Fresh Strawberry Juice with Coconut Water {With Style & Grace}
Beet Happy Juice {With Style & Grace}
Watermelon Juice {Cookie and Kate}
Watermelon Raspberry Lime Juice {Buenovida}
Smoothies
Photo: Bake Your Day
Pink, Red & Purple
Pink Smoothie {Bake Your Day}
Orange Juice Smoothie {Lil Luna}
Blood Orange Mango Smoothie {Fabtastic Eats}
Strawberry Mango Banana Smoothie {Good Cheap Eats}
Blueberry Almond Butter Smoothie {Love and Olive Oil}
Raspberry Banana Chia Smoothie {Oh My Veggies}
Raspberry Banana Avocado Smoothie {Texanerin Baking}
Strawberry Mango Chia Smoothie {The Lemon Bowl}
Red Smoothie {Gimme Some Oven}
Blueberry "Cream" Oatmeal Smoothie {The Law Student's Wife}
Banana Peach Almond Smoothie {Boulder Locavore}
Photo: Barefeet in the Kitchen
Green
Simple Peach and Spinach Smoothie {Barefeet in the Kitchen}
Banana and Spinach Smoothies {fANNEtastic Food}
Green Machine Smoothie {What's Gaby Cooking}
Blueberry Carrot Top Smoothie {Barefeet in the Kitchen}
Cranberry Kale Smoothie {Tasty Yummies}
Coconut Green Smoothie {Two Peas and Their Pod}
Detox Smoothie {Sally's Baking Addiction}
Mango Avocado Smoothie {Eat Yourself Skinny}
Green Orange Dreamsicle Smoothie {Oh My Veggies}
Tropical Green Smoothie {Averie Cooks}
Pineapple Kiwi Mint Smoothie {Running to the Kitchen}
Limeade Green Smoothie {Bake Your Day}
Orange, Yellow & White
Creamy Mango Banana Smoothie {Rachel Cooks}
Pumpkin Smoothie {Emily Bites}
Pumpkin Chai Smoothie {Tasty Yummies}
Pumpkin Pie Smoothie {fANNEtastic Food}
Pineapple Ginger Smoothie {Gimme Some Oven}
Almond Butter Chocolate Smoothie {My Whole Food Life}
Pina Colada Smoothie {An Edible Mosaic}
Peach Smoothie {Add A Pinch}
Eggnog Smoothie {Baked Bree}
Peanut Butter Banana Oatmeal Smoothie {The Lemon Bowl}