Winter ONEderland Birthday Party
Can we take a minute to talk about the fact that my little man is ALREADY ONE?!!?!?!?!?!!?!?!?!?!?!?!?!?!
I mean…he turned one awhile ago, actually. I'm finally getting around to posting this.
So…my little man – N – boy oh boy. That kid has my heart and has me wrapped around his little finger with his smile, his dimples, his charm and his energy. The kid never stops moving. He's all boy and has had a million bumps and bruises already. His sister loves him like crazy and he feels the same way about her. I love to watch them play together and I'm so, so, so blessed and so happy with my little family. Even if we can't get a decent photo of the four of us for anything. That one up there was the best out of 4 or 5. Eek. As a side note, the dress I'm wearing is from Stitch Fix. I didn't write about this past month's fix but this dress was the only thing I kept. You can read about my other "fixes" here, here and here.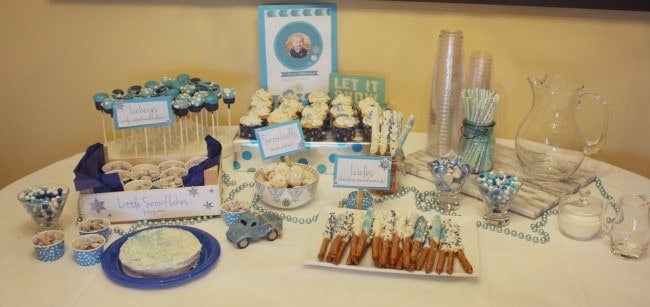 We threw his birthday party 4 days before Christmas which is really crazy and not something I would really recommend but it was important to me to have a celebration for him that wasn't rolled into a Christmas party. I went with a "Winter ONEderland" theme (see what I did there?) which was actually an idea that my friend had given me. I really wanted to avoid anything Christmasy (red, green, candy canes, etc.) and focus on winter blues and whites and snowflakes everywhere.
Also, let me start by saying I'm almost embarrassed to post these photos. They aren't as great as they could be. They aren't magazine quality. But I don't care. I was rushing through them so that I could spend more time enjoying the moment. The table set up above isn't even really quite complete but ehh…whatever.
Without further ado (or excuses), here are the details:
FOOD:
I served a chili bar to go with the "Winter ONEderland" theme. Get it? CHILI? Chilly? I made white chicken chili, red (tomato based) chili with beef, and a meat and bean red chili. I used a TON of chicken, and 6 pounds of ground beef. I had enough chili to throw the party four or five times over but thankfully leftover chili tastes great and freezes even better. I provided guests with these toppings/accompaniments:
Three types of mini corn muffins (thanks Mom!)
Frito's
Small tortilla chips
Oyster crackers
fresh cilantro leaves
green onions
extra sharp white cheddar cheese
sour cream
jalapenos
avocado chunks
lime slices
BEVERAGES:
We aren't really a pop or juice drinking family so if you come to a party at our house you're probably out of luck in that department. I had three options for guests:
Lemonade (not pictured):

For the lemonade, I froze blueberries in ice cubes to go with the blue theme and to fancy it up a bit. Of course, I also had fancy paper straws because I'm obsessed with them.
Coffee
Water Bottles aka "Melted Snowmen" — I used this free printable to print off these labels. Print, cut, tape. Easy! Then I tied some baker's twine around the neck of the bottle. Because I'm also obsessed with baker's twine.
DESSERTS:
I had so much fun coming up with desserts for this party. They are all really simple and easy to make. I made up names for each of them and you have to use your imagination a little but I think it was fun. :)
Cupcakes and a smash cake for little man — they don't have made up names because cake is cake. I just made white cake and a vanilla buttercream frosting. I wrapped an empty box to elevate them on the table a little.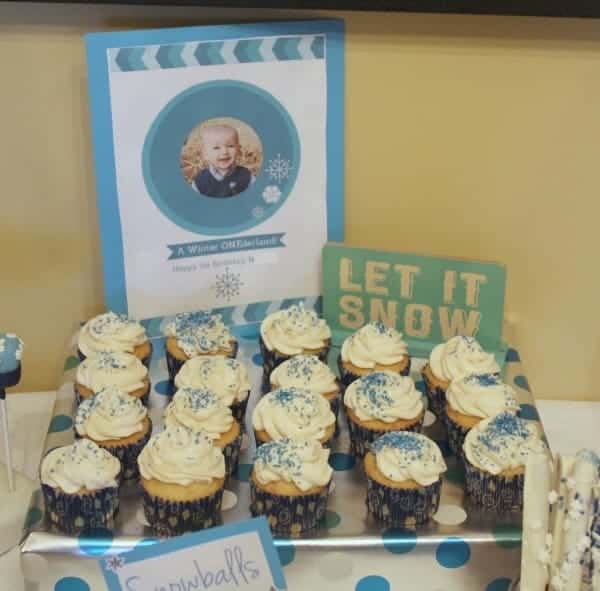 "Icicles" (White chocolate dipped pretzel rods)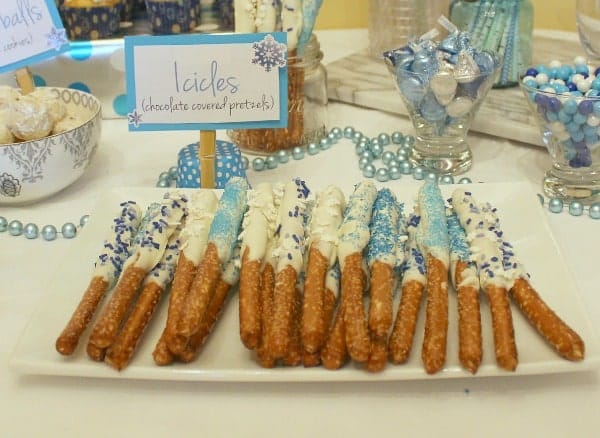 "Icebergs" (candy coated marshmallows)
"Snowballs" (Snowball cookies — I used this recipe from Land O'Lakes except I skipped the second roll around in powdered sugar. Because I forgot.)
"Little Snowflakes" (Puppy Chow! Recipe coming at some point, but you can Google for one in the meantime.)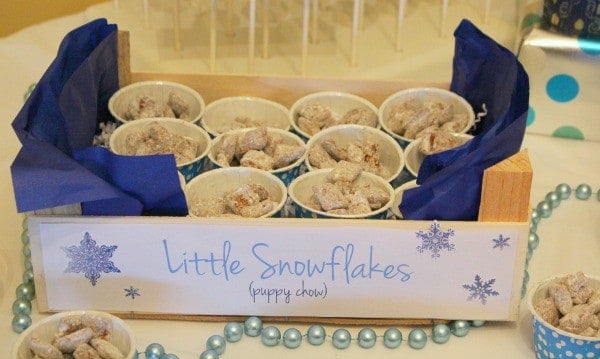 FAVORS & DECORATIONS:
For favors, I filled white gift bags with all sorts of winter themed goodies for the kids. Stickers, drawing pads, and even a Christmas ornament that they could decorate and hang on their tree. For the adults, I baked up some of my healthy banana bread (I added mini chocolate chips though!) in paper loaf pans decorated with snowflakes.
In terms of decorations, I'd say the dessert/beverage table was the main "decoration." I also had paper snowflakes hanging from the ceiling fan and lights. The photos don't do it justice but it was pretty. They are actually still hanging up and I might just hang them up every winter.
N loved his cake! (It's no IGLOO cake but hey…you win some and you lose some.) At first he thought it was just a toy and kept sticking his fingers in it. E kept shouting, "Eat this, N!" Once I moved his finger to his mouth, he got the idea and there was no stopping him.
So that's that! Little man is ONE. Now excuse me while I go cry in the corner. Someone work on freezing time for me, k?
If you want to pin this party, feel free to use the image below. It's all my crappy photos rolled into one crappy collage. What more could you want in life?