Whole Wheat Caramel Banana Bread
This whole wheat caramel banana bread uses very little oil and 100% whole wheat flour. The caramel bits add the perfect touch of sweetness.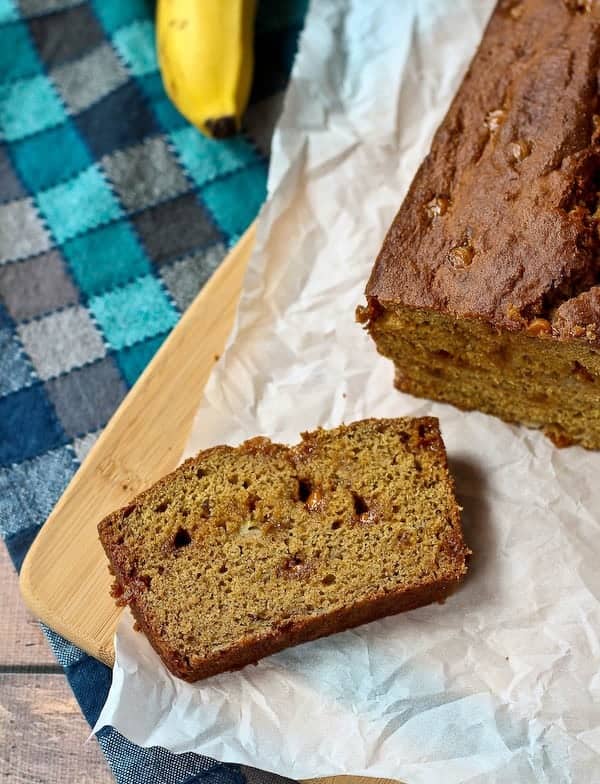 This year we're celebrating Christmas with Ben's family pretty early. Actually really early – this coming weekend. Ben is an only child but two of his cousins live nearby and he has always been pretty close to them. Everyone has kids now but we decided not to buy gifts for the kids because they get so much and we're just trying to keep things simple and focused on the time together. Buuuuuut I can't come empty-handed because it just feels so weird. Woman issues, ya know? (Not those kind!)
I bought some disposable tin bread pans at the store today so I plan to bake up some little loaves of bread and wrap them up in pretty cellophane. I was planning on my regular whole wheat banana bread but since it's Christmas and all, I might throw in some caramel bits like this banana bread. Or… I could do coconut chocolate chip banana bread. Or… chocolate banana bread. Or maybe I have a banana bread obsession?
I almost always make a double batch of banana bread. It freezes well and if I'm going to make one loaf, I may as well make two. I either freeze the loaf whole, or I slice it before I freeze it, so I can take out just what I need.
Truth be told, I live with a bunch of monkeys who eat bananas like it's going out of style so I'll be lucky if there are any bananas to use. I go through at least 3 big bunches a week, usually more. And I hardly ever eat them. The cashiers at the store always comment on it. Seriously, 75% of the time, there's a banana comment happening. Yes, we eat all of these. No, they might not last us through the week. No, I do not live with actual monkeys. Yes, they do climb on me like monkeys.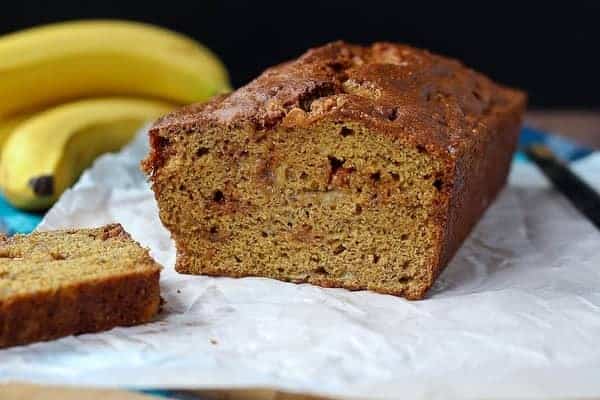 Okay, maybe that's not exactly how the conversation goes, but pretty much.
If I'm all out of bananas it will probably be pumpkin bread or perhaps I'll try something new. Any suggestions? I have a huge bag of frozen blueberries so maybe I'll put those to use.
I hope no one from Ben's family is reading this. Surprise, you're getting bread! Maybe it will be maple stout bread! That would be fun.
Whole Wheat Caramel Banana Bread
Yield: 1 loaf
Prep Time: 15 minutes
Cook Time: 1 hour
Total Time: 1 hour 15 minutes
This whole wheat banana bread uses very little oil and 100% whole wheat flour. The caramel bits add the perfect touch of sweetness.
Ingredients
1 1/2 cups mashed ripe bananas (about 3)
3/4 cup sugar
1/2 cup unsweetened applesauce
2 tablespoon canola oil
1 teaspoon pure vanilla extract
2 large eggs, beaten
2 cups whole wheat flour
1 teaspoon baking soda
1/2 teaspoon baking powder
1/2 teaspoon salt
2/3 cup caramel bits
Instructions
Heat oven to 350*F. Spray a 9 by 5 loaf pan with nonstick cooking or baking spray, set aside.
In a large bowl, mash bananas (I use a potato masher). Add sugar, applesauce, oil, vanilla, and eggs. Stir to combine.
On top of the banana mixture, add flour. Make a small well in the flour and add baking soda, baking powder and salt. Stir gently to mix the dry ingredients on top of the wet ingredients.
Stir everything together until just combined. Fold in caramel bits. Pour into loaf pan and bake for 50 minutes to an hour or until a knife inserted in the middle comes out clean.
Transfer loaf pan to a wire rack and let cool 5 minutes. Run a knife around edges of bread to loosen from pan. Invert onto rack and turn bread out of pan. Let stand until cooled completely before slicing (if you can wait that long).
This freezes well. I almost always double the recipe and wrap one loaf in foil, then put in a freezer zip-top bag and freeze.
Notes
Instead of making a well in the flour for the rest of the dry ingredients (step 3), you could pre-mix them in a seperate bowl. I don't like doing dishes so I always do it the way I described in the directions. It turns out great every time.
You could also bake the bread in 3 small sized loaf pans. Adjust baking time to 36-40 minutes.
Nutrition Information:
Yield: 12
Serving Size: 1 slice
Amount Per Serving:
Calories: 175
Total Fat: 4g
Saturated Fat: 1g
Trans Fat: 0g
Unsaturated Fat: 3g
Cholesterol: 31mg
Sodium: 226mg
Carbohydrates: 34g
Fiber: 3g
Sugar: 16g
Protein: 4g
RachelCooks.com sometimes provides nutritional information, but these figures should be considered estimates, as they are not calculated by a registered dietitian. Please consult a medical professional for any specific nutrition, diet, or allergy advice.
Verdict:
What's not to love about caramel banana bread?
Husband's take:
He happily devours this bread.
Changes I would make:
None!
Difficulty:
Easy.