Traverse City Cherry Festival: 10 Must-Do Activities
A visit to the Traverse City Cherry Festival will excite you year after year! These are some recommendations for things to do that you won't want to miss!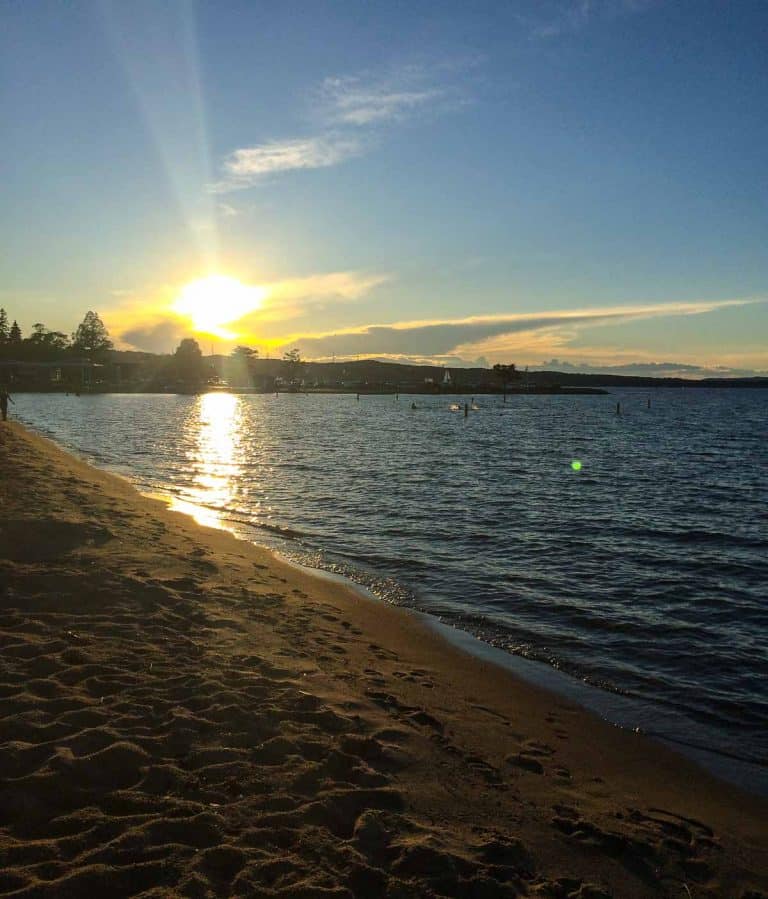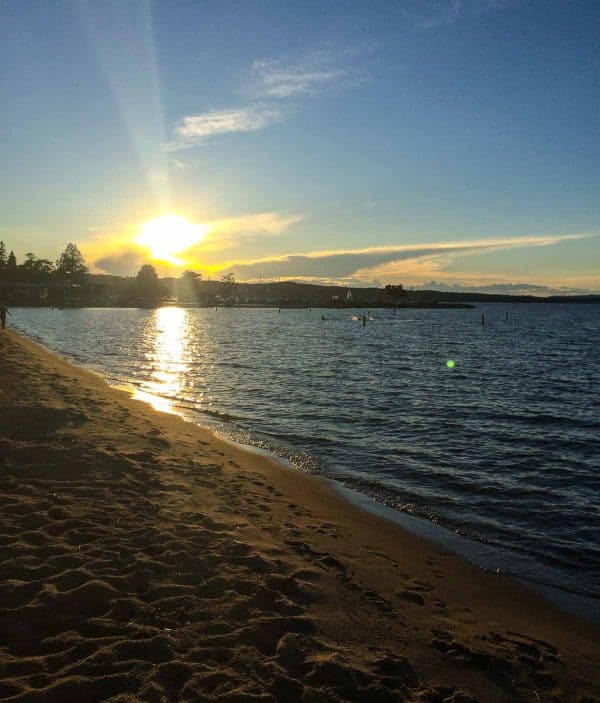 I recently had the absolute pleasure of visiting northern Michigan during the Traverse City Cherry Festival. As a Michigander, Traverse City and all of northern Michigan hold a special place in my heart but it's different every time I go. Always wonderful, but always something new to discover. I compiled a list of 10 must-do activities if you visit during the Cherry Festival, but most apply to a visit any time of the year. I'd love to hear from you if you've visited this area of the country! Are you as smitten as I am?
1. LAKE, LAKE, LAKE, LAKE.
Honestly, when my eyes meet the view of Lake Michigan, my entire body and soul relaxes. There is nothing more calming than the beautiful blue water against the seemingly unending horizon.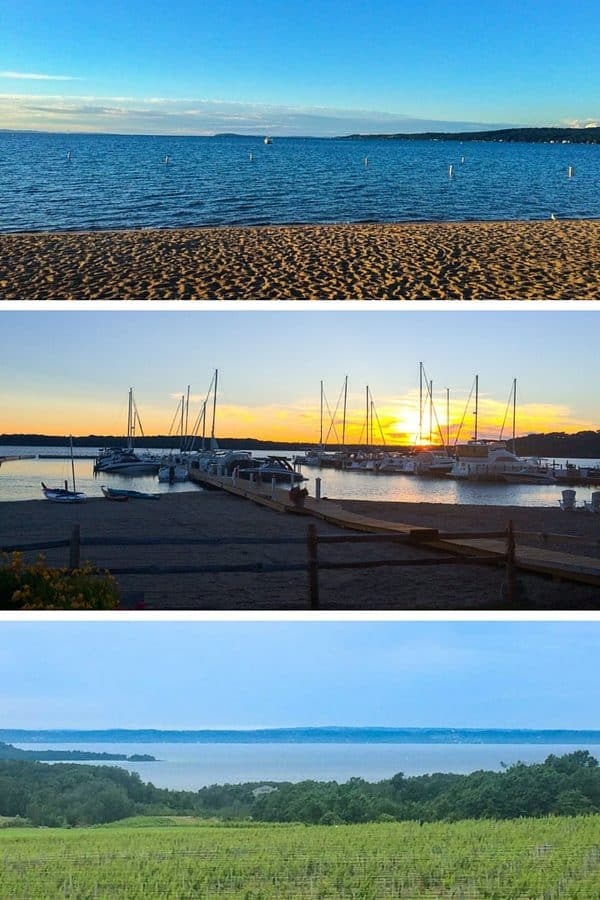 The sun glistens off the water and all seems right in the world. That's enough of a reason to visit northern Michigan in and of itself, but there's more.
Warning: The views of the lake are enough to make you fall in love and never want to leave. Ben was talking about another city that he claimed was "the best city in Michigan," but I argued it was Traverse City. I'm crushing hard. Every time I visit, I fall deeper in love with this city.
2. Enjoy a cocktail and an amazing view on the rooftop bar at Hotel Indigo
There are many great options for lodging in Traverse City, but the ultra-hip and brand new Hotel Indigo is top-notch. I'd highly recommend it not only for its accommodations but also for its prime location and views. The rooftop bar at Hotel Indigo has a beautiful view of the bay and is right by the main stage of the Traverse City Cherry Festival. It's the perfect spot to kick back in the evening, enjoying the sunset over the bay while listening to the sights and sounds of the Cherry Festival. We enjoyed a little Vanilla Ice while sipping our wine one evening.
3. Eat breakfast (or any meal) at Grand Traverse Pie Company
I knew of Grand Traverse Pie Company because of their locations throughout Michigan and their delicious pie, but what I didn't know was the story behind this company. We had the pleasure of meeting Mike, the owner of Grand Traverse Pie Company. We enjoyed a breakfast of two amazing quiches and a cherry pie made with Vernor's ginger ale. The ginger complemented the cherry flavor perfectly and leads to a full-on temptation to eat pie for breakfast every day. (Psst…they ship their pies nationwide…)
The café we dined in in downtown Traverse City donates 100% of their profit to charity. 100%! Not only that, but a portion of the proceeds from every slice goes to both employees and charity.
Their motto is: Every slice counts.
Cool, right? I was blown away by the heart of this company – they definitely gained a loyal customer.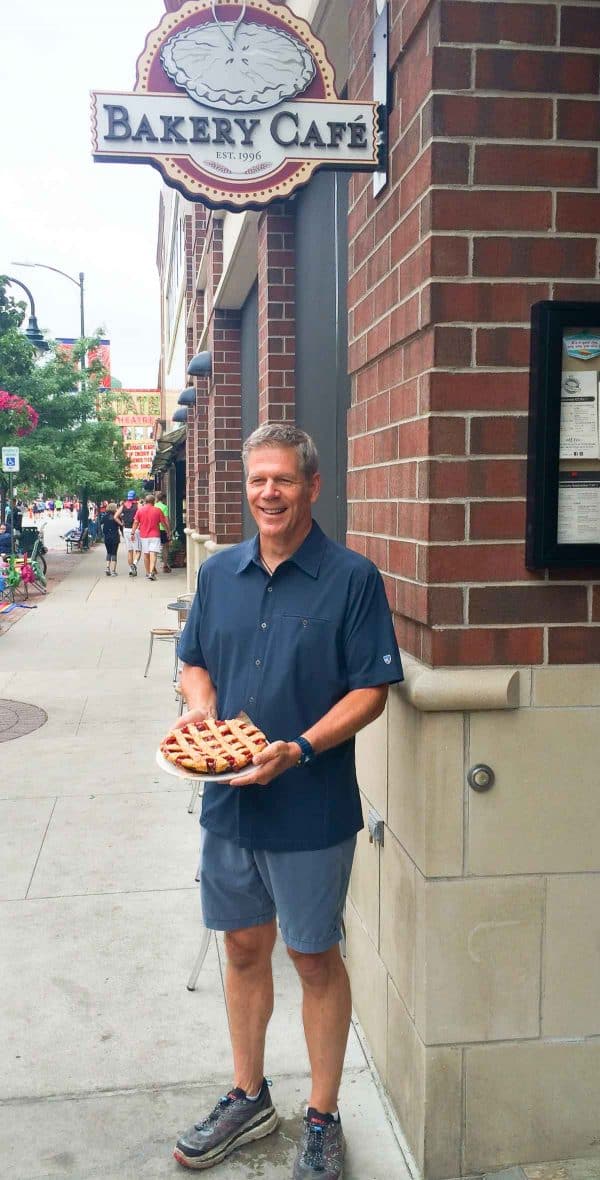 4. Do something new and visit the Great Lakes Equestrian Festival
Visiting the Great Lakes Equestrian Festival was such a neat experience, like nothing I had ever seen. Picture horses walking around with their owners freely, pop-up shops and restaurants for the riders, staff, and visitors. You can catch glimpses of riders of all ages participating in different events and competitions. General admission is only $15 which I think is a steal. I can't wait to go back with my kids – I know they'd have stars in their eyes seeing all the horses.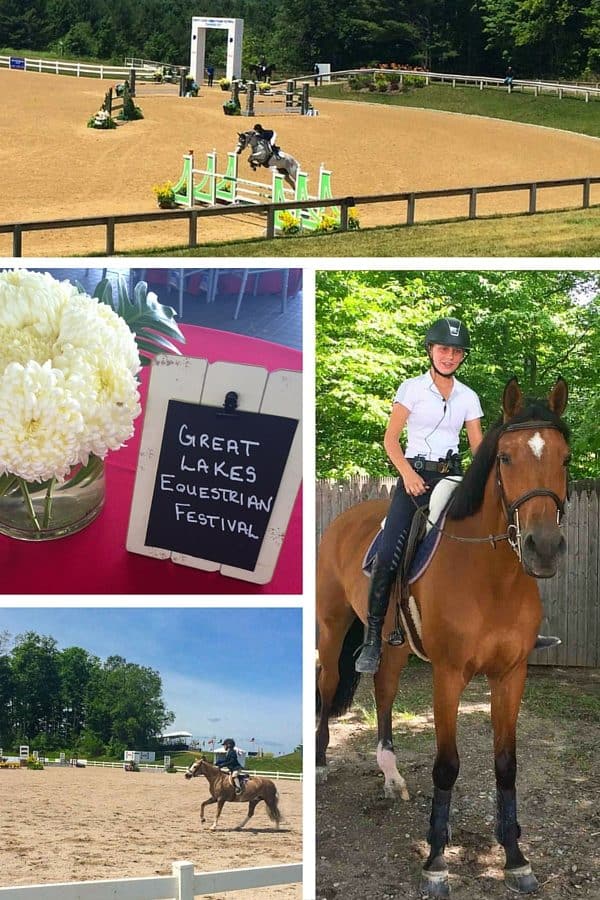 5. Eat, eat, eat, EAT. And then eat some more.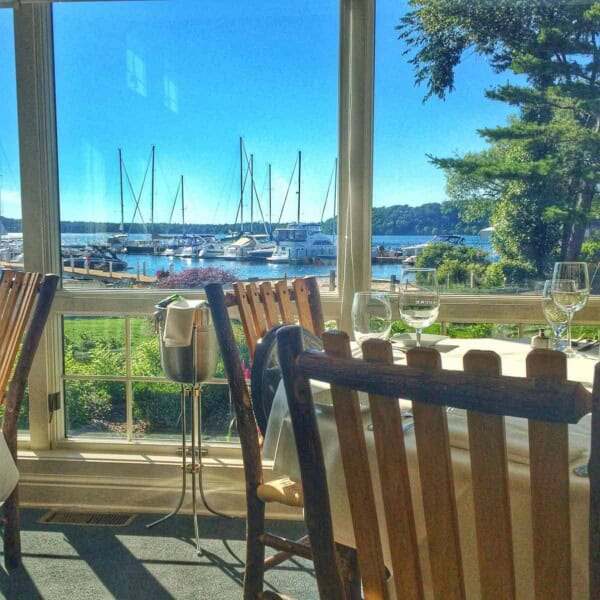 For a fancy, classically delicious dinner (think date night or anniversary!), try Boathouse. The views from the restaurant (photo above) are reason enough to stop here for a meal. Bonus: The owner grows much of the food for the restaurant in his own garden (even the Thanksgiving turkeys!). How cool is that? We had an amazing cheese plate, halibut, lobster, and so much more. The vegetarian socca with wild rice, butternut squash, and kale pilaf was amazing, too. Make sure to stay to watch the sun set!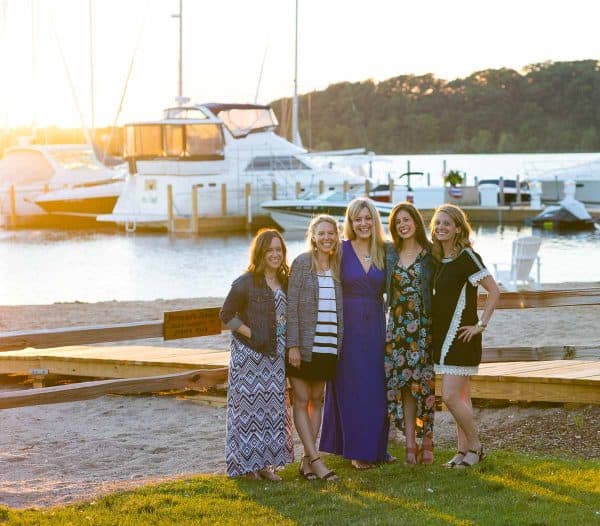 For a cool, hip, unforgettable dining experience, try Alliance. This is best experienced with a group of friends or family who are somewhat adventurous eaters and not afraid to try new things. Alliance does not shy away from flavor and each menu offering is absolutely packed with complex layers of flavor. Plan to share with your friends and family and order multiple things off the menu. They also have amazing cocktails and sparkling nonalcoholic beverages – the flavors in these are amazing too (for example, pineapple/coconut/nutmeg or grapefruit/chamomile/cardamom).
Oh and by the way, the menu changes every day, and they're only open for dinner. You might even want to plan a couple dinners there, it's that good. The restaurant was right across the street and we saw them in there as early as 8am already prepping for dinner. Make sure to get reservations – it's a small place. We had the absolute honor of dining with the owner, Pete Peterson. And the menu pictured below? We tried every. single. thing. on. it. And then had dessert. Every time a new menu item came to our table there was discussion about what was our favorite so far. The list of favorites more or less included every item on the menu – it was impossible to choose just one thing.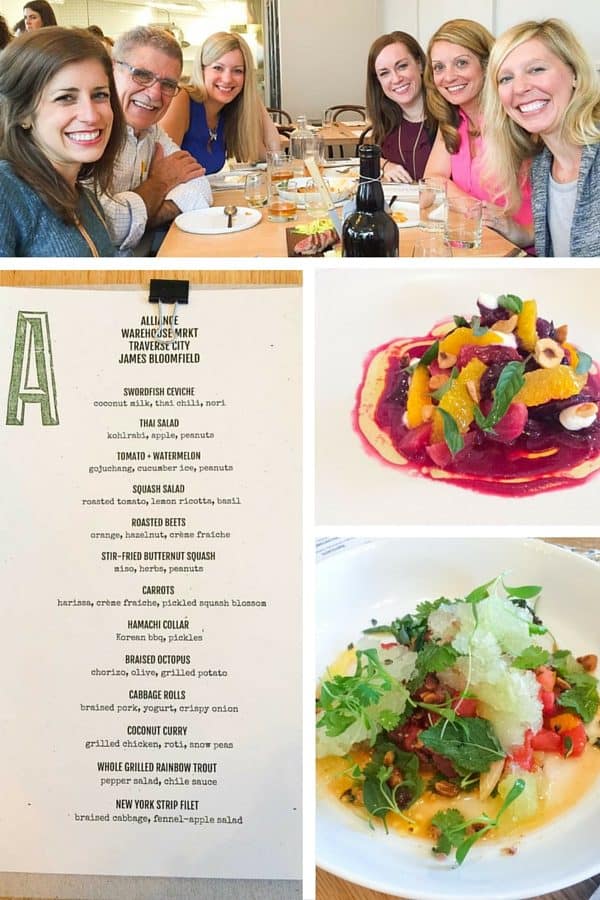 For lunch during a day of walking around the Traverse City Cherry Festival, don't miss Little Fleet. You'll be greeted with a laid-back, fun environment and tons of amazing food. Little Fleet has an assortment of food trucks waiting to dish up classic favorites and unique offerings. This is the perfect place for groups because everyone can get exactly what they want. There's also a full bar (and restrooms!). Indoor and outdoor seating available.
For a super unique bar experience, try Low Bar. Completely underground with the dark atmosphere of a speakeasy, I felt way cooler than I really am hanging out there and sipping on cocktails. It's a great late night spot for drinks. I got the Bourbon Basil Smash which was made with bourbon, rum, house bitters, brown sugar syrup, basil, lemon and orange. It was refreshing and had we been staying for more that one drink, it would have been dangerous! It went down a little too easily. We found most of their cocktails to be on the sweeter side, so if you like a less-sweet cocktail, make sure to specify that to your server or bartender.
For craft cocktails and live music, try The Parlor. The parlor specializes in tapas as well so plan to share with friends! Get the nachos and truffle mac and cheese – they were both amazing!
6. Watch the Cherry Royale Parade
This is such a fun parade! This year the grand marshal was Piper, the airport dog. He's pretty much famous, as you can tell on Instagram (he has WAY more followers than I do!), and he's adorable and was the perfect start to the parade this year. Bring your sunscreen, some water, and a blanket to sit on. Kids will love seeing all the fun floats.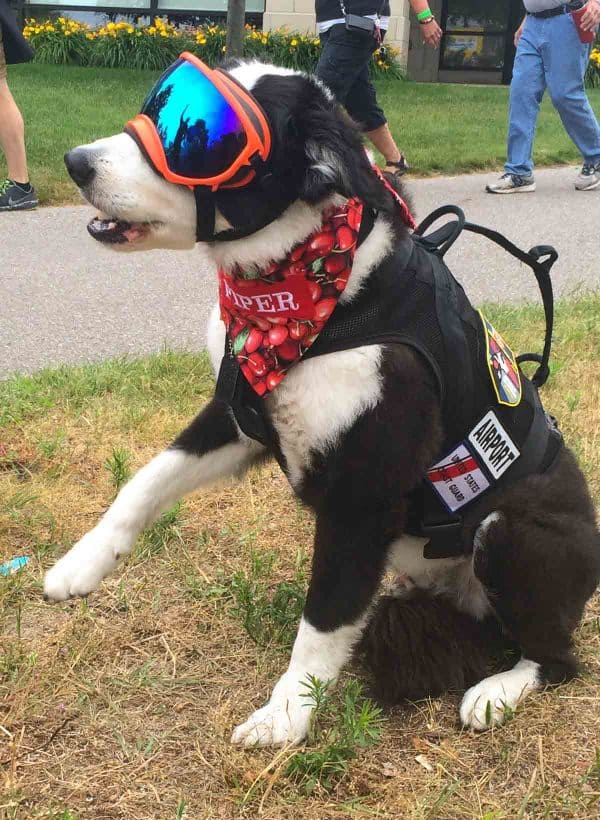 7. Bring friends or family
This is probably a given, but it's a great place to visit for a family vacation, a girls getaway, or pretty much any occasion. I was lucky enough to visit with a few of my blogger pals this time, but I can't wait to return with my kids. The Cherry Festival has a ton of really great events and activities for kids including a children's parade and a chance to bake their own miniature pies with Grand Traverse Pie Company. Although I must say, I also spent a couple hours alone in Traverse City before I met up with the others, and it was serene, peaceful and rejuvenating.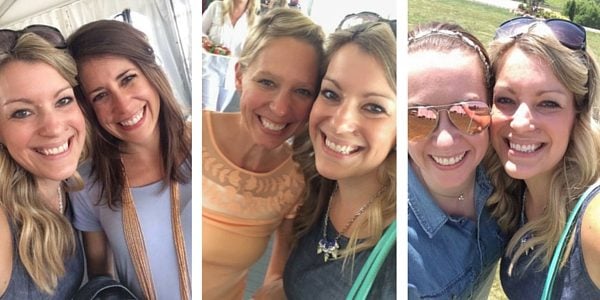 8. Wineries!
We visited Black Star Farms and Shady Lane Cellars. That only scratches the surface of the area's extensive wine trails – Leelanau Peninsula wine trail alone offers 24 wineries, most of which offer tastings with a cost averaging $5.
When you go to Black Star Farms, you must try their pizza! Every single one I have tried (both times I've visited) has been absolutely amazing. The crust is made with grape skins and it is so unique. Of course, the wine choices are wonderful. We sampled their sparkling wine Bedazzled – it was the first time I have had it. It's one of my new favorites, perfect for every occasion and very affordable.
Shady Lane Cellars boasted the best atmosphere I could dream of – a great place to slow down and enjoy time with good friends. And of course, great wine to taste and enjoy. Try to go on a day with good weather so you can sit outside.
9. Cherry Farm Tour
Learning where your food comes from leads to an entirely new appreciation of what you're feeding yourself and your family. We got to enjoy a tour of a cherry farm and learn about all the amazing health benefits of tart cherries. There are a ton of great kid-friendly activities at the farm, too. (Tasty samples too, of course!)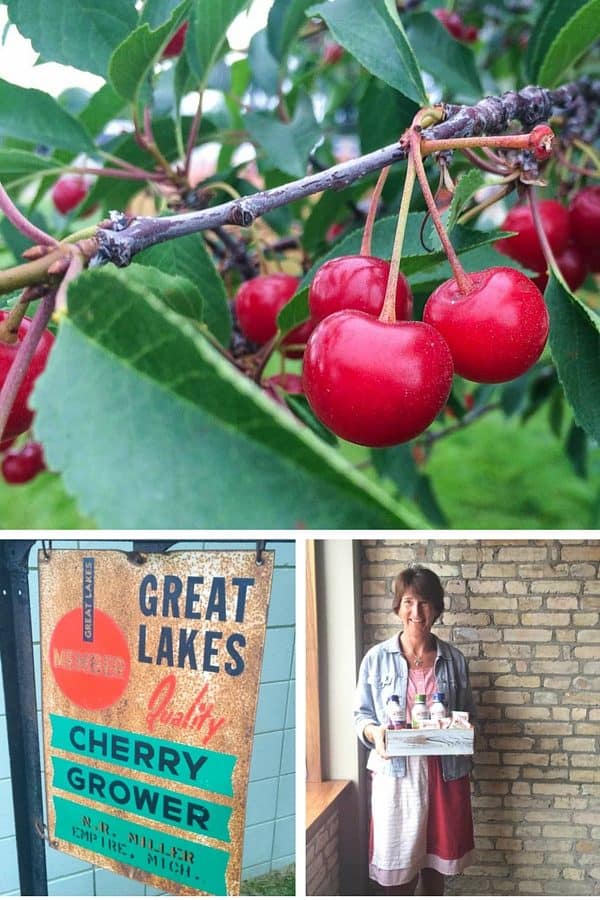 10. Wander around Traverse City
Traverse city is full of charm, character, and kind, friendly people. Browse the shops, grab ice cream at Moomers, taste samples at Cherry Republic (do me a favor and buy the cherry salsa), or watch fudge being made at Murdick's. Whatever you choose to do, you won't be disappointed.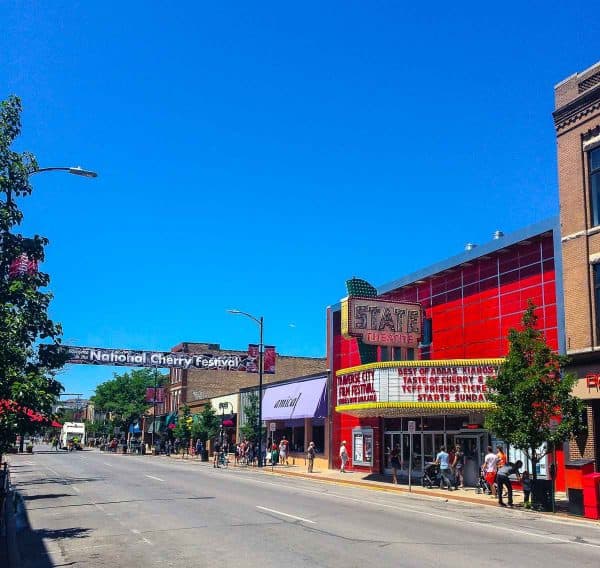 I only scratched the surface of the Traverse City Cherry Festival and I cannot wait to go back with friends or with my kids. It's the perfect weekend (or more!) getaway…one you definitely need to put on the bucket list if you haven't already.
A HUGE THANK YOU to the National Cherry Festival and Cherry Capital Airport for hosting our group: Becky, Amanda, Erin, myself, and Lauren. I'm lucky to not only have these ladies as colleagues but also as friends.
Our trip was hosted by the National Cherry Festival, Cherry Capital Airport, and some of the mentioned restaurants. No other compensation was received, and as always, all opinions are my own.