Stout Hot Chocolate
Creamy hot chocolate, fortified with stout beer, and topped with a mound of stout flavored whipped cream! Stout hot chocolate is a unique way to combine two favorites: craft beer and chocolate!
I am so excited to introduce you all to my second guest post, Jackie of The Beeroness. I'm relatively new to Jackie's blog but was instantly hooked. I, like Jackie, love beer and you'll frequently find me pouring a bottle in a big ol' pot of chili. Jackie, however is much more creative, using beer in everything from entrees to breakfasts and desserts. Check out her fantastic recipes including Pumpkin Ale Waffles, Mac and Beer Cheese Soup, and Homemade Beer Pasta. Today Jackie brought a recipe perfect for this time of the year. Warm up with a mug of this in front of your Christmas tree before you take it down (sniff sniff). Serve it at your NYE parties. Drink it the morning after your NYE party….the possibilities are endless.
Oh, and she's writing a cookbook. Keep your eyes out for that one!
~~~~~~~~~~~~
Hi Friends.
I'm Jackie, I write a little blog called The Beeroness, where I talk about my obsession with cooking with beer and the complete fascination I have with the world of craft beer. Most normal people are content to just drink the beer they love, but I have to figure out how to get as much of it into my food as possible.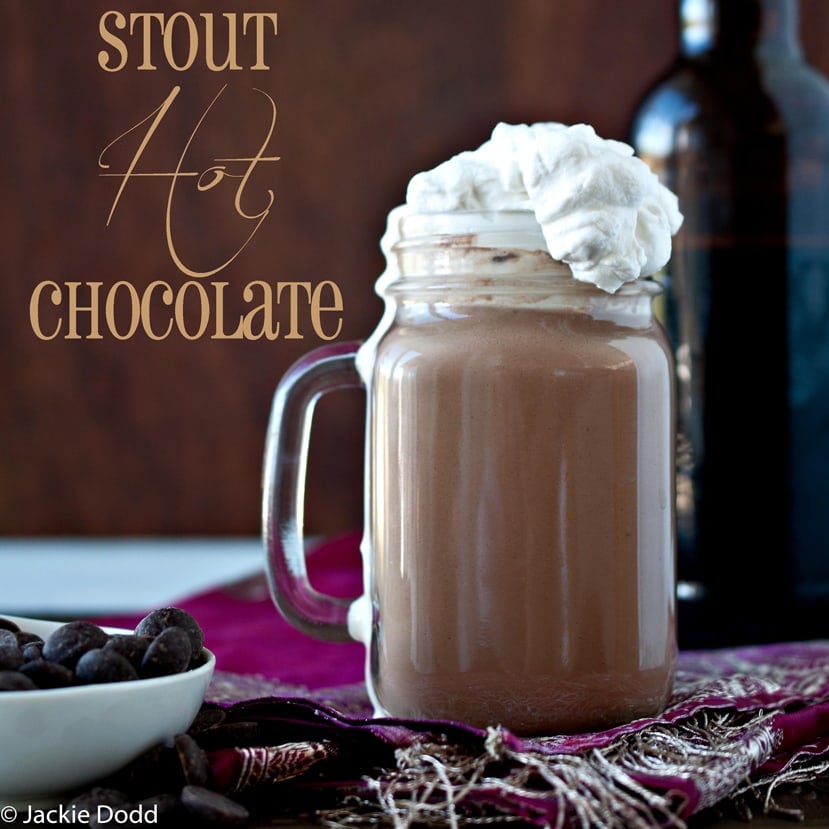 A little known fact about me, and probably the main reason I'm so drawn to this beer-cooking obsession, is that I hate to be drunk. I know, completely strange for a girl who is so obsessed with an alcoholic beverage. Cooking with beer removes the alcohol, making it perfect for a girl like me who loves those awesome flavors but does not love the results of overconsumption, as well as perfect for a girl like Rachel, who has spent quite a bit of this past year pregnant or nursing, making beer consumption a bit trickier.
And let's be honest, non-alcoholic beer just sucks. I'd rather make myself a big mug of Stout Hot Chocolate, especially in the winter.
This is a recipe that is easy to make in a way that you can remove the alcohol, while still getting to enjoy the flavors of stout, or you can make a full-booze version, the choice is yours. I've included directions for making it both ways.
I like to top stout hot chocolate with a generous dollop of stout flavored whipped cream.
Looking for more creamy drinks?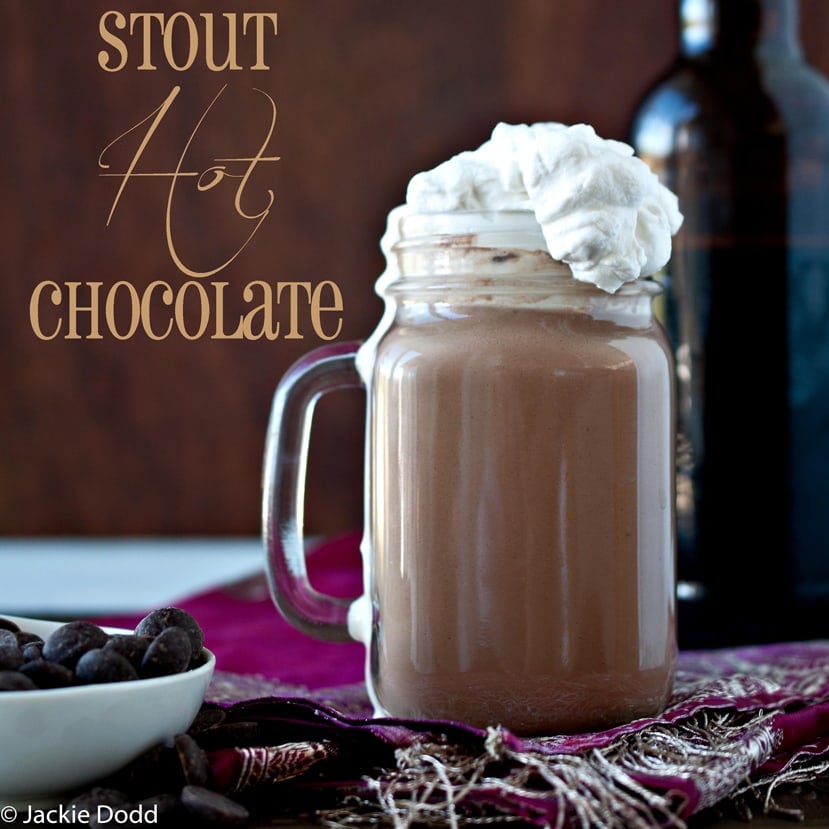 Stout Hot Chocolate
Yield: 2 servings
Prep Time: 5 minutes
Cook Time: 7 minutes
Total Time: 12 minutes
A grown up version of the cold weather favorite, stout hot chocolate is creamy and delicious.
Ingredients
Hot Chocolate
1 cup heavy cream
½ cup milk
½ cup dark chocolate chips
1 cup chocolate stout (to remove alcohol, see note below)
2 tablespoons sugar (if desired)
Whipped Cream
1 cup heavy cream
1/3 cup powdered sugar
2 tablespoons chocolate stout
Instructions
In a saucepan over medium high heat, add the cream, milk and chocolate chips. Stir until melted, about 5 minutes.
Remove from heat, stir in the beer. Depending on your personal preference and the level of bitterness in the beer you used, taste and determine if you want it sweeter; add up to 2 tablespoons of sugar for a higher level of sweetness.
Return to heat and stir until desired temperature is reached (Usually between 140°F and 160°F).
To make the whipped cream, add all whipped cream ingredients to the bowl of a stand mixer, or use a hand mixer; whip on high until soft peaks form, about 3 minutes. Serve hot chocolate topped with whipped cream.
Notes
To remove the vast majority of the alcohol in beer, boil at 175°F for 10 minutes. Some trace amounts of alcohol will remain, but it will be a very small amount, especially if you use a lower alcohol beer. (The amount is so low, the FDA does not require you to be carded while buying Rum Raisin cake, Beer Battered Onion Rings or Red Wine sauce at a restaurant, if it is safe according to US Government, who am I to argue?) If you boil the beer for ten minutes, you will also be reducing and intensifying the flavors, making it necessary to add additional milk and sugar to achieve the same flavors of a non-reduced, full alcohol beer. To make this recipe with a reduced beer, place 16 ounces of beer in a pot, boil for 10 minutes. Use only ½ a cup of the reduced beer, and ½ cup of additional milk. Add sugar if desired to make it sweeter. For the whipped cream, sub 1 teaspoon reduced beer in place of the 2 tablespoons stout for the non-alcoholic version.
Nutrition Information:
Yield: 2
Serving Size: 1 mug
Amount Per Serving:
Calories: 1263
Total Fat: 100g
Saturated Fat: 63g
Trans Fat: 3g
Unsaturated Fat: 30g
Cholesterol: 277mg
Sodium: 113mg
Carbohydrates: 68g
Fiber: 3g
Sugar: 57g
Protein: 11g
RachelCooks.com sometimes provides nutritional information, but these figures should be considered estimates, as they are not calculated by a registered dietitian. Please consult a medical professional for any specific nutrition, diet, or allergy advice.
~~~~~~~~~~~~
Thanks, Jackie! A perfect combination: stout hot chocolate.