Sky-High Confetti Cream Cheese Brownies
Looking for an over-the-top brownie? Try sky-high confetti cream cheese brownies for an extravagant treat!
Just look at those chocolatey gooey brownies, with a thick layer of confetti laced cream cheese filling sandwiched between. A brownie sandwich! Not only fun to look at, but scrumptious to eat.
Side note: This photo really bothers me because of the gigantic fingerprint in the middle of the brownie. See if you can spot it!
Things around here have gotten way too healthy lately.
Healthy soups.
Healthy dips.
Healthy pancakes.
As I write this, I'm eating a piece of banana cake with cream cheese frosting. You know, just to even things out. Besides, I need to have something with my coffee! This brownie recipe should also help even things out.
These cream cheese brownies are similar to these cream cheese brownies but I kick them up a notch this time. With sprinkles!
And twice as much cream cheese.
…and twice as much brownie.
If you're on a diet, I apologize.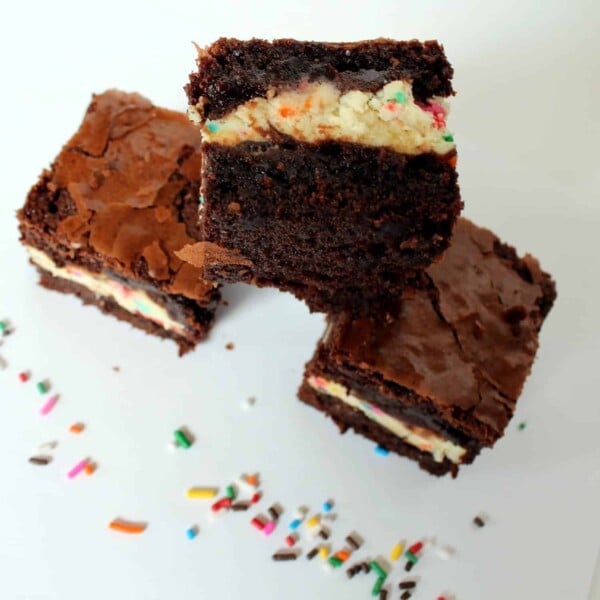 About these confetti brownies:
So, to make these brownies, you'll need 2 boxes of brownie mix. Yes, I know, brownie mix is kind of cheating but when the mixes taste great and are so simple to make, why not?
So, 2 boxes of brownie mix. Not the small boxes, you're going to need the box that is labelled for 9 x 13 pans. Prepare the combined brownie mixes in a large bowl, using the required amounts of egg, oil, and water. Pour half of the brownie batter into a deep 9 x 13 pan and set the remaining brownie batter aside for now.
Using two eight ounce packages of softened cream cheese, make the filling. With an electric mixer, combine the cream cheese, two eggs, sugar, a half stick of softened butter, a bit of flour, and vanilla. Beat this mixture until it's nice and smooth. Fold in lots of sprinkles. Spoon this mixture onto the first layer of brownie batter and carefully spread it out.
Pour the remaining brownie batter onto the cream cheese filling layer and pop the pan into a preheated oven. The brownies need to bake nearly an hour. There's a lot of brownie to bake there.
Just a note: the pan is pretty full with all three layers. Use the deepest 9 x 13 pan you have. The cleanliness of my oven was nearly compromised during the baking of these brownies. I opened and closed the door about a hundred times in fear that these were going to run over the side of the pan. They didn't! If you're worried like I was, put a large rimmed baking sheet on the oven rack under the brownies to catch over run.
Love brownies?

I have a few more brownie recipes you may want to try: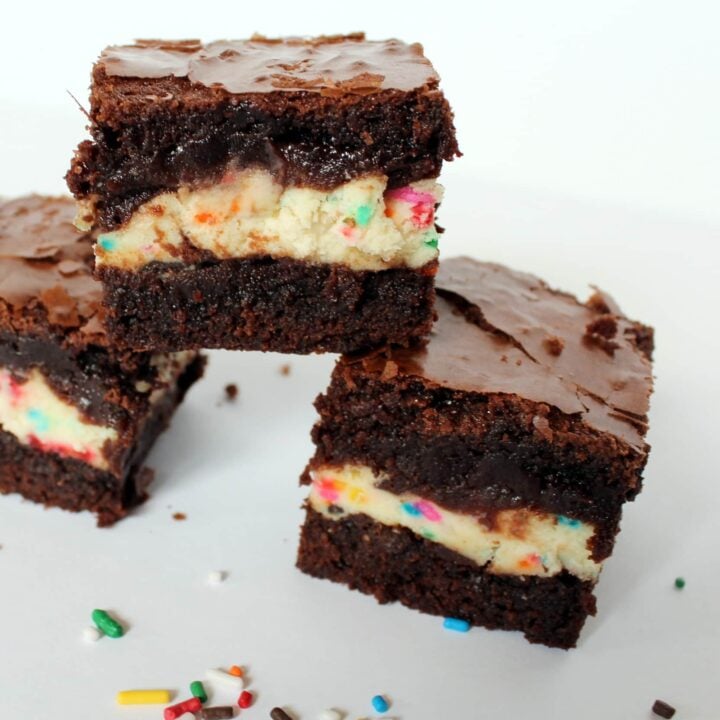 Sky-High Confetti Cream Cheese Brownies
Yield: 20 brownies
Prep Time: 15 minutes
Cook Time: 1 hour
Total Time: 1 hour 15 minutes
Looking for an over-the-top brownie? Try sky-high confetti cream cheese brownies for an extravagant treat!
Ingredients
Brownie layer
2 boxes of brownie mix (buy the kind that makes a 9×13 pan)
4 eggs
1 cup canola oil
1/2 cup water
Filling
two 8 oz. packages of cream cheese, softened (feel free to use reduced fat, but I wouldn't use fat-free)
2 eggs
1/2 cup sugar
4 tablespoons unsalted butter, softened
2 tablespoons all-purpose flour
2 teaspoons pure vanilla extract
1/4 cup sprinkles
Instructions
Preheat oven to 350*F.
In large bowl, prepare brownie mixes as directed on box. Set aside.
In another large bowl, combine cream cheese, 2 eggs, sugar, butter, flour, vanilla. Beat with electric mixer until smooth. Fold in sprinkles.
Pour half of the prepared brownie mix into greased 9×13 pan. Spoon on the cream cheese mixture and spread out into an even layer. Spoon the remaining half of the brownie batter to cover the cream cheese mixture.
Bake for 55-60 minutes or until set in the middle.
Store leftover brownies in the refrigerator.
Nutrition Information:
Yield: 20
Serving Size: 1 brownie
Amount Per Serving:
Calories: 264
Total Fat: 23g
Saturated Fat: 7g
Trans Fat: 0g
Unsaturated Fat: 15g
Cholesterol: 85mg
Sodium: 101mg
Carbohydrates: 11g
Fiber: 0g
Sugar: 7g
Protein: 3g
RachelCooks.com sometimes provides nutritional information, but these figures should be considered estimates, as they are not calculated by a registered dietitian. Please consult a medical professional for any specific nutrition, diet, or allergy advice.
Verdict:
I think this is kind of a no-brainer. These are delicious!
Husband's take:
I actually dropped these off at my work, so he didn't get any. (Bad wife alert!) Word on the street is that everyone loved them there.
Changes I would make:
None.
Difficulty:
As always, easy!
And these pictures are for Geni who mentioned that I haven't had a lot of pictures of my little lady lately. Sunday's post was for you too, Geni!