Roasted Mushroom Risotto Recipe
Rich and creamy mushroom risotto is a comforting vegetarian dish that anyone can make. This recipe is filled with mouthwatering garlicky mushrooms and flavorful herbs with the most satisfyingly hearty texture.
Recipe Overview
Why you'll love it: Learn how to make risotto right in your own kitchen! This is a satisfying recipe filled with earthy roasted mushrooms.
How long it takes: This easy mushroom risotto is ready in under an hour.
Equipment you'll need: rimmed baking pan for roasting and a heavy-bottom pot and spoon for stirring
Servings: 4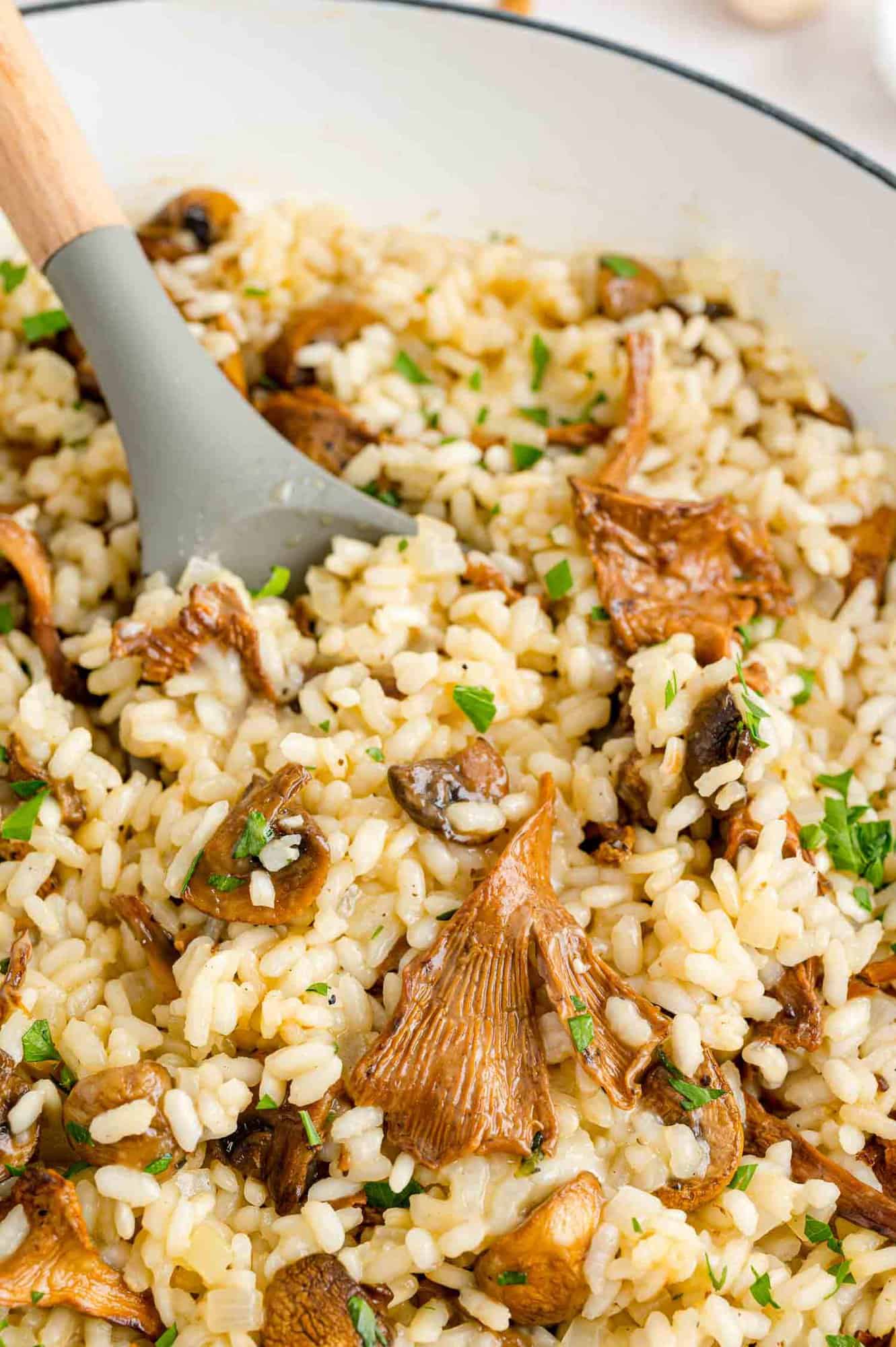 Creamy Roasted Mushroom Risotto
Risotto. Fancy-schmancy, right? In reality, a creamy homemade mushroom risotto is not out of reach for any night of the week. This recipe for roasted mushroom risotto is totally gourmet, and so easy to make.
Of course, I've made this risotto with my favorite thing in life (besides popcorn): roasted vegetables. Seeing as roasted mushrooms are top of my list lately in terms of veggies to roast, it was no contest!
The possibilities with this recipe are endless. Just remember to keep on stirring. That's what gives this risotto recipe and any risotto its famously creamy texture.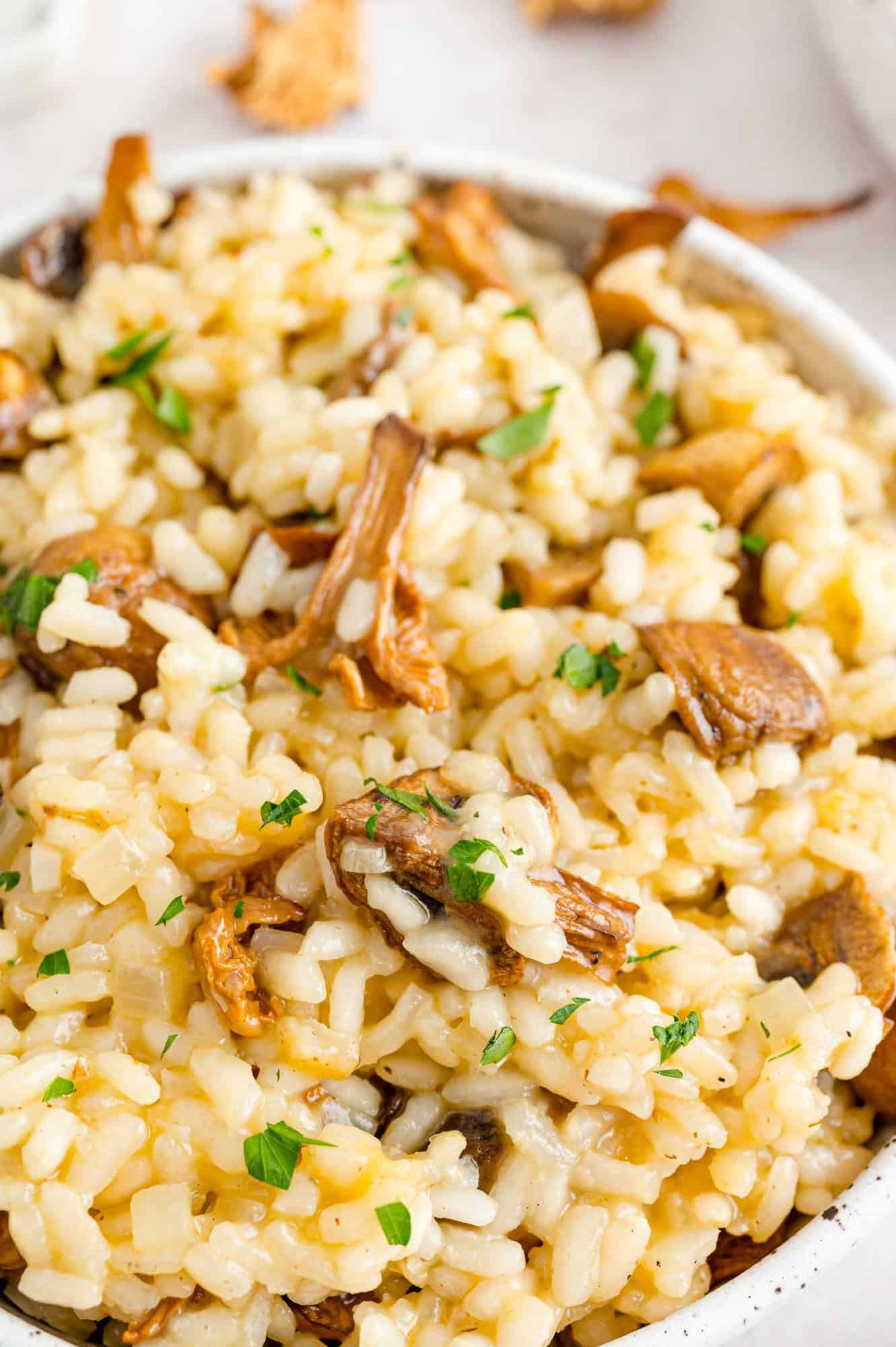 Why You'll Love This Easy Risotto Recipe
This recipe is:
Comforting. This classic dish is hearty and tastes like it comes from a 5-star restaurant. And yet, a creamy, elegant homemade risotto is actually very simple to make on the stovetop.
Flavorful. This mushroom risotto is packed with umami flavor thanks to two types of buttery mushrooms, plus garlic, parmesan, and herbs.
Customizable. My vegetarian mushroom risotto recipe is fantastic just as it's written. However, if you're not a fan of mushrooms, or if you'd like to get creative with another roasted veggie, this recipe is super easy to adapt. Keep reading for suggestions!
What Is Risotto?
Traditional Italian risotto is a classic dish made by cooking starchy rice in broth until the consistency becomes creamy. Other ingredients include butter, onions, white wine, and parmesan cheese. There isn't only one way to make risotto either. You'll find variations made with mushrooms (like this one) and saffron (Risotto alla Milanese), among others.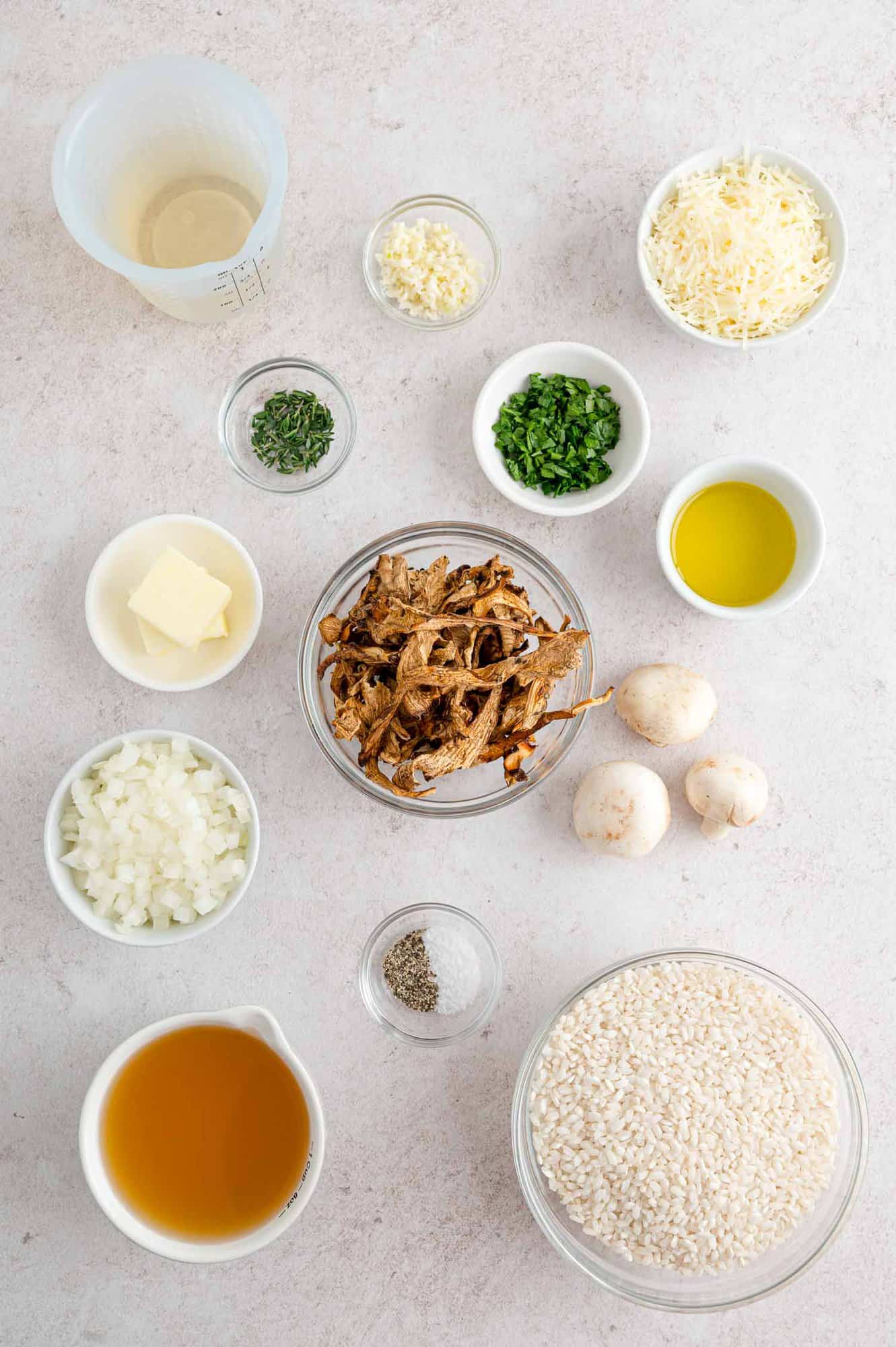 Ingredients You'll Need
So, what goes into the best mushroom risotto? Well, mushrooms, for starters. Plenty of 'em! Below, I've included some notes on the ingredients. Be sure to scroll to the recipe card for the full amounts and recipe details.
Mushrooms: I make this risotto recipe with a combination of roasted white mushrooms and dried chanterelle mushrooms. Dried mushrooms have a more intense flavor, so if you'd prefer to use only white mushrooms, that's fine, too. You can really use any combination of mushrooms you'd like.
Thyme: Fresh or dried thyme leaves complement the earthy mushroom flavors, plus salt and coarse black pepper to season.
Broth: I make this recipe using vegetable stock. Chicken stock will also work if you're not making a vegetarian risotto.
Onions and Garlic: Freshly minced garlic cloves and finely diced yellow onion for aromatics.
Risotto Rice: The rice used to make risotto is called Arborio rice. Risotto rice is different from regular white rice (see below), as its high starch content is what thickens the broth to make risotto creamy.
Wine: White wine deepens the flavors and also helps to deglaze the pot (in other words, lift up and dissolve the browned bits from the bottom). I recommend a dry white wine, like chardonnay. However, if you'd prefer to cook without wine, substitute equal parts vegetable or chicken stock instead.
Parmesan: Trust me, you'll want to grate your parmesan fresh from the block for this recipe. If you'd like to keep things authentic, go with Parmigiano-Reggiano. Pecorino is another good option. Stirring freshly grated parmesan into the finished risotto adds another layer of creaminess.
Arborio Rice vs. Regular Rice
What's the difference between arborio rice and white rice? The difference lies in the rice's starch content. Arborio rice, or risotto rice, is a type of starchy Italian short-grain rice. Unlike white rice, risotto rice can absorb large amounts of liquid without turning mushy. Instead, the excess starches give risotto its creamy texture. Other varieties of starchy rice include Carnaroli or Vialone Nano rice.
How to Make Mushroom Risotto
There's something therapeutic about the process of stirring risotto rice into the broth until it becomes creamy. Although sometimes I make risotto in my Instant Pot, with no stirring at all, this stovetop version really comes down to the cooking technique. It's super simple! Let's get started: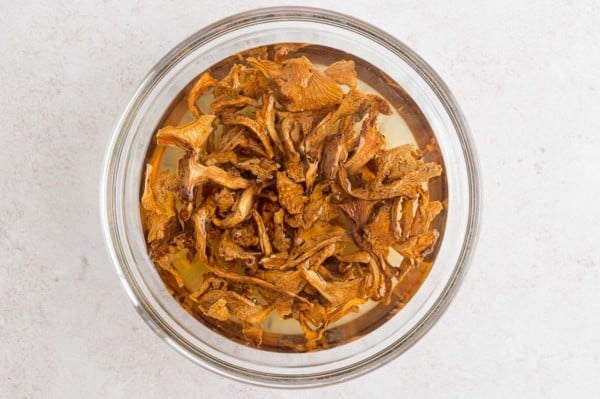 Prep the mushrooms. Chop and then season the white mushrooms with olive oil, thyme, salt, and pepper. Roast at 425ºF for 20 to 25 minutes, stirring about halfway through. While the mushrooms are in the oven, rehydrate the dried chanterelle mushrooms in a bowl with boiling water. Bring the vegetable stock to a simmer on the stovetop.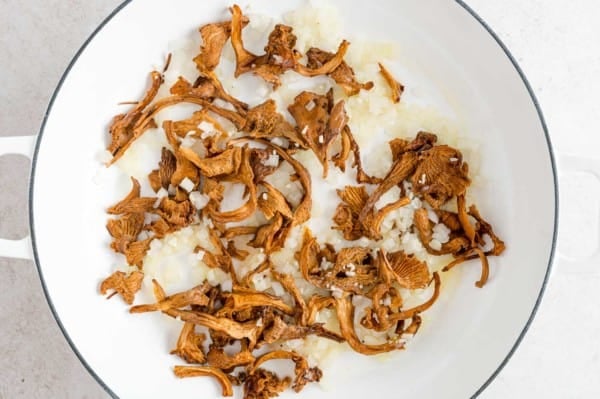 Saute. Add the chanterelles to a saute pan with melted butter, garlic, and onion. Cook for a few minutes, then stir in the rice, lightly toasting it in the pan. Pour in the white wine to deglaze the bottom of the pot, then simmer until it's reduced.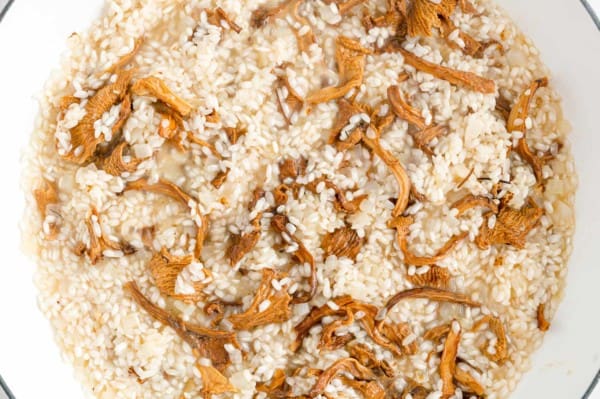 Cook the risotto. At this point, you'll start incorporating the simmering vegetable stock, a little at a time. Begin by adding a half-cup of stock to the rice, stirring until it's absorbed before adding more. Repeat, stirring often, until most of the stock is absorbed and the rice is creamy with a slight chew. This should take about 25 minutes.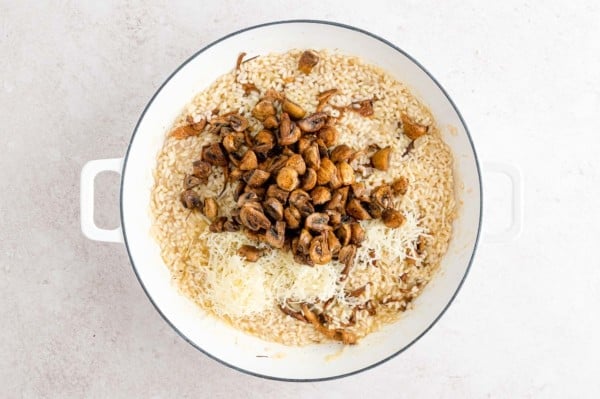 Finish and serve. Lastly, take the pan off of the heat, then stir in the grated parmesan followed by the roasted mushrooms. Sprinkle on chopped fresh parsley and serve right away.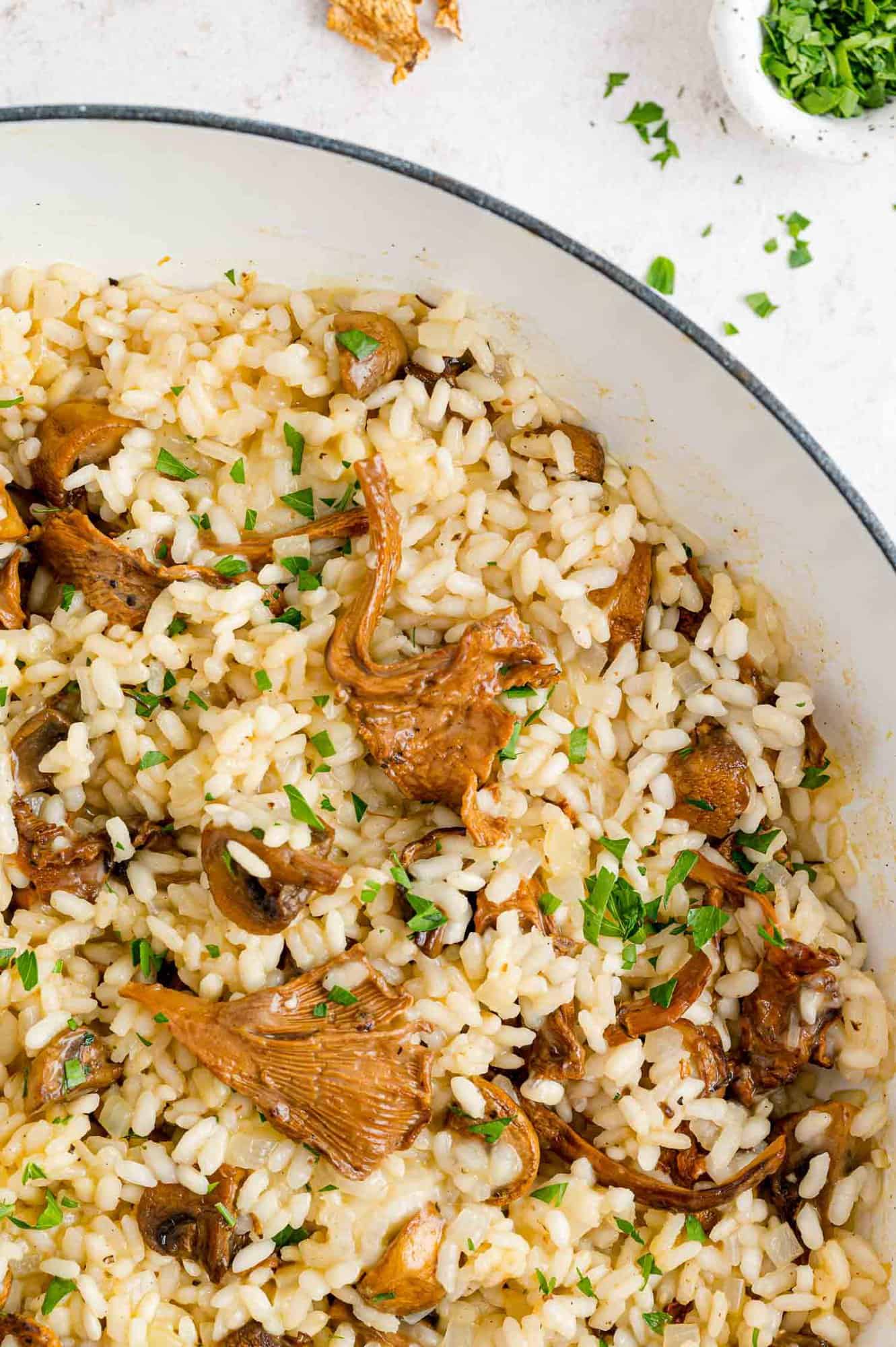 Tips for the Best Homemade Risotto
It takes a bit of patience to make a good risotto, but I'm sure you're going to want to make this recipe every week! Here are a few final tips for an ultra-creamy stovetop mushroom risotto:
Don't rinse the rice. Some white rice varieties call for rinsing beforehand to remove the starch, but not risotto rice. You want to leave the starch intact.
Stir often. A creamy risotto calls for near-constant stirring as it helps the liquid absorb and releases the starches in the rice. Once you get into a groove, the time goes by quickly!
Go slow. Cook your risotto slowly, letting the broth absorb each time before adding the next half-cup. Rushing the process doesn't do the texture of your risotto any favors.
Remove the pan from the heat before adding the parmesan. This prevents the cheese from clumping.
Mushroom Risotto FAQs
What is the secret to creamy risotto?
The secret to a perfect mushroom risotto is to cook the risotto rice slowly and stir it often. Agitating the rice is key to releasing the starches which create a rich, creamy texture.
What goes with mushroom risotto?
So many dishes, from roasted vegetables to chicken to seafood. Mushroom risotto is great to serve as a starter or as a main. See the section below for easy serving suggestions.
Make This Recipe Your Own
One of my favorite things about this recipe is that it encourages creativity. You could roast nearly any vegetable and stir it into this creamy risotto. Try it with roasted carrots, roasted butternut squash, or even roasted asparagus. Here are more variation ideas:
Herbs: If you want to use different herbs, it's easy to do. Tarragon, sage, fresh oregano, rosemary, or parsley are delicious.
Protein: Keep this risotto perfectly vegetarian for Meatless Monday by using vegetable stock. Or, use chicken stock and add diced or shredded grilled chicken to satisfy your meat-loving family. Steak or shrimp risotto are good, too.
Greens: Wilt in spinach, sautéed kale, or peas for a pop of green.
What to Serve With Mushroom Risotto
Serve mushroom risotto on its own as a main dish, or in smaller portions as a starter or appetizer. It pairs great with proteins like pork chops and vegetable sides like lemon roasted broccoli. For a quick weeknight dinner, these easy air fryer chicken thighs cook in the time it takes to finish your risotto.
If I'm entertaining, seared scallops or lemon pepper shrimp make a flavorful addition next to this rich and earthy mushroom risotto. We also love it served in the colder months with a cozy Italian pot roast.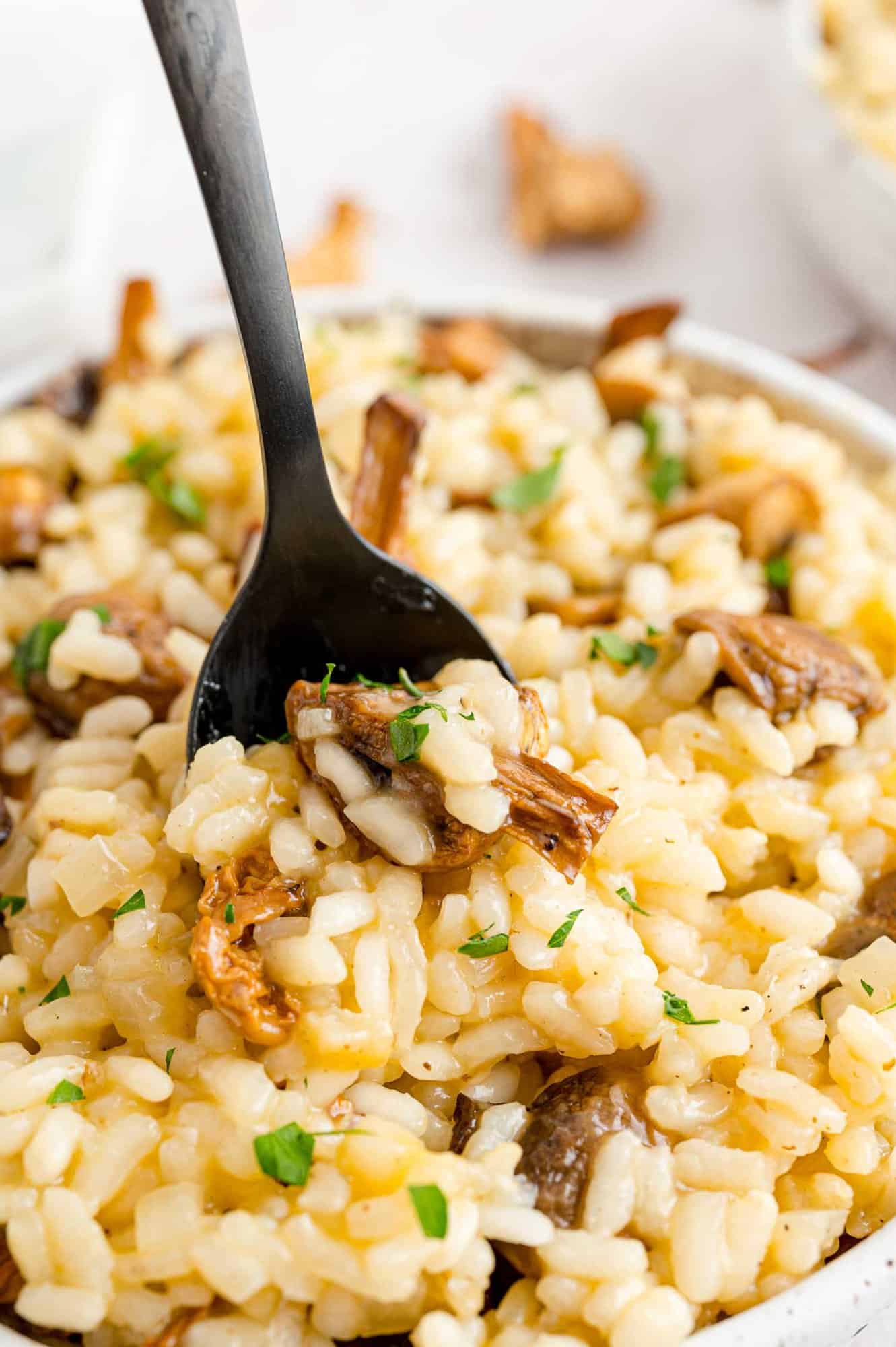 Storing & Reheating Leftovers
As with other rice dishes, properly storing leftover risotto is key to preserving the texture (not to mention avoiding dangerous bacteria!):
Fridge: Store your mushroom risotto in an airtight container and refrigerate leftovers within 2 hours. Reheat the risotto within 1 to 2 days, either in the microwave or on the stovetop, until it's hot throughout. If needed, add a bit of extra broth or water to the risotto before reheating to help loosen it up.
Freezer: Risottos aren't the best freezer meals. However, you can freeze this recipe in a pinch. Store the mushroom risotto in a freezer-safe container and freeze it for up to 2 months. Thaw the risotto in the fridge overnight before reheating.
I originally shared the recipe for this roasted mushroom risotto on Anolon.com, but you can also find it right here (we retested it and updated it in 2023 so the current version is here on Rachel Cooks).
Interested in a weekly meal plan (it's free!) that includes this risotto recipe? Take a look at my Meal Plan #34. You'll find a wholesome recipe for each weekday plus a categorized grocery list. Let me do the planning for you this week!
We'll be adding a new meal plan weekly. If you're interested, browse all of our meal plans.
Did you make this? Be sure to leave a review below and tag me @rachelcooksblog on Facebook, Instagram, or Pinterest!
This creamy mushroom risotto recipe is a hearty dinner filled with mouthwatering garlicky mushrooms, flavorful herbs, and parmesan. It's a comforting vegetarian dish that anyone can make!
Ingredients
1

pkg.

(1 oz.) dried chanterelle mushrooms

16

ounces

white mushrooms, cut into halves or quarters

(bite-sized)

2

tablespoons

extra virgin olive oil

1

teaspoon

fresh thyme leaves

(or

½

teaspoon dried thyme)

¼

teaspoon

kosher salt

¼

teaspoon

coarse ground black pepper

6

cups

vegetable broth

(or stock)

2

tablespoons

unsalted butter

2

cloves

garlic, minced

1

small

yellow onion, finely diced

(

½

cup)

1 ¾

cups

Arborio rice

⅔

cup

dry white wine

(e.g. Chardonnay)

½

cup

freshly grated Parmesan cheese

(more for garnish, if desired)

2

tablespoons

(or more) chopped fresh parsley
Instructions
Preheat oven to 425°F.

Place the dried chanterelle mushrooms in a bowl, and pour boiling water over them. Let them soak for at least twenty minutes.

Place the white mushrooms on a large-rimmed sheet tray and toss with olive oil, thyme, and a sprinkle of salt and pepper. Spread into a single layer and roast for 15 minutes, stir, and roast for another 5 to 10 minutes or until golden brown and cooked.

Meanwhile, bring the stock to a simmer in a saucepan.

In a large deep sauté pan, melt the butter over medium heat. Add rehydrated and drained chanterelles, garlic, and onion, and sauté for about 5 minutes or until onions are translucent. Add the rice and cook for another 2 to 3 minutes to toast the rice, stirring frequently.

Add the white wine and bring to a boil. Reduce liquid by about half, 2 to 3 minutes. Add ½ cup of simmering stock, and keep stirring nearly constantly, making sure to push down any rice stuck to the edges of the pans. Once the liquid is nearly absorbed, add another ½ cup of stock, stirring constantly. Continue to do this until the rice is cooked but still slightly chewy, about 25 minutes.

Remove from heat and stir in Parmesan cheese and roasted mushrooms. Garnish with fresh parsley and serve immediately.
Notes
If you prefer, substitute another roasted vegetable of your choice.
Fridge Storage: Store leftover risotto in an airtight container and refrigerate leftovers within 2 hours. Reheat within 1 to 2 days, either in the microwave or on the stovetop until it's hot throughout. If needed, add a bit of extra broth or water to the risotto before reheating to help loosen it up.
Freezer Storage: Risottos aren't the best freezer meals. However, you can freeze this recipe in a pinch. Store the mushroom risotto in a freezer-safe container and freeze it for up to 2 months. Thaw the risotto in the fridge overnight before reheating.
Nutrition Information
Serving:
1
cup
,
Calories:
255
kcal
,
Carbohydrates:
28
g
,
Protein:
8
g
,
Fat:
11
g
,
Saturated Fat:
4
g
,
Polyunsaturated Fat:
1
g
,
Monounsaturated Fat:
5
g
,
Trans Fat:
0.2
g
,
Cholesterol:
17
mg
,
Sodium:
250
mg
,
Potassium:
394
mg
,
Fiber:
3
g
,
Sugar:
3
g
,
Vitamin A:
318
IU
,
Vitamin C:
5
mg
,
Calcium:
89
mg
,
Iron:
2
mg
This website provides approximate nutrition information for convenience and as a courtesy only. Nutrition data is gathered primarily from the USDA Food Composition Database, whenever available, or otherwise other online calculators.