Quinoa Crab Cakes
A lightened up version of crab cakes that you can feel great about serving to friends, families and picky kids alike.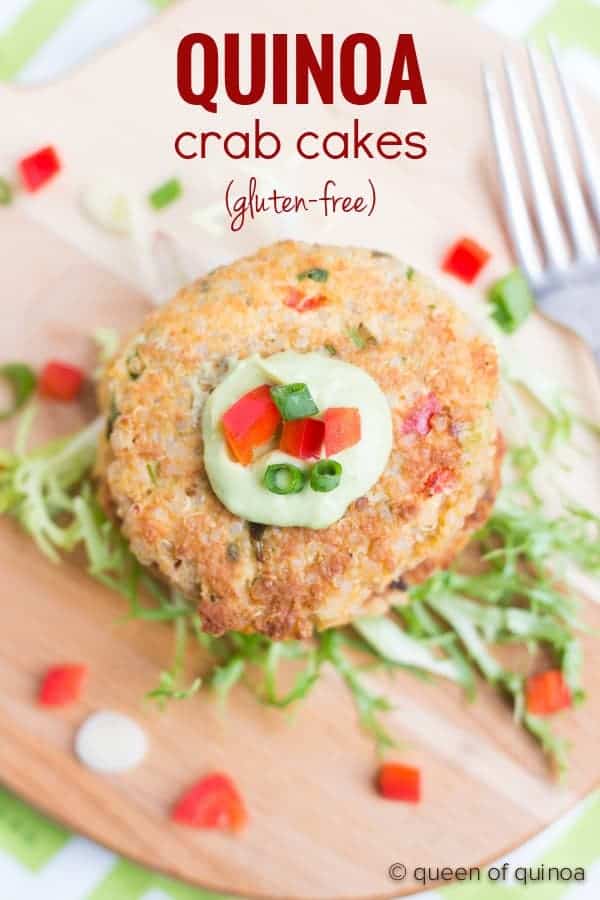 I'm so excited to have Alyssa from Simply Quinoa here to guest post today.
As you all clearly know, I love quinoa — as demonstrated by my wealth of quinoa recipes. It is such a versatile ingredient — take the place of breadcrumbs in meatloaf, starring in a healthy salad, or taking the place of meat in vegan bolognese. And that's only the beginning!
Alyssa's site is my go-to source for quinoa recipes, and the icing on the cake? She's the sweetest. I'm so happy to have "met" Alyssa through this little thing called the internet and am thrilled to be introducing her to you. I'm happy to have a friend here to create a delicious seafood recipe. I'll turn it over to Alyssa now…
~~~~~~~~
Hi everyone! I'm Alyssa and I'm so happy to be here with you today on Rachel Cooks, sharing one of my favorite quinoa recipes. When Rachel first asked me to guest post, I was thrilled; I've been a long-time follower and absolutely adore all of her recipes. I feel honored to be able to add one of my own to this list!
A little bit about me before we jump into the recipe: I've been blogging for about three years (come stop by and say hello!) and have been gluten-free for almost four. I self diagnosed with an intolerance to gluten the year after I graduated from college and haven't looked back. I also choose to live primarily dairy-free and refined sugar free as well because I find that overall I just feel better when I'm eating clean.
While some may think that having food sensitivities is limiting, I feel just the opposite. I can honestly say I have never enjoyed food as much as I do now. It has forced me to be more mindful about the ingredients I put in my body and made me see how unhealthy many of the "health foods" I was eating really were.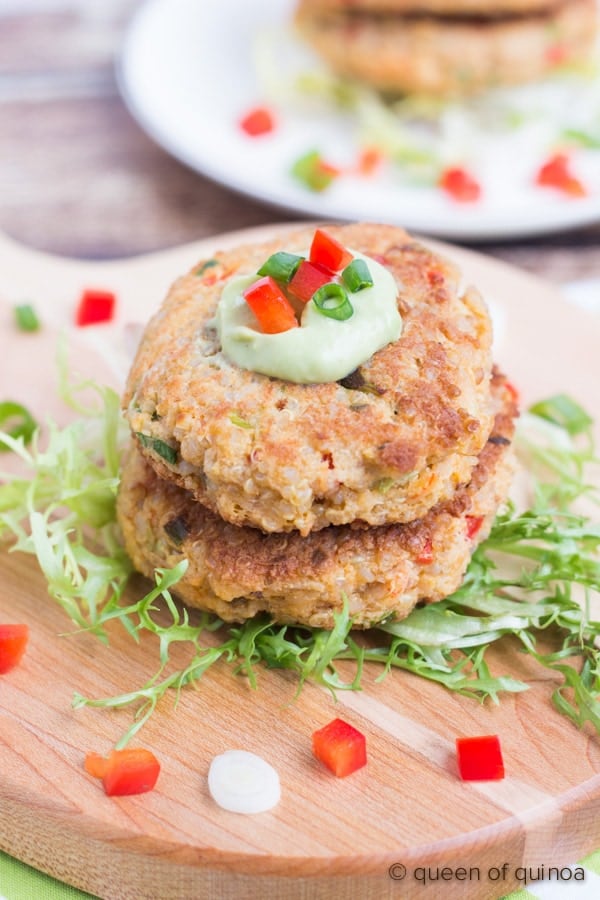 Nowadays, I focus on living and eating as clean as possible. And I incorporate lots of quinoa into my diet (I mean, it is what I blog about after all!). Of course, that's not to say I don't indulge, because I sure do love my wine and chocolate, but I make sure to balance those treats with lots of fresh fruits, veggies, lean proteins and yes, lots of quinoa.
Lately, my obsession has been making quinoa burgers. Not only are they super easy, but they're also a great way to sneak healthy ingredients into your family's meal without them knowing. Take my Cheezy Broccoli Quinoa Burgers for example; those patties taste like they're loaded with cheese, but in fact are vegan and packed with protein.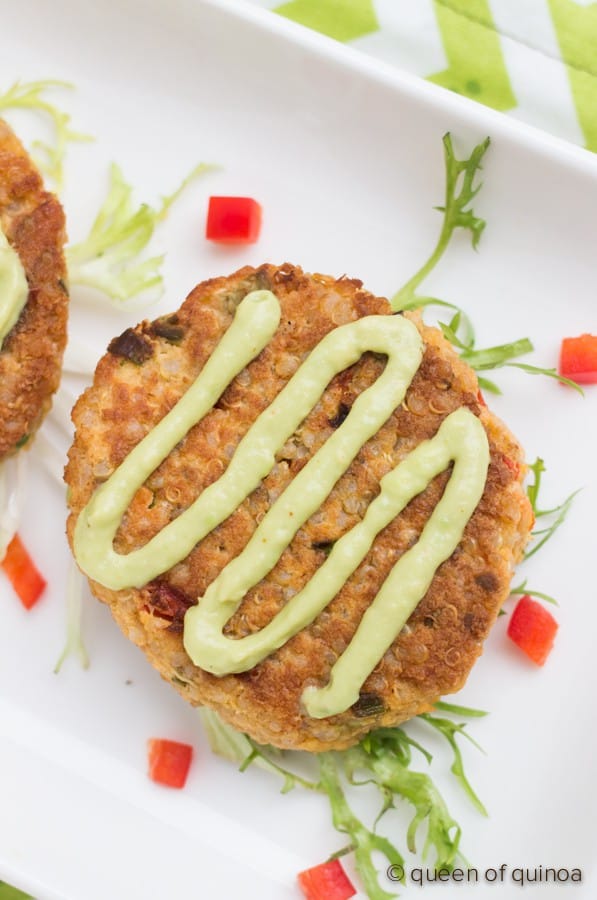 And then we've got today's recipe: Quinoa Crab Cakes. These could not be easier to make and unlike the crab cakes you find in the freezer or at a restaurant, these burgers are actually good for you. We've added fresh vegetables, protein-rich quinoa, heart-healthy almond flour and smoky paprika for depth of flavor.
And don't worry, you won't have to sacrifice that traditional flavor that you know and love – these babies are the real deal. Just a lightened up version that you can feel great about serving to friends, families and picky kids alike. Enjoy!
Quinoa Crab Cakes
Yield: 6-8 patties
Prep Time: 10 minutes
Cook Time: 15 minutes
Additional Time: 1 hour
Total Time: 1 hour 25 minutes
A lightened up version of crab cakes that you can feel great about serving to friends, families and picky kids alike.
Ingredients
12 oz. crab meat (either canned or fresh if you can get it)
¼ cup finely chopped green onion
½ cup diced red bell pepper
1 cup cooked quinoa
¼ cup – 1/3 cup almond flour
2 large eggs, beaten
1 teaspoon smoked paprika
1/8 teaspoon cayenne pepper
Salt & pepper to taste
Oil for cooking
Instructions
Place crab meat, onions and peppers into a food processor fit with a steel blade. Pulse for a few seconds to combine.
Add quinoa, ¼ cup almond flour and spices, and pulse 5 – 10 times. Transfer mixture to a large bowl.
Add eggs and mix until mixture holds together and you can form patties. Add more almond flour 1 tablespoon at a time as needed, mixing completely between each addition.
Form mixture into patties and place on a parchment lined baking sheet. Refrigerate for 1 – 2 hours.
Heat oil in a cast iron pan over medium heat. Cook burgers in batches, searing 2 – 3 minutes per side. Rest on a plate while you finish the others.
Serve immediately and top with your favorite creamy dip – sour cream, avocado crema, cashew cream and hummus are all great options.
Notes
If you don't have almond flour, regular flour will work. Start with ¼ cup and add more as needed.
Nutrition Information:
Yield: 6
Serving Size: 1 crab cake
Amount Per Serving:
Calories: 170
Total Fat: 8g
Saturated Fat: 1g
Trans Fat: 0g
Unsaturated Fat: 6g
Cholesterol: 117mg
Sodium: 300mg
Carbohydrates: 9g
Fiber: 2g
Sugar: 1g
Protein: 15g
RachelCooks.com sometimes provides nutritional information, but these figures should be considered estimates, as they are not calculated by a registered dietitian. Please consult a medical professional for any specific nutrition, diet, or allergy advice.
Alyssa is the quinoa-obsessed girl behind the gluten-free website Queen of Quinoa. She enjoys sharing nutritious, wholesome recipes, always with a little quinoa twist. She is also the author of two ebooks, Baking with Quinoa and A Quinoa Thanksgiving.
Connect with Alyssa on Facebook, Twitter, Pinterest, Google+, and Instagram.