Potato Chip Brownies
If you love sweet and salty combinations, be ready to fall in love with these potato chip brownies. Sweet chocolate brownies with salty crisp potato chips is an unbeatable combination!
I'm a sucker for potato chips. We're talking cannot-have-them-in-the-house-sucker. I really can't resist them if they are sitting there in my pantry waving to me. Okay, they don't really wave at me but sometimes it seems like it. "Rachel…can you see us? We're here in your pantry, so crispy and salty and good…aren't you in the mood for a snack yet?…."
Oh, and then there are chocolate covered potato chips. Have you all ever had those? Thanks a lot, whoever created those babies.
Well, I'm taking it one step further with the creation of these potato chip brownies. Did you hear me correctly? Yeah–I said POTATO CHIP BROWNIES. I don't know why I'm yelling. But you need to sit down, listen, and then make these. You'll be glad you did.
Potato chip brownies give you chocolate, they give you sweet, salty, crunchy, gooey chocolate. Perfection!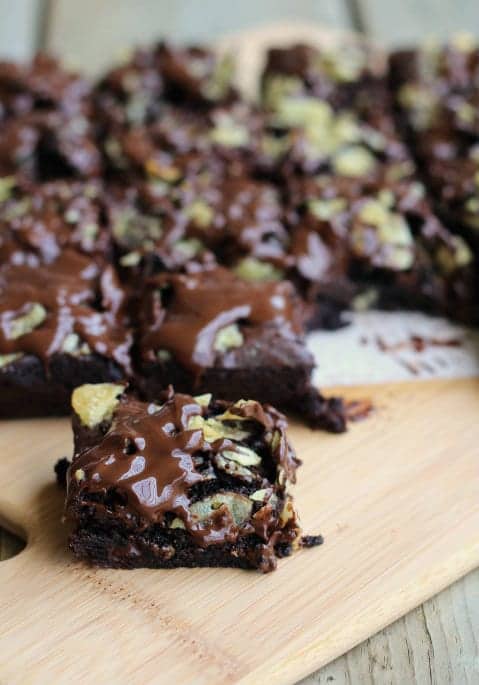 I make these brownies with Kettle Brand potato chips. My most favorite chips ever. Especially the baked chips. Hands down, the best baked chips I have ever tasted. Potato-y and crunchy. You can tell they are the real thing and taste so good.
But I don't use baked chips for these brownies. For these, we need the real thing.
One of the reasons I like Kettle Brand potato chips (find them on Twitter– @kettlechips) is that they are all natural and verified non-GMO.
All right, you might be thinking, Now Rachel, you used a BOX mix of brownies and you're talking all-natural?!?
Yes. Yes I am. I have a two year old that I am currently potty-training and a 4 month old that nurses 6 times a day. Cut a girl a little slack, okay? I do my best where I can and cheat a little bit sometimes.
Let's get back to the chips. All natural ingredients, non-GMO oil and potatoes, and no trans fats, MSG or preservatives. Yay! And if you're gluten-free, you're safe with any Kettle Brand product.
And can we talk about flavors for a minute? Because they have a kazillion. Or 24, if we need to be exact about things. I really like the Backyard Barbeque®, Fully Loaded Baked Potato™, and the Sea Salt. I'm dying to try the Cheddar Beer.
These chips are full of flavor, crunchy and perfect. I love them. And I love that they are natural. Because I try. I really do!
More delicious brownies!
Potato Chip Brownies
Yield: 16 brownies
Prep Time: 15 minutes
Cook Time: 45 minutes
Total Time: 1 hour
These potato chip brownies will satisfy your need for salty-sweet goodness. You need them. You need salty-sweet. Trust me.
Ingredients
1 20-ounce box of brownie mix (for an 8×8 pan)
Oil as directed on brownie box
eggs as directed on brownie box
water as directed on brownie box
1 cup crushed Kettle Brand Sea Salt Chips
1 cup semisweet chocolate chips
1 tablespoon canola oil
Instructions
Preheat oven to 325°F. Spray 8×8-inch pan with nonstick cooking spray.
Prepare brownie mix as directed and pour into prepared pan. Top with crushed potato chips and bake for 40-45 minutes or until brownies are set in the middle.
While brownies are cooling, melt chocolate chips and oil slowly, using the microwave (30 second intervals, stirring in between intervals). When smooth, pour over brownies. Cool completely prior to serving.
Notes
Feel free to use your favorite brownie recipe if you prefer not to use a boxed mix.
Nutrition Information:
Yield: 16
Serving Size: 1 brownie
Amount Per Serving:
Calories: 279
Total Fat: 14g
Saturated Fat: 4g
Trans Fat: 0g
Unsaturated Fat: 9g
Cholesterol: 18mg
Sodium: 7228mg
Carbohydrates: 40g
Fiber: 1g
Sugar: 6g
Protein: 3g
RachelCooks.com sometimes provides nutritional information, but these figures should be considered estimates, as they are not calculated by a registered dietitian. Please consult a medical professional for any specific nutrition, diet, or allergy advice.
This is a sponsored conversation written by me on behalf of Kettle Brand. The opinions and text are all mine–as always.