One Pan Chicken Quinoa Marsala Recipe
Creamy, comforting, and hearty, this one pan chicken quinoa marsala is a healthy and filling take on the flavors of chicken marsala. Best part? Only one pan gets dirty!
If you're looking for an easy, healthy, and hearty weeknight meal, look no further. It's no secret that I'm growing tired of Michigan's never-ending winter, despite the fact that I've lived here my whole life and couldn't be more used to it dragging on and on and on. I'm eager for the days when we can walk to the end of the street to get E when she gets off the bus. I miss the days of walking behind N while he rides his little trike up the hill to the end of the street. Ninety-nine percent of the time, he has a cape on and it flies in the wind as he pumps his legs in circles as fast as he possibly can. It's even cuter than you can imagine.
For now, we sit in the warm car waiting for her. We play with Snapchat filters (I'm rachelcooksblog over there!) and he pretends he's a pirate. He's either a pirate or a superhero 75% of the day, so this is no surprise.
"Mommy, take a picture of my pirate face!" After that, he usually kicks me out of the picture and asks me to take one of him by himself. Or one of him and his "yion" – his stuffed lion. And then he wants one of just his lion.
(Me, later: Deleting all pictures of toys and stuffed animals. Keeping pictures of my cute little pirate with his big brown eyes and deep dimples, of course!)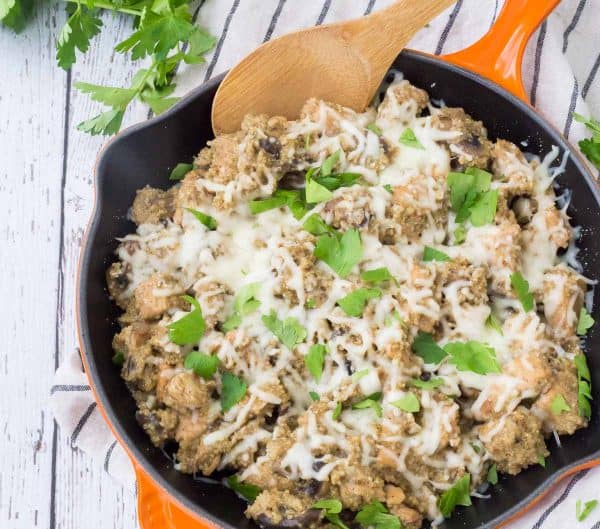 After E gets home from school, the time just FLIES before we have dinner. I almost always have a package of boneless skinless chicken breasts in my fridge so a quick meal like this one pan chicken quinoa marsala is super easy to make. And the best part is that after we finish eating, I only have to wash that one pan before moving on to lunch making, coffee prep for the next morning, and then finally family time.
One of Ben's favorite things to eat is chicken marsala (see also chicken marsala dip and marsala roasted mushrooms!) so I wanted to incorporate those flavors into this dinner. Meaty mushrooms and chicken make this hearty and filling, and of course the quinoa adds to the heartiness as well. It's super filling and a well-rounded meal. Next time I make it, I'll probably stir in some spinach or baby kale, because that's just what I do. It's perfect on its own, though.
More one pan meals you'll love!
Used in this recipe:

deep skillet with cover (the one in the photos is not the one I cooked it in – you'll want something a little bigger with a lid)
One Pan Chicken Quinoa Marsala Recipe
Yield: 4 servings
Prep Time: 10 minutes
Cook Time: 30 minutes
Total Time: 40 minutes
Creamy, comforting, and healthy, this one pan chicken quinoa marsala is a healthy and filling take on the flavors of chicken marsala. Best part? Only one pan gets dirty!
Ingredients
1 tablespoon olive oil
1.5 pounds boneless skinless chicken breasts, cut into bite sized pieces
1/4 teaspoon salt
1/4 teaspoon pepper
1 small yellow onion, finely diced (about 1/2 cup)
16 ounces mushrooms, cleaned and sliced
1/2 cup marsala cooking wine
pinch dried thyme leaves
1 cup quinoa
1 cup chicken broth
2 ounces reduced fat cream cheese (not fat-free)
1/2 cup shredded mozzarella
Fresh parsley, optional
Instructions
In a large, deep skillet (with cover), heat olive oil over medium heat. Add chicken and season with salt and pepper. Cook until chicken is browned on all sides, stirring occasionally, about 5 minutes.
Add mushrooms and onions and continue to cook, stirring, until onions are translucent and mushrooms are cooked.
Add cooking wine, quinoa, and chicken broth. Bring to a boil, cover, and reduce to medium low heat. Cook, covered, for 15-20 minutes or until tails have appeared on quinoa, stirring occasionally to ensure quinoa cooks evenly.
Stir in cream cheese until melted.
Sprinkle with mozzarella and cover pan for 1-2 minutes, or until mozzarella melts. You may also put it under the broiler if you're using an oven-safe pan.
Top with fresh parsley, if desired.
Nutrition Information:
Yield: 4
Serving Size: 1 of 4
Amount Per Serving:
Calories: 522
Total Fat: 16g
Saturated Fat: 5g
Trans Fat: 0g
Unsaturated Fat: 9g
Cholesterol: 163mg
Sodium: 799mg
Carbohydrates: 22g
Fiber: 4g
Sugar: 5g
Protein: 62g
RachelCooks.com sometimes provides nutritional information, but these figures should be considered estimates, as they are not calculated by a registered dietician. Please consult a medical professional for any specific nutrition, diet, or allergy advice.
Verdict:
I love this cozy and easy chicken quinoa meal – it's a great one for busy weeknights!
Husband's take:
The first time I made this, I added way too much thyme and we both thought it was gross. The next time was better!
Changes I would make:
None are necessary. If you wanted to make this dairy-free, you could leave out the cream cheese and mozzarella and it would still be a delicious and hearty meal.
Difficulty:
Easy!