Hummingbird Pancakes
If you love hummingbird cake, don't miss these hummingbird pancakes with banana, pineapple, coconut, and pecans. What a heavenly way to start the day!
Today we have Christina of Dessert for Two. She's a sweetheart, a great blogger, and she'll keep you from stuffing your face more than you should which is always a good thing. I'm so excited about these hummingbird pancakes!
Good morning, friends! I'm Christina of the dessert blog, Dessert For Two. In case the name doesn't say it all, I take sweet (and sometimes savory recipes) and scale them down to serve only two people. You can find me there trimming down your favorite cupcake recipes to only make 4 cupcakes, so you can satisfy your craving without all the leftovers. I also make mini pies and cakes, and I even make your favorite breakfast recipes for two. Breakfast in bed for two anyone?
When Rachel asked me to participate in her Pancake Party, I was delighted! My mind flooded with possible pancake recipes, but I finally decided on hummingbird pancakes.
Traditional Southern hummingbird cake contains banana, pineapple, coconut and pecans. It has a cream cheese icing because c'mon, we are talking about the South. So, I made you pancakes with sliced bananas, a caramelized pineapple ring and toasted coconut and cream cheese drizzle for the top. I hope you enjoy them!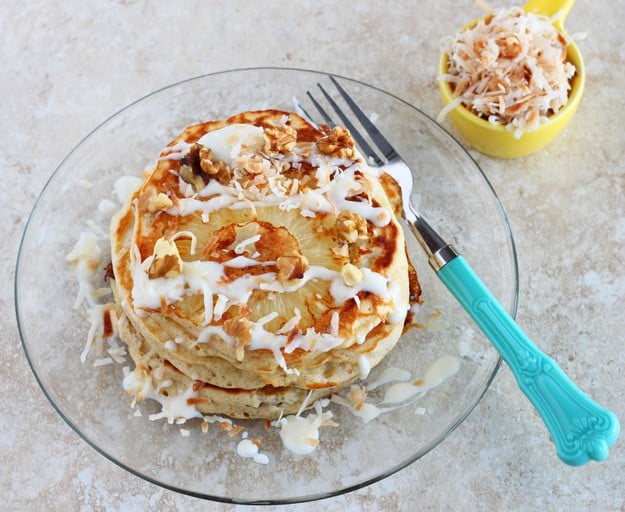 More dessert based pancakes

Because, why not? Try:
Hummingbird Pancakes
Yield: 6 pancakes
Prep Time: 10 minutes
Cook Time: 10 minutes
Total Time: 20 minutes
If you love hummingbird cake, don't miss these hummingbird pancakes with banana, pineapple, coconut, and pecans. What a heavenly way to start the day!
Ingredients
Pancakes:
1 cup all-purpose flour
2 teaspoons baking powder
2 tablespoons sugar
1/4 teaspoon cinnamon
3/4 cup buttermilk
1 large egg
2 tablespoons melted unsalted butter, plus extra for greasing the skillet
1/2 teaspoon vanilla
1 tablespoon pineapple juice (from the can)
1/2 of a banana, thinly sliced
6 whole canned pineapple rings
Topping
1/3 cup sweetened shredded coconut
2 tablespoons chopped pecans or walnuts (optional)
4 ounces cream cheese, softened
6 tablespoons powdered sugar
6 teaspoons milk
1/4 teaspoon pure vanilla extract
Instructions
Whisk together in a medium bowl flour, baking powder, sugar and cinnamon. In a small bowl, whisk together buttermilk, egg, melted butter, vanilla and pineapple juice. Combine the wet ingredients with the dry and then gently fold in the sliced bananas.
To make the pancakes, begin by preheating your skillet or griddle with the extra butter. Test your griddle by adding a drop of water: does it jump all over the surface? If yes, you're ready to bake some pancakes! (Note: if the water drop immediately evaporates, your pan is too hot).
Ladle 1/4 cup of batter on the griddle as many times as will fit. Then, immediately drop a pineapple ring in the center of the batter on the griddle. Flip the pancakes when bubbles form around the edges of the pancake. Be mindful of the pineapple ring in the batter when flipping—work quickly! Repeat with the remaining batter and pineapple rings. You should have 6 pancakes total.
While the pancakes cook on each side, toast the coconut on a plate in the microwave on 20-second pulses. Stir between each pulse to prevent burning. When the coconut is lightly toasted and brown, you are finished. You can toast your nuts (if using) in the same manner.
After the coconut is done, stir together remaining topping ingredients in a small bowl: cream cheese, powdered sugar, milk and vanilla. Pulse this in the microwave in 20-second pulses until it melts and is slightly runny. Add extra sugar or milk if needed to achieve drizzle-ability.
Nutrition Information:
Yield: 2
Serving Size: 1
Amount Per Serving:
Calories: 1346
Total Fat: 45g
Saturated Fat: 24g
Trans Fat: 0g
Unsaturated Fat: 17g
Cholesterol: 186mg
Sodium: 935mg
Carbohydrates: 226g
Fiber: 11g
Sugar: 159g
Protein: 21g
RachelCooks.com sometimes provides nutritional information, but these figures should be considered estimates, as they are not calculated by a registered dietitian. Please consult a medical professional for any specific nutrition, diet, or allergy advice.