Yogurt Tart with Whole Wheat Olive Oil Crust
A crunchy olive oil and whole wheat crust encases a creamy yogurt filling, topped with tart orange segments. You'll want to try this heavenly (healthy) yogurt tart soon!
This post is part of the Virtual Potluck! We are teaming up with Bob's Red Mill and California Olive Ranch to bring you four weeks of healthy eating–A Healthy New Year. This week I'm focusing on DESSERT—hooray!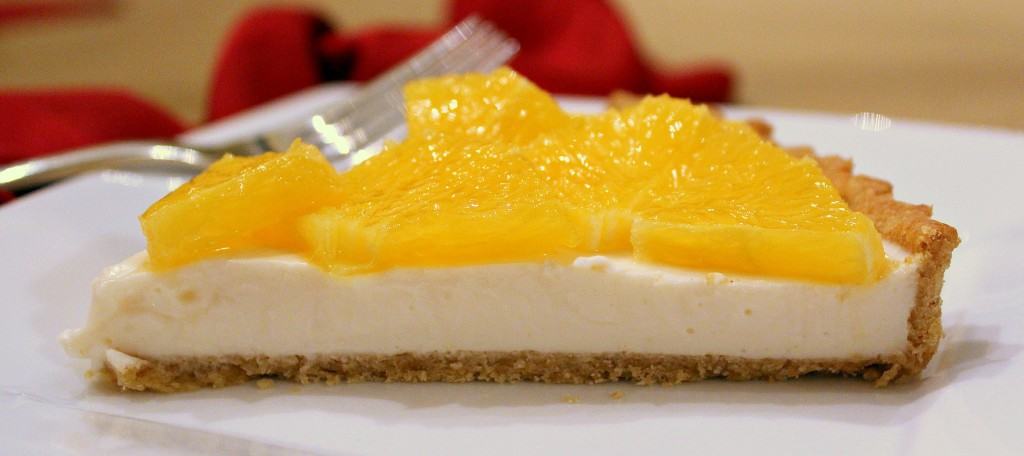 This is my new favorite dessert.
Hubs? Not so much. As you all know, he prefers cookies. With chocolate chips.
I am so happy with how this dessert turned out. I adapted the filling recipe from one of my favorite magazines, Everyday Food. The crust is crunchy and nutty from the whole wheat flour and the olive oil shines through just perfectly. It's surprising how much the olive oil flavors the crust and how great it tastes. I mean, who doesn't love the flavor of extra virgin olive oil?
The filling is smooth and sweet, but not overly sweet. AND IT IS HEALTHY! I mean, I know there is heavy cream in it … but not very much, so I'm still calling it healthy. Try and stop me.

This tart is made with Bob's Red Mill Whole Wheat Pastry Flour. Bob describes his flour as: "100% stone ground from the best U.S #1 soft white wheat into very fine flour" and suggests using it in "cookies, muffins, biscuits, quick breads, waffles and pancakes," but I didn't listen, and made this tart instead.
The crust also includes California Olive Ranch's Everyday Fresh California Extra Virgin Olive Oil. Gasp! No butter? Now I know some of you may scoff at using oil in a pie crust, but trust me, it WORKS. California Olive Ranch describes this oil as having a smooth flavor and being versatile and appropriate for baking, sautéing, and roasting. Did you see it? The word "baking"?
About this tart
This really is an easy tart to make. The ingredients of the crust are simply mixed together with a fork, pressed into a ball, and then rolled between two sheets of wax paper or parchment paper. It's very forgiving. If you have a "bad" spot (you know what I mean) while you're putting the crust into the tart pan, simply press it together with your fingers.
The yogurt filling is very easy, too. It's thickened with a package of unflavored gelatin (like Knox). You warm cream (just a 1/2 cup!) up to not quite boiling and stir in the dissolved gelatin. The cream mixture is then added to a mixture of yogurt, vanilla, brown sugar, with a pinch of salt.
It's really super easy!
The tart has to be refrigerated for at least two hours to allow the filling to set up. Just before serving, top the tart with segmented oranges or another fruit of your choice. Watch this video if you're unsure of how to segment an orange.
I'm in love with this dessert and can't wait for you to try it!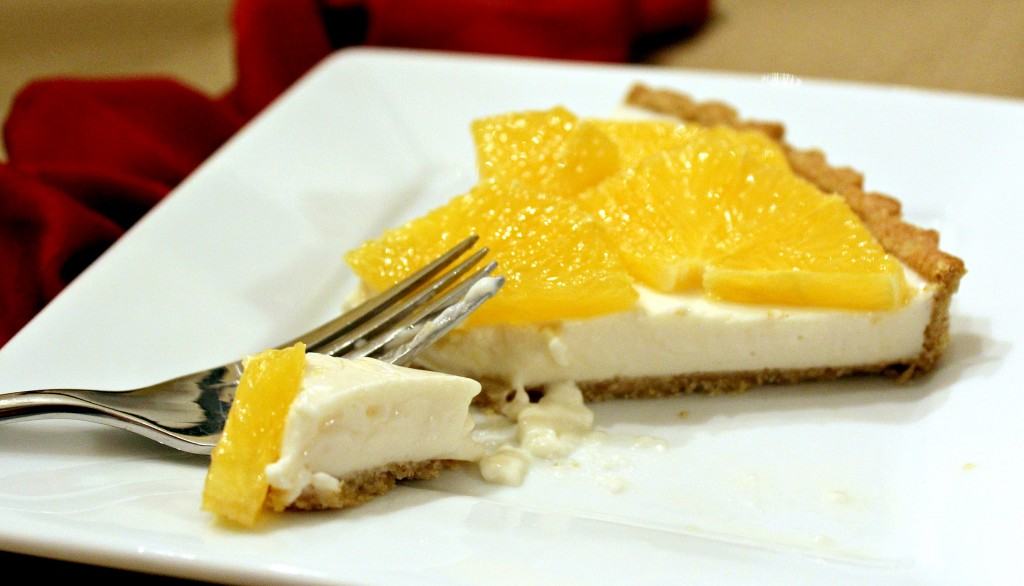 More pies and tarts
Yogurt Tart with Whole Wheat Olive Oil Crust
Yield: 8 servings
Prep Time: 15 minutes
Cook Time: 15 minutes
Additional Time: 3 hours
Total Time: 3 hours 30 minutes
A crunchy olive oil and whole wheat crust encases a creamy yogurt filling, topped with tart orange segments. You'll want to try this heavenly (healthy) yogurt tart soon!
Ingredients
Crust
1 ⅓ cup whole wheat pastry flour
1/2 teaspoon kosher salt
1/3 cup extra virgin olive oil
3 tablespoons milk
Filling
2 teaspoons unflavored powdered gelatin
1/2 cup heavy cream
1 1/2 cups non-fat plain Greek yogurt
1/2 teaspoon pure vanilla extract
1/4 cup packed light-brown sugar
pinch of salt
3 navel oranges for topping, or other fruit of your choice
Instructions
Preheat oven to 475°F.
Mix flour and salt in a small bowl. In another small bowl (or measuring cup) mix oil and milk. Add this to the dry ingredients and mix well with a fork.
Roll out crust between two sheets of wax paper until slightly bigger than the size of your tart pan. Remove the top piece of wax paper and carefully flip the crust into the tart pan, pressing down gently. Remove any excess crust.
Place tart pan on sheet pan (to easier transport), and bake for 8-9 minutes. Remove from oven and cool completely on a wire rack.
While crust is cooling, make filling. In a small bowl, sprinkle gelatin over 2 tablespoons of cold water. Let stand for 5 minutes.
Meanwhile, in a small saucepan, add cream and warm slowly over medium heat until steaming (not boiling). Add gelatin mixture and stir until dissolved (approximately one minute). Don't skimp on the stirring time.
In a medium bowl, whisk together yogurt, brown sugar, vanilla and salt. Stir warm cream mixture into this. Pour filling into cooled crust and refrigerate at least two hours (until set) or up to one day.
Just before serving, arrange orange segments or other fruit of your choice.
Nutrition Information:
Yield: 8
Serving Size: 1 wedge
Amount Per Serving:
Calories: 419
Total Fat: 17g
Saturated Fat: 6g
Trans Fat: 0g
Unsaturated Fat: 10g
Cholesterol: 25mg
Sodium: 212mg
Carbohydrates: 55g
Fiber: 6g
Sugar: 16g
Protein: 13g
RachelCooks.com sometimes provides nutritional information, but these figures should be considered estimates, as they are not calculated by a registered dietitian. Please consult a medical professional for any specific nutrition, diet, or allergy advice.
Disclosure: I was provided with free products to use, review, and create recipes with. All opinions, as always, are 100% my own.