I hope that everyone has a wonderful Father's Day filled with happiness. I know for many people holidays like this can be sad reminders of individuals who are missing from their lives here on Earth. I pray that you can take comfort in one day reuniting with your loved ones in a place where there are no tears. I also pray that you can find joy in the arms of a heavenly Father. I just want to spend a moment thinking about the fathers in my life. Hope you're ready for a picture-heavy post.
That's my dad walking me down the aisle. With a smile on his face! Impressive. I am so blessed with a kind, funny, Christian father who loves my mom, my sister and me and takes such good care of us. He raised us well and I know I would not be where I am now in life if not for him (and my mom). He is also a fantastic grandpa to my daughter and my nephew. I love that my dad is healthy and fit (this dude ran a marathon right before his 50th bday!) and God willing, my daughter will get to spend tons of time with him as she grows older. I'm seeing a repeat of this in his future:
Sorry, Dad. I'll take that one down if you don't want it on the world-wide web. But it is one of my favorites.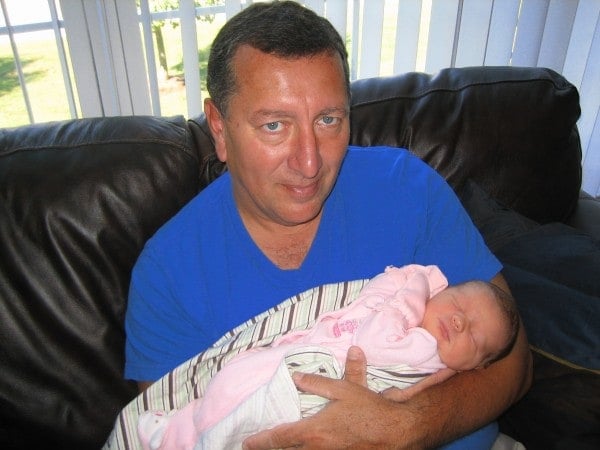 And let me tell you, I got lucky with my in-laws! That's my father-in-law. He bought me a drill for a wedding shower present (it's what I really wanted). I've been told that before he retired, this picture, and this picture only, was on his desk at work:
I don't know if it is true, but it sounds good to me! This guy helps me hang cabinets above my washer and dryer. And man-oh-man, does he love his granddaughter. He named his pontoon boat after her. She has two fishing poles already from him, and she's only 9 months old!
And then there's my grandpa. Grandpa, grandpa, grandpa. I love my grandpa. He is the guy that starts singing a song about whatever you might be talking about. He knows a song about everything. Or it could be he makes them up. I suppose we'll never know. He tells me I'm beautiful every time I see him. He gives the best hugs. And if you ever need a room painted, he's the man to call. By the way, if I look fat in that picture, it's because I was. I was 8.5 months pregnant.
I'm so happy my daughter gets to spend time with her Great Grandpa. She's a lucky little girl and doesn't even know it yet!
And then there is this handsome man. I don't even know where to begin.
I'm just happy that this year, I have another reason and another special day, set aside to celebrate him. Because let me tell you, he deserves it. He really, really does.
For starters, he is a wonderful, supportive, Christian husband. He works his tail off daily so I can stay at home and take care of our little angel. He even appreciates the fact that I may have gotten nothing done except feeding, changing diapers, playing with her, and reading to her. Usually I manage to throw together dinner, but if I don't? He gets carry-out on the way home without a single complaint.
See the shirt our little one is wearing? It says USMC. My hubby is a Marine Corps veteran. I am so, so proud of him. You should see his résumé. It is crazy how much he has accomplished so far in his life. And he's just getting started! I know our daughter is going to be so proud of him.
And see the shirt he's wearing? It says Fordson High School. He's an assistant principal. Before that he was a high school teacher, and a great one! He was a father figure to many young kids who were sadly lacking one long before he became a dad himself.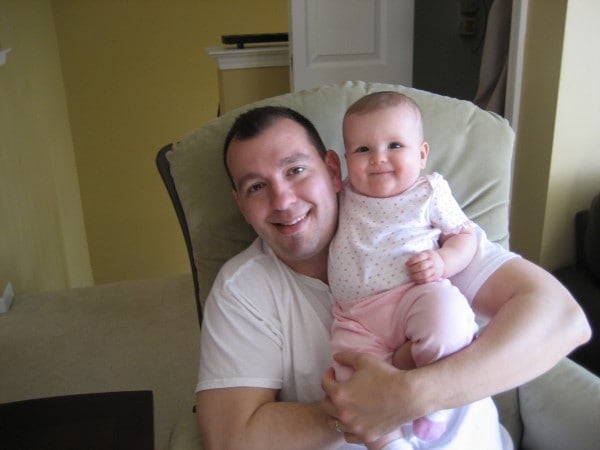 And see that smile on her face? She loves him like crazy. You should see how excited she is when he gets home from work. It melts my heart.
He takes care of me and our daughter in more ways than I could tell you. He saves pieces of his personality for only her and me to see. I love that. I love him.
Plus he's totally easy on the eyes. Sorry. It had to be said!
Sorry for the long, sappy post. Back to the recipes next time!