Go-To Lunch Ideas from 20+ Food Bloggers
Stuck in a lunch rut? Check out these great go-to lunch ideas from more than 20 of my fave food bloggers. I'm getting hungry just thinking about it. Or maybe it's this dang detox that I'm doing that is making me feel hungry.
I think every busy person (isn't that all of us?) has those days where lunch time rolls around, you're exhausted, and you just want to have food ready, stat. Those kind of lunches where you're standing in front of fridge thinking, "Oh crap, I better eat something." Unfortunately, with two toddlers, after I get their lunches on the tables, I'm usually left feeling that way. You know…"I guess I should eat too." I love to throw together a salad like this salad with apples or a wrap — this wrap with eggs, ham and herbs is one of my favorites.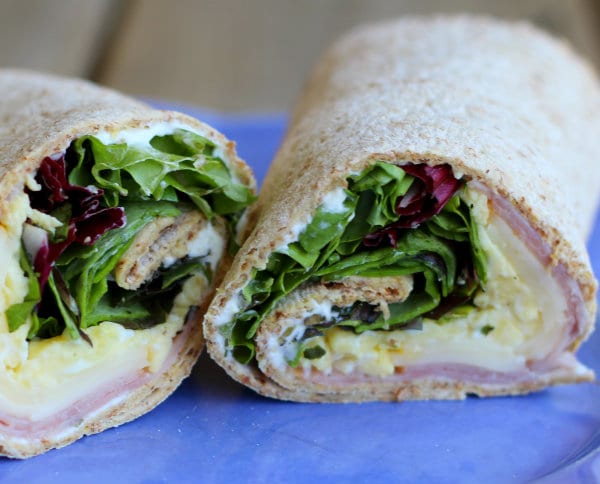 I got in touch with some of my favorite food bloggers and I asked them what lunch ideas they turn to on those busy days where they want something quick and easy. But still delicious. Because after all, they're food bloggers. Here's what they said!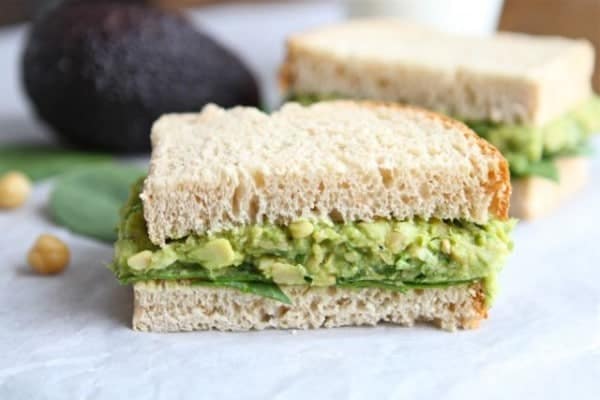 "This Smashed Chickpea and Avocado Salad Sandwich is my favorite sandwich to eat for lunch. It is super simple to make and hits the spot every time. I could eat it every day and not get tired of it!"
"When I need to figure out lunch and PB&J just aint gonna cut it I usually pout a little as I stare into the fridge full of a gazillion condiments and nothing worth eating and then go for one of three things which I can use whatever I have in the fridge meat or veggie wise to throw in and it still tastes awesome: Turkey BLT Wrap, Avocado Egg Whites, or Honey Avocado Wrap. Or let's all be real for a moment, sometimes I just have oatmeal because lunch is the worst meal to figure out and I'd rather be eating pie."
"On days when things are just crazy and I need a quick lunch that is gonna be easy, but awesome I use a few ingredients I always keep on hand. One of my favorites and probably the easier one in my rotation is this Grilled Caprese Toast. SO GOOD. Next is probably this Blue cheese and smashed avocado Sandwich. This is a classic for me and I make it all the time (sometimes minus the tomatoes if I don't feel like roasting them). Here are two of my other favorites as well, Harissa, Smashed Avocado + Egg Toast with Goat Cheese or this California Chicken, avocado and bacon sandwich."
"I'm a cucumber lover! So I usually always have cucumbers on hand, even in the winter. I love both of these because they are super quick, tasty and full of flavor: Tabasco Dill Cucumber Pita and Cucumber Sandwich."
"With a 2 year old and 8 month old at home, I know all about last minute lunches. By keeping a well-stocked Asian pantry, I'm never more than a few minutes from two of my ultimate go-to lunches including 5 Minute Wonton Soup and Asian Slaw with Chicken and Roasted Peanuts. Both recipes are packed with delicious Asian flavors like ginger, sesame and cilantro which keep me from getting bored and resorting to mindless munching on sweet treats in the afternoon. Win win."
"Kielbasa is one of those things I keep on hand all the time. I throw it everything from breakfast tacos to salads. Over the years, this kielbasa, apple and kale hash is something I've made again and again, for lunch and solo dinner. You can even use frozen potatoes in place of fresh to get food on the table – and into your mouth – quicker."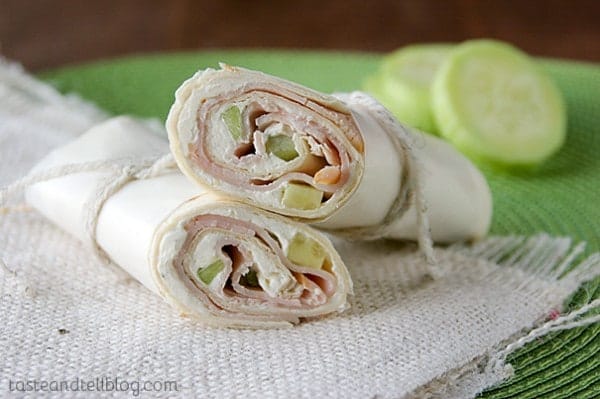 "I'm not going to lie – lunchtime is crazy around these parts. I find that the easiest thing for me to throw together most days that both the kids and I love are wraps, like this Cucumber Ranch Turkey Tortilla Wrap. It's super easy, and I usually have all the ingredients on hand."
"These simple crispy quinoa patties are so versatile and perfect for lunch. They're a great meatless option that even meat eaters will love. Play around with your favorite vegetables and spices. The recipe makes great leftovers for the rest of the week!"
"I always have nuts and canned tuna in my pantry and apples and lettuce in my fridge, so when I'm really strapped for lunch ideas, I always make a tuna, pecan and apple salad. The salad looks and tastes like it takes a lot more effort, so it's a win-win!"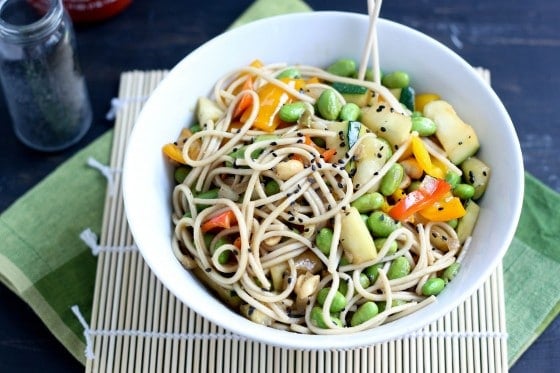 "My favorite go-to lunch when I don't feel like cooking lunch is a veggie pasta – I cook whatever pasta I have on hand, and meanwhile, saute various veggies I have on hand in olive oil, salt and pepper, toss in the pasta, then add some parmesan or feta cheese at the end. Here are a few blog recipes that have been created just like that: Garlic Herb Pasta with Broccoli, Creamy Gorgonzola Pasta, and Zucchini, Bell Pepper & Edamame Stir-Fry."

"My favorite go-to lunch is actually one of my favorite go-to breakfasts as well. And it works for brunch too! But when I'm home on my own at lunch time staring into a nearly empty fridge, my eyes always go to the eggs. What I do is get a big can of diced tomatoes and dump it into a pot. Then I season it with dried basil, garlic powder, salt and a pinch of crushed red pepper flakes then bring it up to a simmer. Crack in a couple of eggs, cover and let them poach in the tomato sauce. I like my yolks still runny. Scoop the eggs and tomatoes onto a plate and dip in with some toast (garlic toast, if possible)."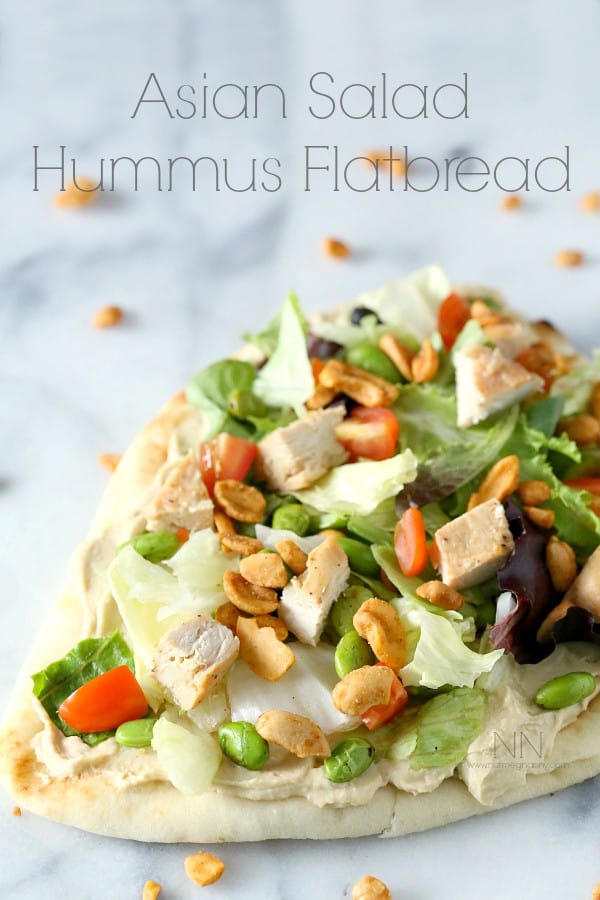 "Asian Salad Hummus Flatbread – Lunchtime is always a mad rush in my house because I end up forgetting to eat and then I realize I'm starving. From start to finish this protein packed flatbread can be ready in just 20 minutes."

"I love oatmeal, so on days where I am absolutely exhausted I tend to eat it for breakfast AND lunch! This blueberry cheesecake oatmeal is my go-to because it's healthy, really fast, super delicious and SO filling!"

"My favorite go-to lunch is a vegetarian caesar salad made with 'seven grain crispy tenders.' I always keep a bag of them in the freezer and then when I am staring at the fridge drawing a blank, I'll remember I have them and throw them in the oven while I shower and get ready for the day. Then as they're cooling I'll prepare the other components of the salad (basically dividing a bag of lettuce, some shredded cheese and croutons between two Tupperware containers and then putting a little yogurt-caesar dressing in separate containers and then add the tenders and voila, you're all done! Now funny story about these tenders…neither my husband nor I are vegetarians, they're just THAT good, they crisp up when they're baked, and they reheat well or can be eaten non-heated. Also, we're not the avid salad-for-lunch eaters that we should be, so it's always nice when we have this healthy lunch option!"
"A fast and fresh lunch in my home almost always comes down to a clean-out-the-fridge feast. I'm inspired to create recipes that serve as guides, allowing myself and others to swap in whatever leftover odds and ends they may have tucked away in the fridge or pantry. A few recipes that allow for mixing and matching with whatever ingredients you have on hand include: Chinese Chicken Salad with Sesame Dressing (a no-cook favorite!), Greek Pasta Salad with Red Wine Vinaigrette (use whatever veggies and cheese you have on hand, or just add chicken) and Baked Cheddar Dijon Chicken Tenders (swap in any variety of crackers, pretzels, cereal, chips, etc.)."
"When I'm behaving, I actually really like making a "grown up grilled cheese." Grilled cheese reminds me that, no matter how bad things get, I can still make myself a decent lunch in less than 10 minutes. If I have leftover roasted veggies, I'll throw those in, along with a swipe of grainy mustard. In the fall, grilled cheese with apples, cheddar, and apple butter is a favorite, and I love a simple tomato grilled cheese in the summer (add a bit of jarred pesto, and you are practically Giada). Basically, if it tastes good, you can probably turn it into a sandwich. Here are more of my favorite grilled cheese sandwiches: Eggplant Ricotta Grilled Cheese (example of something you could do with leftover roasted veggies), Raspberry Chipotle Bacon Grilled Cheese (still great w/o the bacon if you don't have time to make), Roasted Carrot Grilled Cheese (with pickles–I swear it's good), and Apple Butter, Turkey, Cheddar Grilled Cheese.

"I need a grilled cheese sandwich or I will die right now."
"This Low-Fat Salmon Salad Sandwich with Capers is a healthy lunch that comes together in about 5 minutes, which is short enough to stop me from diving into the bag of Doritos when the lunchtime munchies hit."

"My favorite go-to lunch is an egg quesadilla. It's so easy a zombie could make it. Plus, it's full of protein and gooey cheese!
"My lame answer is this: I take an apple, core it, and cut it into slices and have half the slices with a good aged cheddar and the other half of the slices with almond butter. Sweet and savory! It's quick, I almost always have the components on hand, and it's delicious. Less lame answer, but something I don't really do nearly as often as the first answer: If I have leftover pasta in the fridge, I throw together an impromptu pasta salad with whatever fresh vegetables I happen to have in the crisper, a light homemade vinaigrette, and fresh herbs from the garden. It's so easy that you don't even need a recipe!"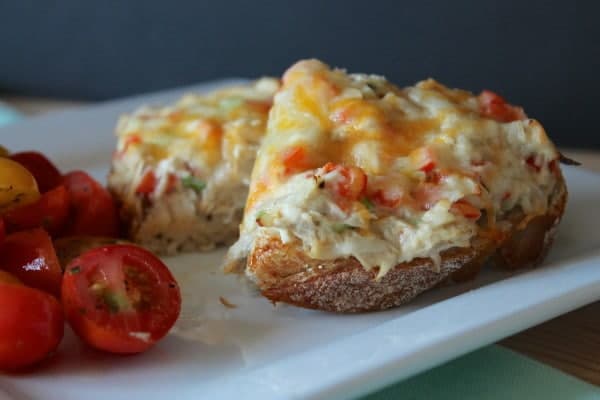 "My go-to lunch (or single-lady dinner!) is an Open-Faced Tuna Melt. This recipe takes about 10 minutes to pull together and can use almost anything you like or have handy – celery, peppers, red onion…it is so easy to customize or turn into a wrap or a salad. Plus, it's delicious and comforting. Win!"
"In my perfect world, there are always left overs available for lunch from dinner the night before. When that doesn't happen, I cry a little. And then I whip up something fast and satisfying that doesn't require a lot (if any) cooking, and certainly not a lot of cleaning. I do enough of that all day long! Some of my favorites that I make constantly, and all 15 minutes or under are: Broiled Avocado with Cayenne, Lime, and Parmesan (ready in 10 minutes), Chicken Salad Sandwich with Cranberries, Apples, and Pecans (ready in 15 minutes), Chia Seed Pudding with Maple Strawberries (chill overnight and it's ready the next day!), Open-Faced Tuna and Egg Salad with Kettle Chips (ready in 15 minutes), Roasted Grapes with Thyme, Fresh Ricotta, & Grilled Bread (ready in 15 minutes) and Heirloom Tomato Beet Salad (ready in 10 minutes)."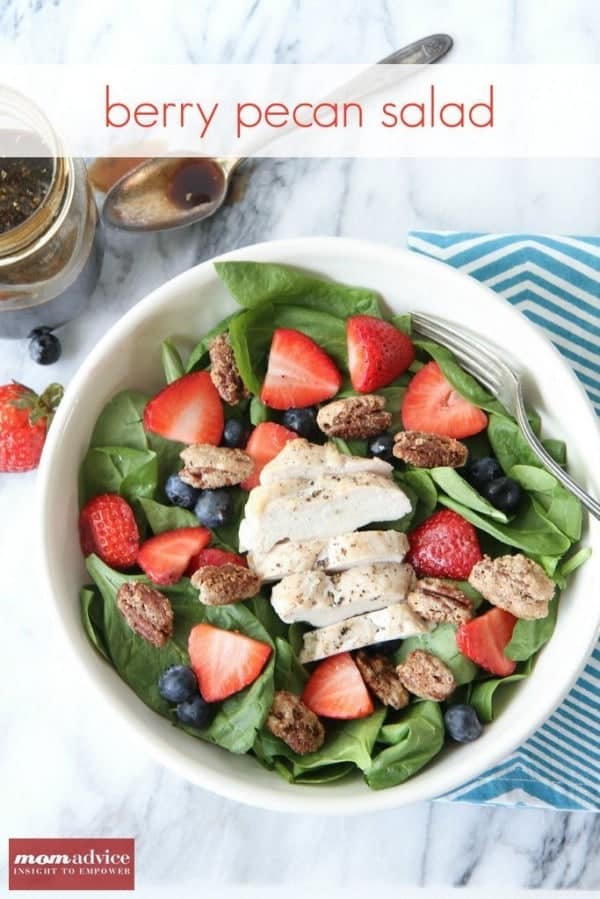 "My go-to lunch is definitely salads especially in the summer months. One thing I do at the beginning of the week is create my very own DIY Salad Bar and prep all of my veggies, dressings, and proteins in one day. It is the gift that keeps on giving especially when it is required to eat on-the-go. My favorite salad right now is this Berry Pecan Chicken Salad with a homemade raspberry vinaigrette. Not only does it make a great lunch, but it is also fantastic for summer potlucks and parties!"
"One of my favorite lunches that is quick, easy, and super healthy is a Hugh Jass Salad with Tuna. Having canned tuna stocked in your pantry makes for a great pick during those days where exhaustion or time restraints hit. Cut up a ton of veggies, then in mix the canned tuna with mustard and avocado, pile high on your greens and top with a little dressing!"