Gingerbread M&M Cookie Bars with Gingerbread M&M Buttercream
With M&M's in both the bars and the frosting, these gingerbread M&M cookie bars with gingerbread M&M buttercream will be your new go-to gingerbread recipe.
Ever since Shelly posted about M&M buttercream, I haven't stopped thinking about it. I mean, what could be better than M&Ms ground up into the sweet goodness of powdered sugar and butter? When I saw these fun Gingerbread M&M's in the store, I immediately knew they were destined for buttercream.
On a side note, my daughter has eaten M&Ms probably three times in her entire life (I'm talking 1 M&M each time…so yeah…total three M&Ms?) and each time had a lot to do with saying buh-bye to diapers if you catch my drift. Anyways, any time we are walking through the store, it's like she is drawn to them. She spots them right away! "M&Ms! M&Ms!" That girl knows a good thing when she sees it.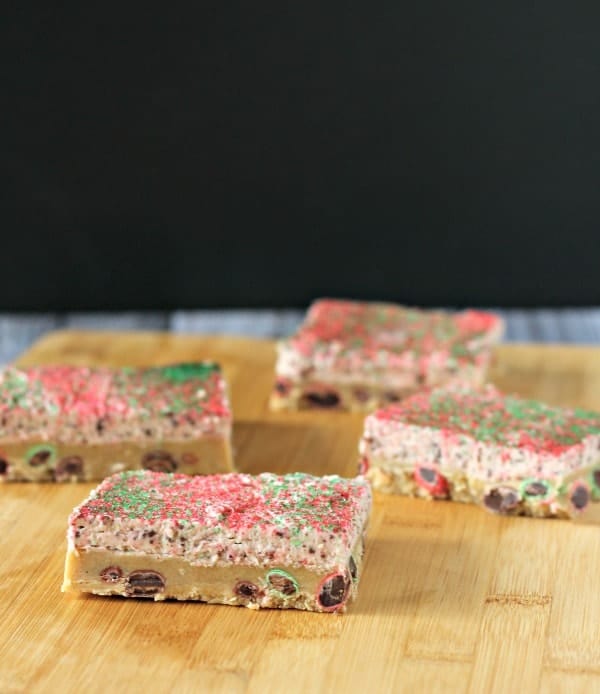 So to make these scream Christmas and scream it loud, I put Gingerbread M&Ms in the dough and in the frosting. I also subtly spiced the dough with gingerbread spices that everyone knows and loves.
Note: Gingerbread M&M's are no longer available (that we can find). Try making these bars with traditional M&M's but keeping in the gingerbread spices in the bars (cloves, cinnamon, ginger, molasses) for a subtle holiday flair.
The result is a gingerbread bar unlike any other you've ever had. Plus there is chocolate. I never really liked plain ol' gingerbread cookies. Kind of dry, kind of boring. Throw some chocolate in and some buttercream? Now we're talking.
Craving more cookie bars?
Gingerbread M&M Cookies with Gingerbread M&M Buttercream
Yield: 20-24 bars
Prep Time: 35 minutes
Cook Time: 16 minutes
Total Time: 51 minutes
With M&M's in both the bars and the frosting, these Gingerbread M&M Cookie Bars with Gingerbread M&M Buttercream will be your new go-to Gingerbread recipe.
Ingredients
for the bars
2 1/4 cups all-purpose flour
1 teaspoon ground cinnamon
1/2 teaspoon ground ginger
1/4 teaspoon ground cloves
1 cup unsalted butter, softened (2 sticks)
1/2 teaspoon salt
3/4 powdered sugar
1 tablespoon molasses
2 egg yolks
one 9.9 ounce package of Gingerbread M&Ms, divided
for the frosting
1/2 cup unsalted butter, softened (1 stick)
3 cups powdered sugar
1/3 cup milk
1 teaspoon pure vanilla extract
remaining Gingerbread M&Ms from 9.9 ounce package
sprinkles, optional
Instructions
for the bars
Preheat oven to 350°F. Line a 9×13 pan with parchment paper and spray parchment paper with nonstick cooking spray.
In a medium bowl, mix together flour, cinnamon, ginger, and cloves. Set aside.
Using a stand mixer fitted with the paddle attachment, cream together butter, salt, powdered sugar and molasses until combined. With the mixer on low, add in egg yolks and mix until combined. With the mixer on low, slowly add in dry ingredients and mix until just combined. Stir in 1 cup of the M&Ms by hand.
Spread evenly into prepared pan (you might want to use your hands to pat it down into an even layer). Bake for 14-16 minutes. Cool completely on a wire rack.
for the frosting
For the frosting, begin by turning the leftover M&Ms into a sand-like powder using a blender or a food processor. Then, use a hand mixer or a stand mixer to cream together all ingredients. Spread evenly over bars and then freeze for at least a half hour or until firm. Remove from pan and cut into bars. Store in refrigerator.
Nutrition Information:
Yield: 24
Serving Size: 1 bar
Amount Per Serving:
Calories: 293
Total Fat: 15g
Saturated Fat: 9g
Trans Fat: 0g
Unsaturated Fat: 5g
Cholesterol: 50mg
Sodium: 100mg
Carbohydrates: 39g
Fiber: 1g
Sugar: 25g
Protein: 2g
RachelCooks.com sometimes provides nutritional information, but these figures should be considered estimates, as they are not calculated by a registered dietitian. Please consult a medical professional for any specific nutrition, diet, or allergy advice.
Verdict:
Good! Very sweet, but very good.
Husband's take:
I think he liked these even more than I did, which is weird. Usually he only likes
chocolate chip cookies
.
Changes I would make:
None are necessary.
Difficulty:
Easy.
This post contains an affiliate link.