Fisher-Price: Introducing Fisher-Price Insiders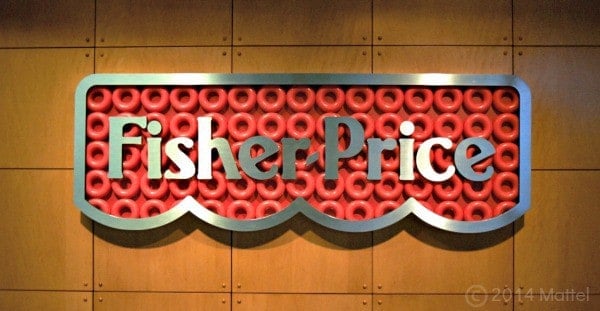 I have exciting news, you guys! I'm teaming up with…Fisher-Price**!!!! Whaaaat??!?!
Sometimes I pinch myself — this is really my life?!
As I hope you already know, I weigh each partnership carefully. I want to keep Rachel Cooks authentic and true to who I am. When I was approached with this partnership, I thoughtfully considered it (and talked with Ben about it!). I had some initial hesitancies because after all, this is Rachel Cooks…not Rachel Plays With Toys.
But then I looked around and gave it some thought. I saw Fisher-Price toys scattered all over my floor tucked neatly inside our toy box. I thought back to baby gear items such as bouncers and play mats that literally saved my sanity some days when the kids were younger.
I looked around and saw products that played an important role in my day to day life. And as you've probably also noticed, I tend to talk about the kids a lot here already. I'm excited for the opportunity to talk about the kids MORE, talk about my experiences at the Fisher-Price Headquarters (SO COOL!) and give out some tips and tricks to help all you parents out there.
Maybe you're not a parent. That's okay! Over the course of this partnership (which will consist of 8 posts spread over the next few months and lots of fun giveaways), we'll chat about things that not only apply to parents but also anyone that comes in contact with kids.
Which is just about everyone — whether you're a nanny, an aunt, an uncle, a grandma, or even an older sister or brother!
And the recipes aren't going anywhere, for the record.
After visiting the Fisher-Price Headquarters in East Aurora, NY (see video of that here), I am absolutely assured in my decision that this is the right thing for myself, my blog, and my readers. I learned so much about what goes into the creation of each Fisher-Price product and I'm happy to say I was blooooown away by their commitment and quality and PASSION for their work. Seriously impressed.
I hope you take away something from one of these posts over the next four months and I hope you enter to win some great products (for your babies, for your future babies, for your friends and relatives, for whomever!).
As for today's post, I'll mostly be telling you about my visit to Fisher-Price's headquarters in New York to kick off my time as a Fisher-Price Insider. (Oooh and there is a lot of video involved…eep! I'll get to that in a minute.) It's hard for me to narrow down what to share with you since it all made such an impression on me, but I'm going to do my best to not overwhelm you and just give you a overview. Of course if you want more details you can always email me and I'll certainly talk your ear off about anything you want.
I flew out of Detroit literally 3 days after we moved into our new house. THREE DAYS. Craaaazy. That in and of itself shows you how much I felt this was a valuable partnership. My flight was delayed for…I think 3 hours? I can't even remember now but it ended up with me getting in to the hotel around 2 AM. I'm way too old for those kind of late hours. But the accommodations were worth the wait! Fisher-Price put us up in the historic Roycroft Inn. Full of history and beauty, it was an absolute treat to stay (and eat!) at this inn.
That picture shows only about a third of my room. They truly spoiled us the whole time we were there. I should back up and explain who "us" is. I, along with three other bloggers, will be the Fisher-Price Insiders for the next few months. The other Fisher-Price Insiders are: Jennifer of Baby Making Machine, Chelsea of Someday I'll Learn, and Adrian of Dad or Alive. (Side note: Jennifer, Chelsea, and Adrian are all awesome and hilarious.)
Before you begin to think I was just relaxing in that room the whole time, let me tell you I was up at 5:30AM the first day — yeah, 3 and a half hours after I got into the hotel. Buuuut they had coffee waiting. That's pretty much all I need.
We learned so much during our time at Fisher-Price that, like I already said, it is hard to know where to start.
I think I'll start with the people. The people truly made the biggest impression on me. There was a commonality to every single person we met — PR, designers, product safety, customer service. That commonality was their clear passion for and pride in the brand. These are people who love their jobs, love the brand, love the kids, and love the parents. They are deliberate and passionate about making sure every detail is perfect. I really truly was blown away by how much everyone at Fisher-Price goes above and beyond what is required to ensure the safety and quality of the products they produce.
Another thing that struck me at Fisher-Price was the atmosphere. It probably comes as no surprise that this is a very fun place — as it should be. I had so much fun roaming the halls with the other Fisher-Price Insiders and looking at all the toys and products of years gone by. They have display case after display case full of nearly every toy they have ever produced. It was certainly a blast from the past!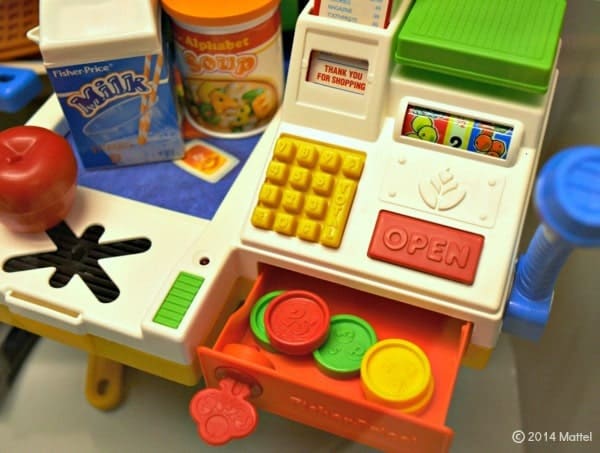 I'm sure I'm not the only one taking a trip down memory lane when I look at those toys.
Fisher-Price also makes it fun for their employees. They even have bikes (Fisher-Pricycles) that employees can check out and use to ride into town on their lunch break. That alone makes me want to work for Fisher-Price!
Another thing that really made an impression on me is Fisher-Price's commitment to safety. Safety is in the forefront of their minds through all stages of design and production. I can honestly say that I will never, ever hesitate to buy a Fisher-Price product. Each toy is not only tested extensively in play labs and by safety experts, but also tested on real babies. The designers can watch as real kids and babies play with toys that are still in the development process. This gives them the opportunity to observe how the children react to the toys but also to be aware of cases where kids might use the toy differently than they had originally planned. (Goodness knows we nevvvvver know what to expect!)
There's a reason they've been around since the 1930's — quality products, SAFE products, at a reasonable price. What more could a parent want? Or if you're not a parent — wouldn't you like to attend that baby shower and not have to spend a small fortune to buy a nice gift?
We also had a chance to learn about the history of Fisher-Price. Along with Herman G. Fisher and Irving R. Price, Helen Schelle also helped make Fisher-Price what it is today. I mentioned the play labs earlier — observing children is something that Herman Fisher built in to the company from the beginning and the actual play lab has been used to help develop toys ever since 1961.
Over the next couple months, I'll be covering topics such as first birthday parties, baby registry and shower ideas, holiday tips and parenting advice. I'll also be talking about some of Fisher-Price's new products and what went into their development. If you want to see more video of me talking about my parenting experiences (another side note: Video is WAY out of my comfort zone and another reason I decided to go through with this partnership — it's always good to push yourself out of your little comfort bubble), you can find those over on Fisher-Price's site. There, you'll also find my introduction video which demonstrates my kids acting totally crazy — aka totally normal.
PS: Raise your hand if a bouncer saved your sanity when your kids were little.
**Disclosure: I was compensated by Fisher-Price for my time but all opinions are as always, my own. Thanks for supporting my blog by reading about brands I love.