Brownie Brittle Popcorn
What's better than crunchy, flavorful Brownie Brittle? Brownie Brittle paired with America's favorite treat: popcorn. Add some sprinkles for a fun pop of color!
Let me start with a question: Have you all tried Brownie Brittle? It has all the chocolate flavor of brownies but the texture is like only the crunchy edges of the brownies, not the soft gooey centers. It's a combination of a chip and a brownie, if that makes any sense at all.
The first time I tried Brownie Brittle, I have to say I was slightly underwhelmed. I'm a huge fan of slightly under-baked brownies that have a super-soft, chewy center.
But I will admit that Brownie Brittle grew on me big time. I could not stop opening the bag for "just one more bite." It's majorly addicting, but due to its light and crispy texture, you can enjoy it with less guilt than a thick, dense brownie. It's only natural that I would combine it with popcorn.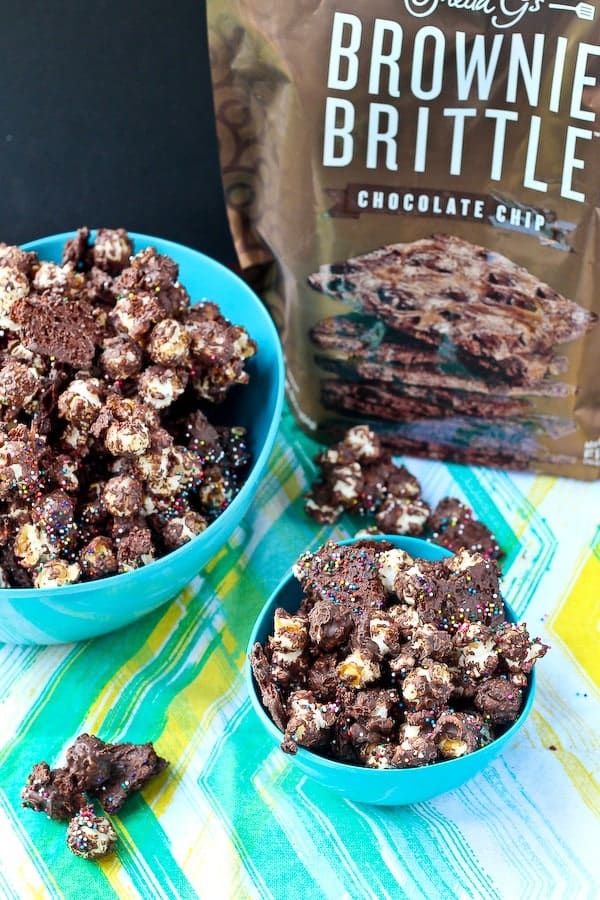 As always, I have a specific method to my madness when I make sweet-flavored popcorn recipes.
First and foremost – REMOVE THE UNPOPPED KERNELS. Once they're covered in chocolate, they are undetectable until you crunch down on them. Ouch!
First, pop the popcorn into a huge bowl, and give it a good shake to help the un-popped kernels settle to the bottom of the bowl. Scoop out all the fully popped kernels and place them on a baking sheet. (You'll be using the baking sheet later, so you don't have to worry about dirtying it.)
Once you've scooped out all the fluffy popped corn, you'll be left with the un-popped or partially popped kernels in the bottom of the bowl. Toss those in the trash and return the popped kernels to the bowl. Sounds tedious but it only takes about a minute.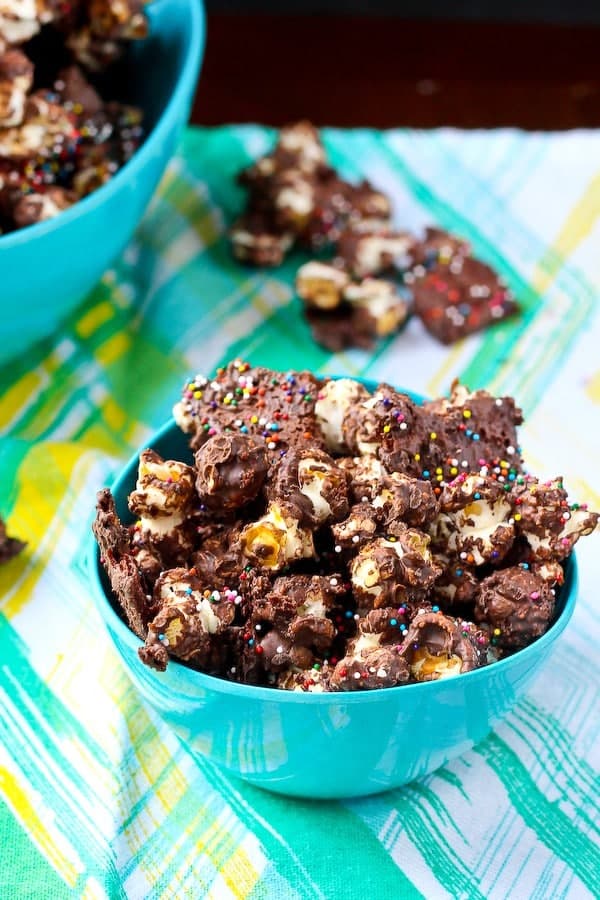 Another thing I like to do when I make popcorn is to use a mixture of large pieces of whatever I'm mixing in (in this case, Brownie Brittle) along with a crushed version of the mix in.
Crushing the Brownie Brittle ensures that each bite will have that recognizable brownie flavor. Leaving some pieces whole gives you strong pops of that flavor and texture, but it also helps the person who is eating the popcorn know exactly what they are eating. I use the same technique with my Cinnamon Toast Crunch popcorn.
I add sprinkles so the popcorn doesn't look a little BROWN and boring – but sprinkles are totally optional. Totally recommended, but optional nonetheless. (If you like colorful popcorn, you might also enjoy Nerds popcorn!)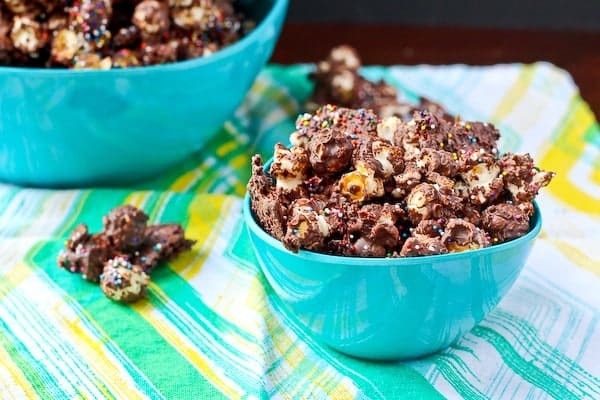 If chocolate isn't your thing but you still love popcorn, make sure to check out my Peanut Butter and Honey Popcorn or Blueberries and Cream Popcorn. And don't forget my Orange Creamsicle Popcorn!
Brownie Brittle Popcorn
Yield: 16 cups
Prep Time: 10 minutes
Cook Time: 2 minutes
Additional Time: 30 minutes
Total Time: 42 minutes
What's better than crunchy, flavorful Brownie Brittle? Brownie Brittle paired with America's favorite treat: popcorn. Add some sprinkles for a fun pop of color!
Ingredients
1/2 cup popcorn kernels (see note)
1 (16 ounce) package chocolate candy melts
2 cups Brownie Brittle that has been broken into bite-sized pieces (see note)
1 cup crushed (sand consistency) Brownie Brittle
colored sprinkles, optional
Instructions
Pop corn using an hot air popper. Pick out any unpopped kernels (slightly time consuming but very important!!!). See post for complete directions.
To the popped popcorn, add the broken up Brownie Brittle (not the crushed Brownie Brittle). Pour melted candy coating over the popcorn mixture and stir until everything is well coated.
While the candy coating is still wet, add the crushed Brownie Brittle and stir again to combine.
Spread onto a large sheet pan and if desired, add sprinkles. Allow candy coating to harden, about 30 minutes.
Serve immediately or store in an airtight container for 3-4 days.
Notes
I like to use the mushroom variety of popcorn kernels.
Use about 2/3 to 3/4 of 16 ounce bag of Brownie Brittle. I like the Chocolate Chip variety.
Nutrition Information:
Yield: 16
Serving Size: 1 cup
Amount Per Serving:
Calories: 137
Total Fat: 9g
Saturated Fat: 2g
Trans Fat: 0g
Unsaturated Fat: 6g
Cholesterol: 21mg
Sodium: 99mg
Carbohydrates: 15g
Fiber: 0g
Sugar: 0g
Protein: 2g
RachelCooks.com sometimes provides nutritional information, but these figures should be considered estimates, as they are not calculated by a registered dietitian. Please consult a medical professional for any specific nutrition, diet, or allergy advice.
This
Brownie Brittle Popcorn recipe
was originally developed for
Food Fanatic
. It is in no way, shape or form sponsored by Brownie Brittle.