14+ Healthy Thanksgiving Recipes
Looking forward to holiday cooking but dreading the scale afterwards? Enjoy these practically guilt-free healthy Thanksgiving recipes!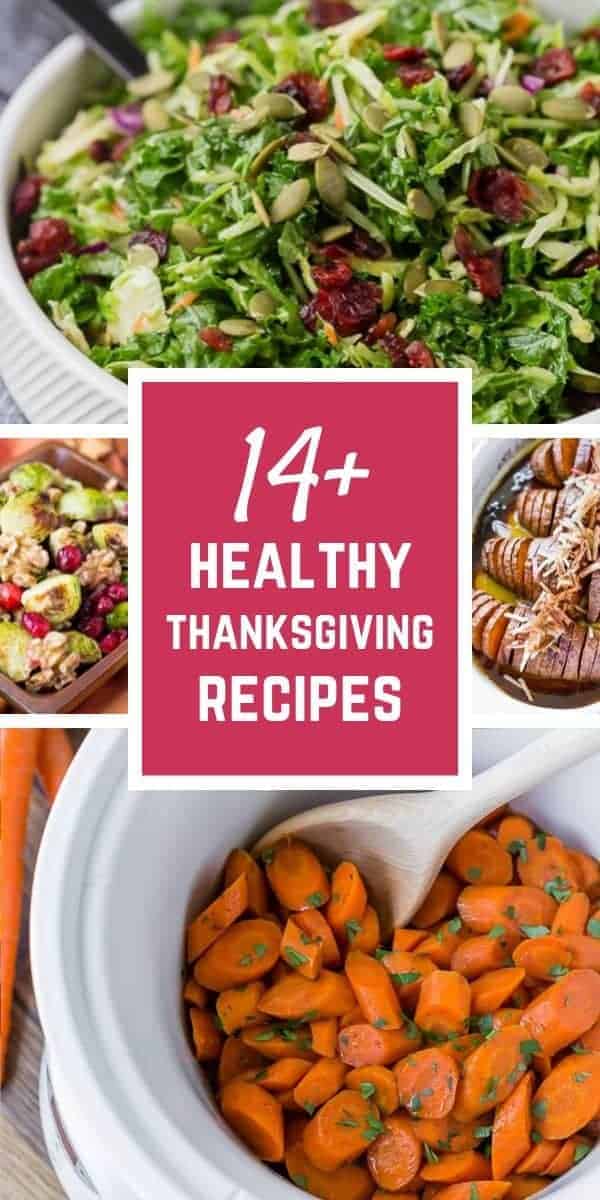 I don't know about you but I love food during the holidays, especially Thanksgiving! The luscious desserts, the best salads, the amazing stuffing (my personal fave!), the turkey that's so carefully carved every year….green bean casserole, yeasty homemade rolls, cranberry sauce, fancy cookies that only make an appearance once a year, and on and on.
Those smells and tastes bring back all those precious memories of loved ones celebrating together in past years. I remember celebrating Thanksgiving at my grandparents' house every year. Even though their house was small, somehow there was room for everyone. We squeezed a long row of tables in the basement and sat elbow to elbow. There was always lots of laughter and good natured ribbing, especially between our cousins.
Everyone brought their favorite casseroles, sides, salads, and desserts, and soon the tables were loaded. In fact, we would have to keep rearranging the dishes so that everything would fit.
Grandpa would carefully descend the stairs, holding the giant roasted turkey on a platter. The whole family held their breath until Grandpa and the turkey made it safely down the stairs. After a prayer thanking God for our abundant blessings, we would all dig in, passing around platters and bowls filled with delicious food.
And then dessert! We usually would have to wait an hour or two before anyone was ready for dessert. Pumpkin pie always had a starring role with lots of freshly whipped cream. Grandma always made her delicious apple crisp, too, because there were a few of us who couldn't live without that.
Everyone saves their most special recipes to bring to Thanksgiving dinner and tradition plays a huge role in the menu. Thanksgiving just wouldn't be the same, it seems, without green bean casserole, the best stuffing, homemade baked mac and cheese, or those totally addicting pumpkin spice candied walnuts. Maybe your Thanksgiving wouldn't be complete without a fancy sweet potato casserole or cheesy potatoes.
If your family is like mine, the emphasis is on making that special dish the traditional way, usually with lots of butter, sugar, cream, and other not-so-healthy ingredients. Those recipes taste great but your body isn't so happy about it later.
I like to try to "lighten" up those Thanksgiving dishes with a little less butter, a little less sugar, but NOT a little less flavor. Let's try to change the traditions a bit–make them a little healthier but not any less tasty!
Take a look at this collection of Thanksgiving recipes that I would love for you to try. Some of them are a healthier version of the traditional recipes but with the same flavors. Others may be completely new to your Thanksgiving table. Go ahead and give a couple of these recipes a try! I've shared many of these dishes with my extended family over the past few years and I haven't had any complaints!
I promise you won't be disappointed either and these healthier recipes may become your family's new Thanksgiving traditions!
14+ Healthy Thanksgiving Recipes
Looking forward to holiday cooking but dreading the scale afterwards? Enjoy these practically guilt-free healthy Thanksgiving recipes!
This herb roasted turkey breast is a delicious and flavorful idea for Thanksgiving dinner. Great for smaller families or people who don't like dark meat!
Sweet and delicious, these roasted Hasselback Sweet Potatoes make an impressive presentation yet are easy enough to add to your everyday menu. No hassle required!
These Brussels Sprouts with Cranberries and Walnuts will be the perfect addition to your Thanksgiving or Christmas table. They are simple, festive, and delicious!
Sweet and gently spiced, these slow cooker glazed carrots are perfect for entertaining or for everyday meals: delicious, nutritious, and easy to make!
This sweet kale salad is a copycat of the popular bagged salad you find in grocery stores -- but as always, homemade is way better!
Simple yet flavorful, this spaghetti squash with Parmesan and herbs is a perfect side dish or a great base for a topping such as marinara sauce.
This Roasted Brussels Sprouts recipe isn't like every other - the addition of a bit of nutty Asiago cheese sets it apart from the rest!
Eating healthy food does NOT have to be boring! These roasted carrots with cumin will excite your taste buds and leave you craving a second helping!
This Parmesan Roasted Cauliflower is going to become your new favorite way to eat cauliflower – it's flavorful, crispy, and so easy to prepare!
A classy yet stand-out side dish, these sautéed parsnips are flavored with wine, butter, and thyme. They're the perfect addition to any meal – especially Thanksgiving!
Smoked paprika adds something special to this butternut squash recipe. Makes a healthy side dish for Thanksgiving or any day.
This roasted butternut squash that is both spicy and sweet is 100% perfect! It's an easy and healthy side dish that the whole family will love.
These brown sugar glazed carrots with bourbon could be mistaken as candy, they're so irresistible! Great for Thanksgiving or any other meal!
Have a wonderful and healthy Thanksgiving!