Chicken Stew with Cornmeal Biscuits
Cozy and comforting, this one pan Chicken Stew with Cornmeal Biscuits is easy to make and even easier to eat! Your whole family will love this new take on a classic. 
So, today is day 7 of Whole 30. I told one of my friends that I wasn't going to share about this here because I didn't want to be held too accountable, but you guys also know I have a big mouth and can't resist sharing everything.
Go ahead and hold me accountable. I've got my mind set on this. I want to prove to myself I can do it, no matter how hard it is. Some people fight cancer or experience homelessness or HURRICANES. I can surely survive without carbs and sugar for 30 days, right? I'll obviously be back to eating all the things soon (you can read more here about why I'm doing Whole 30).
In the meantime, if you're in need of some comfort, this chicken stew is for you. The fact that you can make it in one pan is comforting in and of itself, am I right?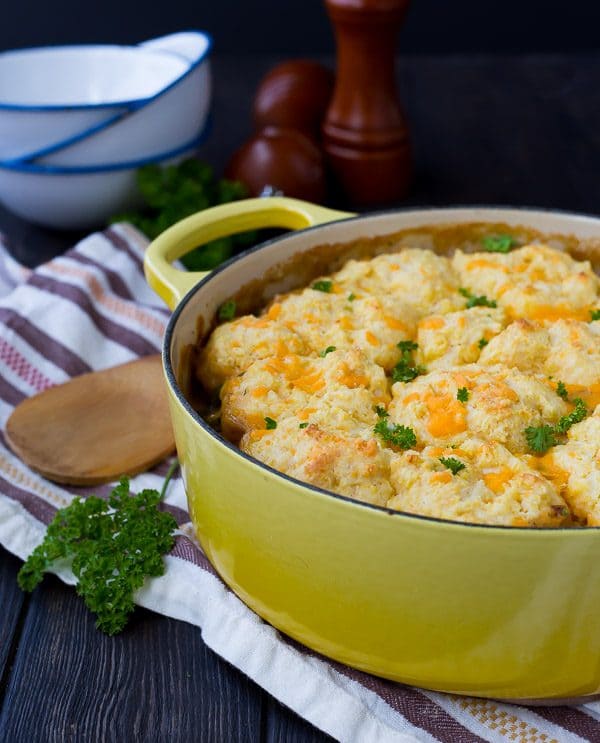 The chicken stew base of this recipe is creamy, comforting and similar to a classic pot pie. The topping is based off my whole wheat cornmeal biscuits, except these aren't whole wheat. I'm living on the edge over here. Also, I opted for a rustic, homestyle look by making them drop biscuits instead of rolled out and cut biscuits.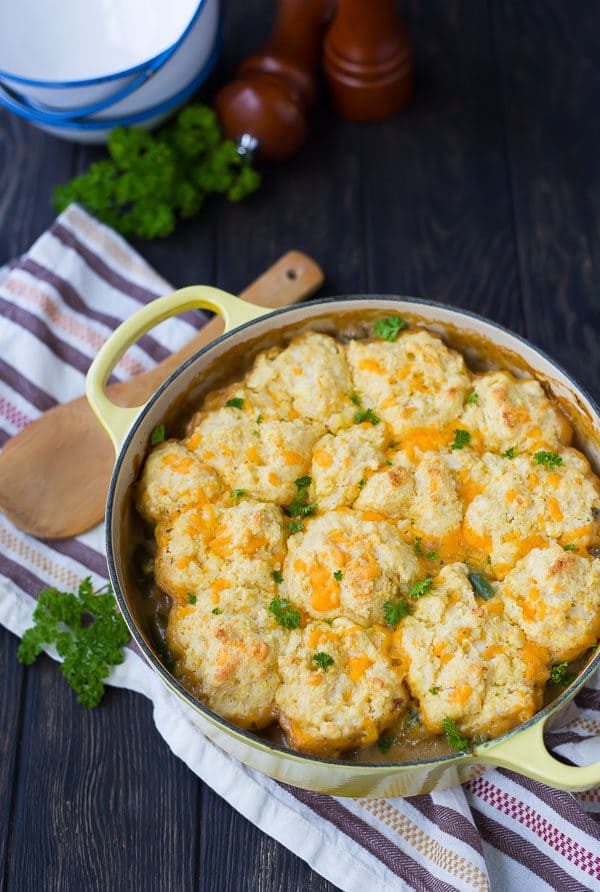 I have lots of tips for you in the notes of the recipe — make sure to check them out before you get cooking. It will make your life easier, trust me!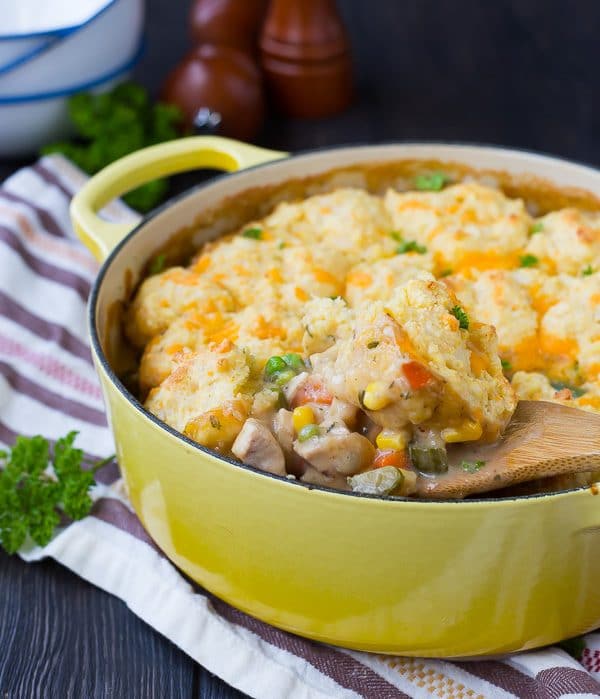 Other one pan wonders: 
Chicken Stew with Cornmeal Biscuits
Cozy and comforting, this one pan Chicken Stew with Cornmeal Biscuits is easy to make and even easier to eat! Your whole family will love this new take on a classic.
Ingredients:
For Biscuit Topping:
1 3/4 cups all-purpose flour
2/3 cup cornmeal
2 tablespoons sugar
1 tablespoon baking powder
1/2 teaspoon salt
1/2 cup cold unsalted butter, cut into small cubes
1/2 cup grated sharp cheddar cheese
1 cup buttermilk (see note)
For Chicken Stew:
1 tablespoon olive oil
1 pound skinless , boneless chicken breast halves – cubed (see note)
1/2 cup diced celery (about 1 large stalk)
1/2 cup chopped yellow onion (about 1 small onion)
3 tablespoons unsalted butter
1/3 cup plus 1 tablespoon all-purpose flour
1 tablespoon dried parsley (or 2 tablespoons fresh)
1/2 teaspoon dried thyme (or 1 teaspoon fresh)
1/2 teaspoon salt
1/4 teaspoon black pepper
1/4 teaspoon celery seed
2 cups chicken broth
1 cup milk (2% or whole, skim doesn't work well in this recipe)
1 (16 ounce) bag frozen mixed vegetables (carrots, peas, corn, green beans)
Directions:
For the biscuits:
Stir together flour, cornmeal, sugar, baking powder, and salt until combined.
Cut in butter using a fork, pastry cutter, or your fingers, until it resembles coarse crumbs.
Stir in cheese and buttermilk until just combined. Place bowl of biscuit dough in fridge while you make the rest of the stew.
For the stew:
Preheat oven to 400 degrees Fahrenheit.
In a large oven-safe dutch oven or deep skillet, heat 1 tablespoon olive oil over medium heat. Add chicken and cook until golden brown and cooked through. Remove to a plate.
Add onions and celery to hot pan (add a small amount of olive oil if needed) and cook, stirring, until translucent and softened.
Add butter and flour and cook until butter is melted. Stir in milk and broth slowly while stirring, and continue to cook until simmering and thickened, about 8 minutes.
Add in parsley, thyme, salt, pepper, celery seed, frozen vegetables, and chicken, and cook until mixture begins to simmer again.
Drop biscuit dough onto stew using a spoon or your hands in about 1/3 cup portions.
Transfer to oven and bake for 20-22 minutes or until bubbling around edges and biscuits are golden brown.
Note: If you don't have buttermilk, you can mix 1 tablespoon vinegar or lemon juice + enough milk to make 1 cup – let sit for 5 minutes, and you're ready to go!
Note: If your pan is big enough, this recipe will accommodate another 1/2 pound of chicken.
Note: If you don't have a large enough oven-safe pan, you can prep the chicken stew and then pour it into a 9×13 baking dish before topping with biscuit dough and baking.
Nutrition Information
Yield: 5 servings, Serving Size: 1 of 5
Amount Per Serving:
Calories:

788 Calories

Total Fat:

32g

Saturated Fat:

6g

Cholesterol:

85mg

Sodium:

914mg

Carbohydrates:

82g

Fiber:

4g

Sugar:

21g

Protein:

38g
Actual nutrition may vary depending on how recipe is prepared.
All images and text ©
.
Verdict: Such a comforting meal! We love this one.
Husband's take: Ben is obsessed with this — he definitely had seconds, and leftovers.
Changes I would make: None are necessary! See my recipe notes for some ideas.
Difficulty: Easy to moderate.
Disclosure: I have been compensated by Milk Means More for my time to develop this chicken stew recipe and write this post. All opinions are as always, my own. Find out more about why Milk Means More on Twitter, Facebook, YouTube, Instagram and Pinterest.