Southwest Chicken Salad Recipe – with video
Mix up your lunch routine with this fun southwest chicken salad recipe. You can prep it on the weekend for a quick, easy and incredibly filling lunch.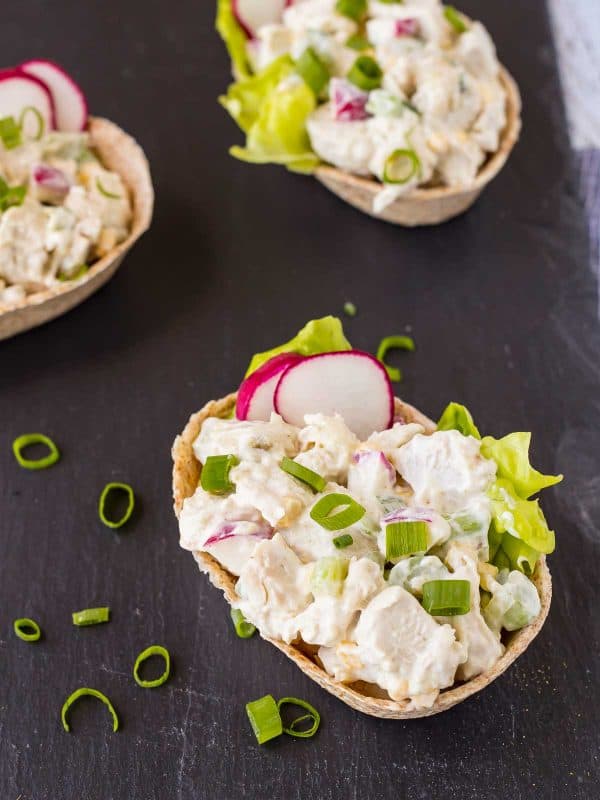 This post is brought to you in partnership with Old El Paso.
I love chicken salad. There's just something about chicken coated in mayo and mixed with crunchy vegetables (and sometimes fruit) that makes for a perfect lunch served with a tortilla, chips, crackers, or lettuce. But chicken salad doesn't have to be the same every time you have it. It's always good to have a little fun with your food and this chicken salad is exactly that — fun.
PS: If you're looking for a more classic recipe, this healthy chicken salad is one of my favorites! You might also like my dill chicken salad.
I was already getting excited dumping ingredients into the bowl — chicken, Old El Paso Green Chiles, mayo and Greek yogurt, celery, green onion, radish, fresh corn, lime juice and cumin.
Once I mixed it all together, I couldn't resist diving right into the bowl of southwest chicken salad with a fork to taste test (also the perfect time to season with salt and pepper). Would you be able to resist?
The only thing left to do was pile it into an Old El Paso Whole Wheat Taco Boat (they're new!), garnish with some crispy green lettuce and devour. If you're planning to make these ahead during a meal prep day (which you definitely should!), make sure to leave the chicken salad out of the taco boat until just before you're ready to eat so you're not left with a soggy taco boat.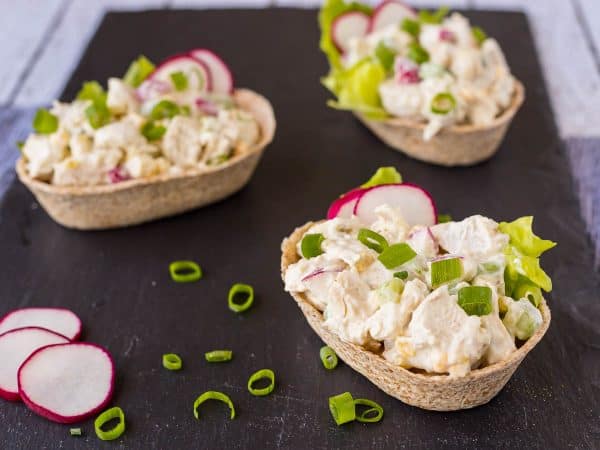 You could even easily pack this in lunches, a small container of this plus a taco boat in a bag and you can assemble it where ever you may be eating lunch.
Needed for this recipe: Green chiles, large mixing bowl.
Looking for more lunch ideas? Try:
Don't forget to watch the video for this southwest chicken salad recipe!
Chicken Salad Recipe with Green Chiles
Mix up your routine with a southwestern twist on a classic chicken salad recipe. You can prep it on the weekend – it's quick, easy and incredibly filling.
Ingredients:
4 cups cubed cooked chicken breast
1 can (4.5 ounce) Old El Paso mild green chiles
1/4 cup mayonnaise
1/2 cup plain Greek yogurt
1 cup finely diced celery (2-3 stalks)
1/4 cup diced green onion (about 2)
1/3 cup finely diced radish
1/2 teaspoon ground cumin
1/2 cup fresh corn kernels (about one ear)
2 tablespoons freshly squeezed lime juice
Salt and pepper to taste
1 package (6.7 ounce) Old El Paso Whole Wheat Taco Boats (8 boats)
Lettuce to serve
Directions:
In a large bowl, mix together chicken, Old El Paso green chiles, mayonnaise, Greek yogurt, celery, green onion, radish, cumin, corn and lime juice. Mix until chicken is coated and all ingredients are dispersed. Taste and add salt and pepper as desired.
Immediately before eating, divide evenly into Old El Paso Whole Wheat Taco boats and garnish with lettuce and additional radish and green onions if desired. Store extra chicken salad in a covered container in the refrigerator.
Nutrition Information
Yield: 8 servings, Serving Size: 1/8 of recipe
Amount Per Serving:
Calories:

236 Calories

Total Fat:

10g

Saturated Fat:

2g

Cholesterol:

47mg

Sodium:

396mg

Carbohydrates:

16g

Fiber:

1g

Sugar:

2g

Protein:

19g
Actual nutrition may vary depending on how recipe is prepared.
All images and text ©
.
Verdict: I absolutely loved this southwest chicken salad recipe. I'm all about the traditional chicken salad recipe but this one has a special place in my heart – it's so full of flavor and so crunch thanks to the radishes, corn and celery.
Husband's take: Truthfully, he's not a huge chicken salad fan AND he's a total traditionalist but much to my surprise, he LOVED this! I think he ate even more than I did. I wasn't even sure he would try it so I asked him to at least try it one for lunch one day, because I wouldn't be able to eat it all. He ate it all and even said it was "really good." And I could tell he wasn't lying.
Changes I would make: None are necessary but feel free to play around with the vegetables to suit your tastes and what is in your fridge. You could try using red bell peppers instead of chopped radish or adding in some jalapeño if you like it a little hotter.
Difficulty: Easy.
Disclosure: I'm excited to partner with Old El Paso this year to bring you fresh and flavorful recipes. Thank you for supporting Rachel Cooks by reading about brands we love and use in our own home.