Bacon Cheddar Quiche with Sweet Potato Crust (with video!)
If you haven't made a quiche with a sweet potato crust, it's time to give it a try! This bacon cheddar quiche is a healthier alternative to a traditional quiche, plus it packs more flavor.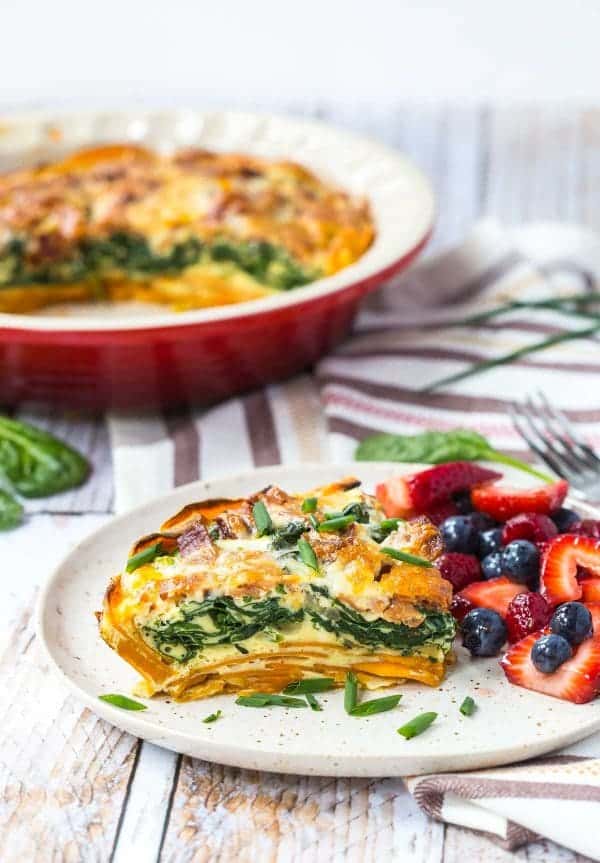 This post is part of my partnership with Milk Means More.
You guys know I'm pretty loyal to my mom's cornmeal crust when it comes to quiche. The crispy texture of it is perfect for a rich quiche. But sometimes I do stray from the usual and try something new. I've been seeing the idea of a sweet potato crust floating around Facebook and the internet and I knew I had to try it. I loved the idea of a healthier version of quiche, plus I adore the flavor of sweet potatoes. And dare I say, it's easier than making a traditional crust?
If you don't have a mandoline, it will be slightly more time consuming, but it's pretty forgiving. (But PS, buy a mandoline. It's such a great tool to have in your kitchen!) Cooking Light has a great video that shows the general technique for putting this crust together – but like I mentioned, it's pretty easy and quite forgiving. Once you pour the quiche egg mixture in, the eggs act as glue and hold the crust together nicely.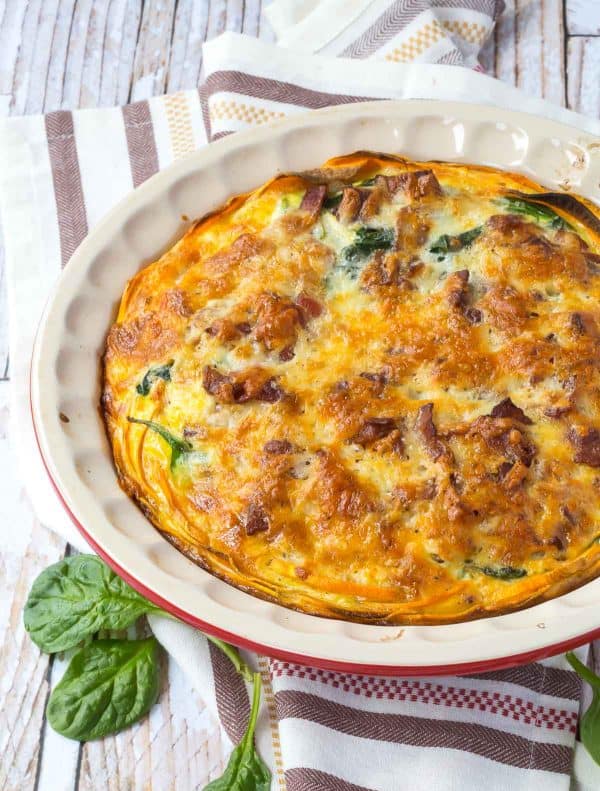 I chose to keep the flavors of this bacon cheddar quiche pretty classic to let everything shine. It reminds me a bit of my egg white breakfast bake, with the sweet potatoes and spinach. This time I included salty bacon and rich sharp cheddar cheese. I sprinkled the cheese on top and it forms a great upper crust to the quiche (if I'm being honest, it was my favorite part).
PS: I garnished with fresh chives because my chive plant is already out of control, but they are totally optional.
PPS: If you're looking for more breakfast and brunch ideas, you can find tons in my breakfast archives or on Milk Means More's website.
Watch this short video to see how to make this Bacon Cheddar Quiche!
Bacon Cheddar Quiche with Sweet Potato Crust
If you haven't made a quiche with a sweet potato crust, it's time to give it a try! This bacon cheddar quiche is a healthier alternative to a traditional quiche, plus it packs more flavor!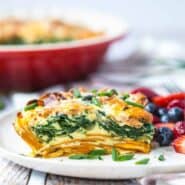 Ingredients:
Nonstick cooking spray
2 medium sweet potatoes
6 ounces center cut bacon, cut into small pieces
1/2 cup diced onion (about 1 small yellow onion)
6 ounces baby spinach
1/2 cup whole milk
1/4 teaspoon kosher salt
1/4 teaspoon freshly ground black pepper
6 large eggs
1/2 cup (2 ounces) grated extra sharp white cheddar cheese
chives for garnish, optional
Directions:
Preheat the oven to 350 degrees Fahrenheit.
Spray a 9-inch pie plate with nonstick cooking spray. Peel sweet potatoes and slice very thinly – using a mandoline if possible. Layer sweet potatoes into pie plate, overlapping to completely cover the bottom of the pie plate. To create side of crust, trim the sweet potato slices so they are flat on one side and continue to line the edges of the pie plate, overlapping slices. Continue this process until the pie plate is completely covered (you want it 5-7 layers thick). Spray again with nonstick cooking spray or olive oil spray.
Bake sweet potato crust for 20 minutes at 350 degrees Fahrenheit.
Meanwhile, fry bacon pieces in a large skillet over medium heat until browned and crispy. Remove bacon pieces to a paper towel lined plate, reserving 1 tablespoon of bacon grease in pan. Keeping heat on medium, add onion to bacon grease and cook until translucent. Add spinach, cover for 1-2 minutes, and then stir until spinach is wilted.
Whisk eggs and milk in a bowl with salt and pepper until combined.
When crust is pre-baked, remove from oven, increase oven temperature to 400 degrees Fahrenheit.
Carefully fill crust with spinach mixture. Sprinkle bacon on top of spinach and cheese on top of the bacon. Pour egg mixture over spinach, bacon and cheese. If you have too much egg mixture, discard (this will depend on the size of your pie plate and how deep you made your crust).
Bake at 400 degrees Fahrenheit for 25 minutes or until eggs are set in the middle. Cool slightly (5 minutes) before slicing and serving.
Nutrition Information
Yield: 8 servings, Serving Size: 1/8th of recipe
Amount Per Serving:
Calories: 216 Calories
Total Fat: 15g
Saturated Fat: 5g
Sodium: 353mg
Carbohydrates: 9g
Fiber: 1g
Sugar: 2g
Protein: 11g
Actual nutrition may vary depending on how recipe is prepared.
All images and text ©
.
Verdict: I loved this bacon cheddar quiche. The sweetness of the sweet potatoes was the perfect complement to the salty bacon and flavorful cheddar cheese.
Husband's take: Honestly, I'm not sure he's tried this yet! I think I devoured it all for lunches and breakfasts. Sorry Ben.
Changes I would make: None are necessary but I can't wait to fill sweet potato crusts with all sorts of fillings.
Difficulty: Moderate
Disclosure: I am thrilled to be a dairy ambassador for Milk Means More. I have been compensated by Milk Means More for my time to develop this recipe and write this post. All opinions are as always, my own. Find out more about why Milk Means More on Twitter, Facebook, YouTube, Instagram and Pinterest.