Asparagus Gruyère Tart with Balsamic Glaze – with Video!
Perfect for spring, this Asparagus Gruyère Tart is a show-stopping addition to any brunch or appetizer table. You won't believe how easy it is to make! 
Anyone else obsessing over asparagus right now? I've been picking up a bunch nearly every time I hit the grocery store and I'm so thankful that it is vibrant green, crisp, and fresh. No wilted, sad asparagus in sight. Can I get a hallelujah?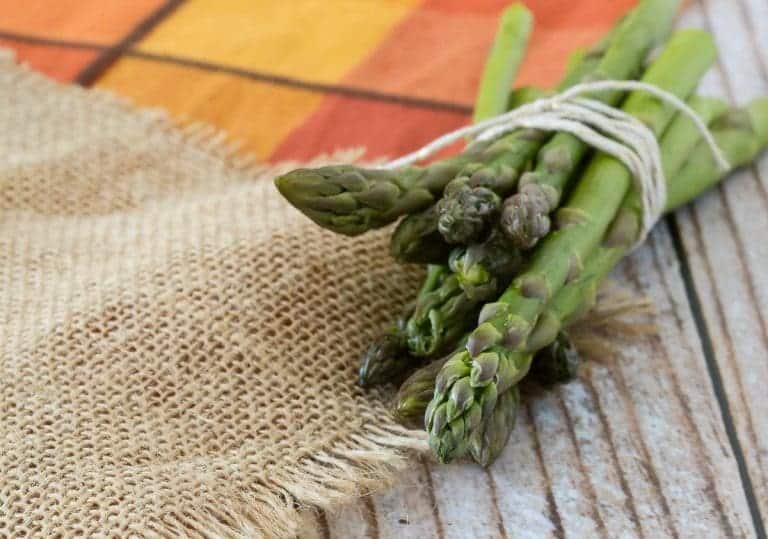 So, sorry to say this Ben, we'll be eating asparagus with every meal this summer. Grilled, sautéed, roasted, ribboned, and any other way I can get it. Actually, he's probably fine with it…it's one of his favorite vegetables.
Famous last words?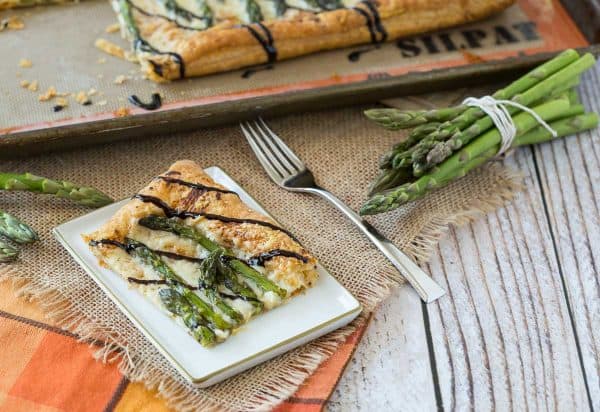 About this asparagus gruyère tart:
Honestly, this sucker is easy to make. The hardest part is rolling out the puff pastry dough, but it's really simple too. Just make sure you're rolling it out on a floured surface and using a floured rolling pin. It doesn't have to be perfectly sized or perfectly square. Just make it as big as you're comfortable making it, so that it takes up almost your entire sheet pan. Once you've finished that step, you get to prick it with a fork which is oddly fun. Then, smear it with Dijon. I started with a brush but actually ended up using my hands to get it evenly spread over the dough. Cheese, asparagus, cheese…and bake!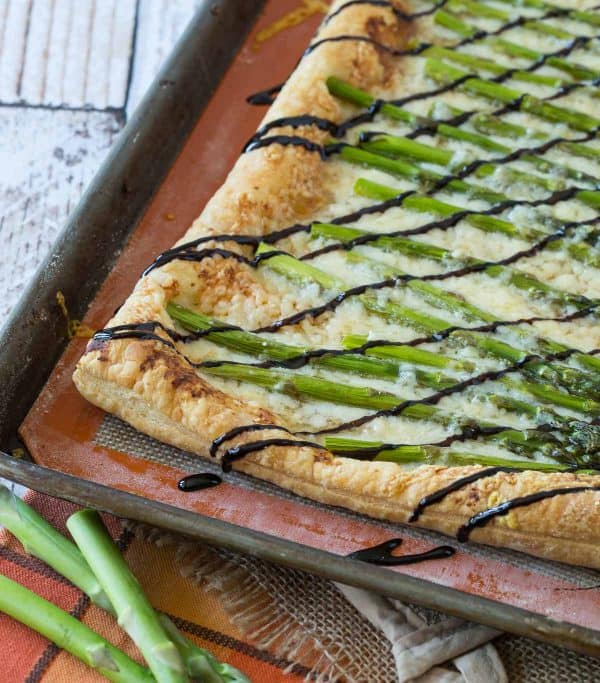 Once the Asparagus Gruyère Tart is baked, I top it with my favorite balsamic glaze and serve immediately. You could also try it with homemade balsamic reduction which is so easy to make! It would be a great addition to a brunch or as part of an appetizer spread. (It would go great with wine!)
Don't miss the short video to see how to make this Asparagus Gruyère Tart!
Asparagus Gruyère Tart with Balsamic Glaze
Perfect for spring, this asparagus gruyere tart is a show-stopping addition to any brunch or appetizer table. You won't believe how easy it is to make!
Ingredients:
1 sheet frozen puff pastry, thawed according to package directions
2 tablespoons dijon mustard
1/2 bunch asparagus, washed and tough ends trimmed (I used about 20 stalks)
1 1/2 cup shredded gruyere cheese
2 tablespoons Balsamic drizzle
Directions:
Preheat oven to 400°F.
On a floured surface, roll out puff pastry to approximately 11×14 inches using a floured rolling pin. Transfer to a sheet pan lined with parchment paper or a silicon baking mat.
Prick puff pastry with a fork all over.
Brush evenly with dijon mustard.
Sprinkle with 1 cup cheese, spread out asparagus evenly on top of cheese, and sprinkle with remaining cheese.
Bake for 20 minutes or until cheese is melted and tart is golden brown. Best served immediately.
Nutrition Information
Yield: 14 servings, Serving Size: 1/14th of recipe
Amount Per Serving:
Calories: 149 Calories
Total Fat: 10g
Saturated Fat: 3g
Cholesterol: 12mg
Sodium: 150mg
Carbohydrates: 8g
Fiber: 1g
Sugar: 1g
Protein: 5g
Actual nutrition may vary depending on how recipe is prepared.
All images and text ©
.
Verdict: So good! I loved the crispness of the asparagus against the richness of the Gruyère. The tanginess that both the Dijon and the balsamic bring to the situation is just perfect.
Husband's take: He loved this asparagus gruyère tart. He did mention how rich it was – this is definitely a dish for sharing and not one for devouring by yourself.
Changes I would make: None are necessary! My friend Alice of Hip Foodie Mom recently did a similar recipe and used both peas and pea shoots on hers – I love that idea. It's so springy and fresh…and very beautiful!
Difficulty: Very easy.
Disclosure: I am thrilled to be a dairy ambassador for Milk Means More. I have been compensated by Milk Means More for my time to develop this recipe and write this post. All opinions are as always, my own. Find out more about why Milk Means More on Twitter, Facebook, YouTube, Instagram and Pinterest.