MotorCity Casino Hotel and Iridescence Review
Enjoy an unforgettable date night at MotorCity Casino Hotel – don't miss dining at Iridescence while you're there – the service, view, and of course the food will wow you!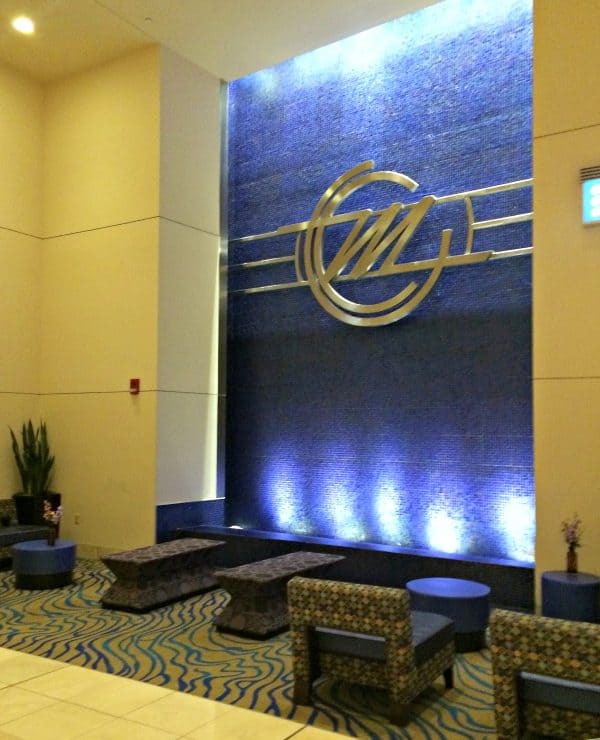 Ben and I recently had the pleasure of spending an evening at MotorCity Casino Hotel, and we'll definitely be back! We don't have the opportunity to have too many nights out so it was really a treat to have a short overnight getaway, even if it was so close to home.
Here are some things I'd recommend checking out at MotorCity Casino Hotel:
The hotel! Obviously.
Don't plan a night out at the casino without booking a room. I mean, honestly, do people even do that? The rooms were wonderful, especially the bathroom. HUGE shower, jetted tub, even a tv in the mirror. What's better than watching Sex in the City while you get ready in the morning? The only thing I didn't love was the lighting for putting on makeup but they did have a small lighted make-up mirror that helped with that.
Bed was comfy and big, there were chairs overlooking the city, and chocolates waiting for us before we went to bed. What more could you ask for in a hotel room?
Iridescence®:
Iridescence is located at the top of MotorCity Casino Hotel and is fine dining at its best, seriously. Everything was perfect at Iridescence. We were greeted by the most friendly hostess, given our choice of seats (we chose to sit by the windows and soak in the view), and introduced to our friendly server who took great care of us.
Here's what we ordered from our iPad menus, which include a picture of every single item:
I had Moutard-Diligent Chablis to drink. I was offered a sip to try prior to them pouring the glass. It was the perfect complement to my meal.
We were served a bread basket with both butter and olive oil. Included in this were parmesan crisps that were absolutely irresistible.
The server brought out a complimentary amuse-bouche – it was a sure sign that we were about to enjoy a fantastic meal.
We decided to share an appetizer and ordered the Hoisin and Cab-Braised Short Rib. It was served with vanilla-ginger sweet potatoes (SO GOOD), walnuts, edamame, brûléed bay scallops, and amaranth. They melted in your mouth….
I chose to get a salad, and because I'm a beet fanatic, I chose the beet salad. It was my favorite item of the whole meal. It included baby kale, roasted beets, beet chips, toasted almonds, citrus cherry aigre-doux and crème fraiche.
Ben got soup – he tried the lobster bisque. It was so creamy and had just the right amount of lobster flavor.
For my entree, I went with the steak. I love ordering steaks at restaurants and I was glad I did at Iridescence. I got the 12 oz 28-day prime NY strip. I'm typically a filet mignon girl, but the server sold me on the NY strip. It was a huge steak, I could only eat about a third of it. (Ben helped me with the rest.) It was served three ways. I loved all three, but the classic was my favorite.

Detroit – house-made worcestershire sauce, bone marrow croquette, pickled red onion
Oscar – crab cake, brown butter béarnaise
Classic – Robuchon potatoes, grilled asparagus, red wine mustard

Ben got their Bento box. I was pretty surprised and impressed because usually he sticks to things he knows he likes (steak), but he was adventurous and tried something new. The Iridescence Bento Box included:

Crispy Tuna with piquillo pepper piperade, wasabi pea purée, rice cake
Tempura Shrimp with house-made giardiniera, yuzu sake emulsion
Seared Sea Bass with coconut broth, watercress, radicchio, carrots

We didn't order dessert, which I'm still kicking myself for. I don't know what I was thinking, besides the fact that I was unbelievably full.
Honestly, I'm also kicking myself for not trying their American Kaiseki menu. It's a seven-course tasting and you don't find out what's included until it arrives at your table. I chickened out and wish we would have gone for it.
Butler Level Room:
Our room was complimentary, but I'd highly recommend splurging for a room on the butler level of the hotel. This gives you not only a phenomenal view (these rooms are on the top floors), but it also gives you access to a special lounge where you'll find free appetizers and breakfast. While Ben took a shower in the gigantic shower with more shower heads than I took time to count, I headed down to grab breakfast and get a bit of work done. I wish I could work in that lounge every day, overlooking the city and sipping on my coffee while enjoying danishes, bagels, fruit, yogurt, and oatmeal.
I'll definitely be back to MotorCity Casino Hotel soon, and I can't wait to plan some more short getaways with Ben.
Disclosure: We were provided with a complimentary hotel room at MotorCity Casino Hotel and dinner in exchange for an honest review. All opinions are my own, as always.