This isn't your traditional stuffed mushrooms recipe – they put all the great flavors of coq au vin into one tasty bite. It's the perfect appetizer!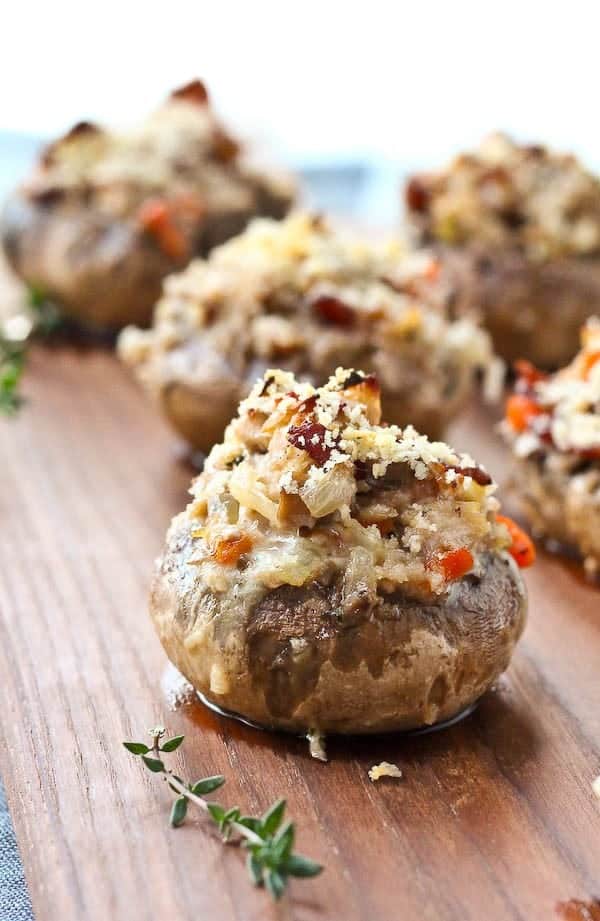 When I was in high school, my family hosted a student from France for two summers. We also went and stayed with her family in France. The memories will be with me forever and one of the things I remember most is, of course, the food! The food was unreal in France but our exchange student also did some cooking for us while she stayed in our home. Crêpes, tarte Tatin, and Coq au vin — oh how I wish I could transport her into my kitchen right this moment to whip up some delicious food.
I took the flavors of coq au vin and turned them into these little stuffed mushrooms. They make a great appetizer, but the filling would also be amazing in a portabella for an entree recipe rather than an appetizer. They have bacon, chicken, red wine, onion and fresh thyme. Cheese isn't traditionally included in coq au vin but I wanted something to hold the filling together, plus I'm a big fan of cheese. They're little flavor bombs. They're rich without being overtly rich. The perfect start to any meal.
Coq Au Vin Stuffed Mushrooms Recipe
This isn't your traditional stuffed mushrooms recipe – they put all the great flavors of coq au vin into one tasty bite. It's the perfect appetizer!
Ingredients:
20 ounces large white mushrooms (10-12)

4 slices bacon, cut into small pieces

1/2 cup finely diced onion

1/4 cup carrots

reserved mushroom stems

1/4 teaspoon ground black pepper

1 clove garlic, finely minced

1 cooked chicken breast – very finely diced (about 1 cup)

1/4 cup red wine

1/4 teaspoon finely minced fresh thyme

1/2 cup shredded mozzarella

6-8 teaspoons panko bread crumbs
Directions:
Preheat oven to 375 degrees Fahrenheit.
Remove stems from mushrooms. Chop stems finely and reserve. Place mushroom caps in a baking dish.
In a large skillet, cook bacon over medium heat until crispy.
Remove bacon from pan and place on a paper towel-lined plate. Leave bacon grease in pan.
Add onions and carrots, turning heat down if needed to keep onions from burning. Cook for 3-4 minutes or until onions are translucent and carrots are softening. Add chopped mushroom stems, pepper, garlic, and finely diced chicken. Continue to cook, stirring frequently, until mushrooms are cooked.
Add red wine and increase heat to medium-high. Continue to cook and stir until nearly all of the liquid is gone. Remove from heat and stir in thyme.
Pour mixture into a bowl to cool slightly. Add cheese and cooked bacon and stir to combine. Using a spoon, fill mushroom caps with this mixture – it's okay if they overflow a little.
Sprinkle Panko bread crumbs over mushrooms.
Bake for 20 minutes or until golden brown. Let cool to touch and serve.
All images and text ©
.
Verdict: Loved this stuffed mushrooms recipe! I shared with my neighbor and she enjoyed them as well.
Husband's take: "This recipe is blog-worthy." I'm not sure what that means for all the other recipes on my site.
Changes I would make: None are necessary.
Difficulty: The little buggers are a bit of a pain to stuff, it's time-consuming but still easy.
Looking for more appetizers? Here are some that will become new favorites:
And of course, I have a Pinterest board devoted to appetizers!
Follow Rachel Cooks | Rachel Gurk's board Appetizers on Pinterest.