2016 Foodie Gift Guide
Figure out what to buy the food the food lover in your life with this great foodie gift guide. Number 5 is essential in every person's life.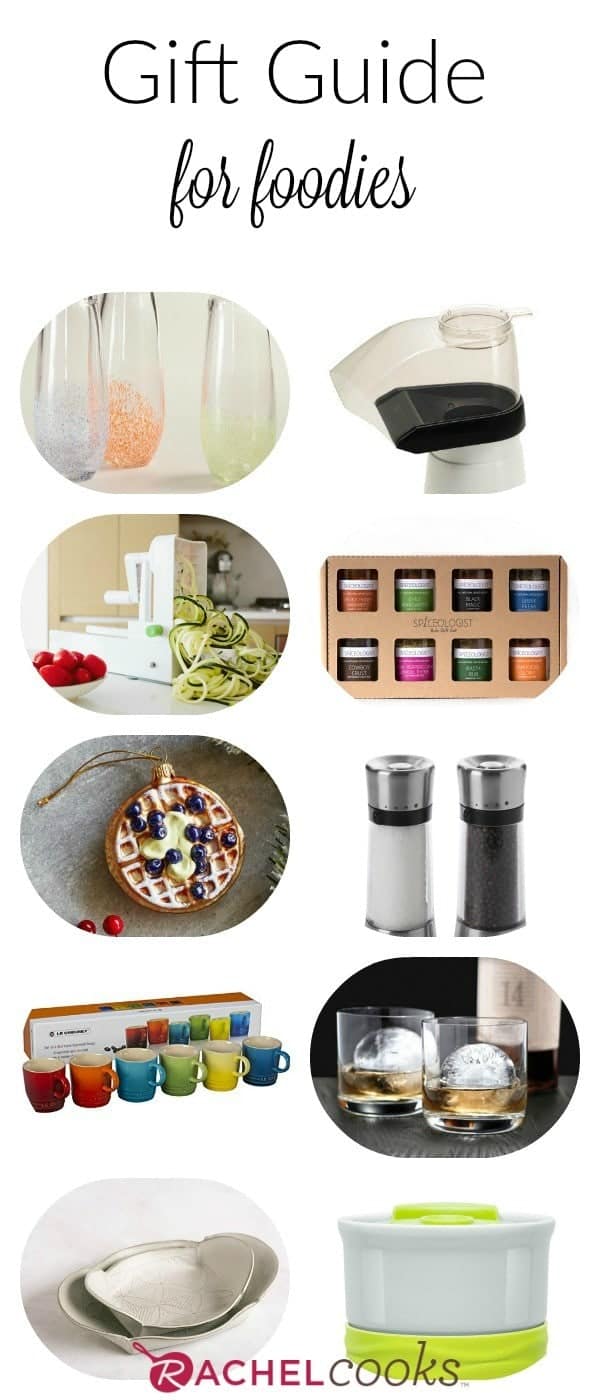 There's still plenty of time to buy gifts! Especially with Amazon Prime, right?
I try to do at least one gift guide every year and somehow I always end up with a food lover's gift guide. I tried to stray from it last year but still ended up with mostly food-related items. In 2013 I did another foodie gift guide, oh and hey, yet another in 2012.
This year I included mostly things I have and love but a few others that might just be on my wish list as well.
I mean, how cute are these?!?!
I got them in blue and I love them. I love how the blue spots on the glass look like bubbles.
They're the bomb and make creating delicious food a total breeze.
I've tried three different spiralizers to date and so far this is my fave. I love the suction feature – it grips the counter so well! Plus, it's created by a fellow blogger which is a bonus. If you're buying this, consider also buying Ali's cookbook, Inspiralized!
Is this really a surprise? Everyone needs one in their kitchen. To make it a complete gift, throw in a bag of Bob's Red Mill popcorn – it's my favorite.
Etsy has tons of choices but I love these pretty white ones! I love the unique shape of them – they'd be so pretty on the table. (And in pictures!)
I really prefer a glass mug to a metal mug and I avoid our metal mugs at any cost. Unless I really want my coffee to stay hot for a long period of time. What's that like, anyways? So, I usually just use my regular mug in the car too, but that doesn't always end up so well. When I was wandering the aisles of Meijer and saw a cute ceramic mug with a lid similar to one in the picture, I snatched it up. It doesn't keep the coffee hot much longer than a normal mug, but it is much less prone to spill. Which is good.
Because they are fun. And pretty. And one big ice cube doesn't water down your drink as much as a bunch of small ones.
I love these from OXO because they are adjustable and durable enough for every day use but pretty enough to set on the table too.
These would make great stocking stuffers. Sur la Table has a ton of really fun choices. No popcorn though. What's up with that?
Anything I missed? What would you add to this gift guide? What are you buying for the food lover in your life?
Disclaimer: Some items included in this guide (I think two of them) have been given to me from the company because I am a food blogger. None of them asked me to write this about and none of them compensated me in any way for this post.