Brownie Brittle Popcorn
Brownie Brittle popcorn answers the question, "What's better than crunchy, flavorful Brownie Brittle?" You'll love the undeniable crunch of Brownie Brittle paired with America's favorite treat: popcorn. Add some sprinkles for a fun pop of color!
Let me start with a question: Have you all tried Brownie Brittle? It has all the chocolate flavor of brownies but the texture is like only the crunchy edges of the brownies, not the soft gooey centers. It's a combination of a chip and a brownie, if that makes any sense at all.
The first time I tried Brownie Brittle, I have to say I was slightly underwhelmed. I'm a huge fan of slightly under-baked brownies that have a super-soft, chewy center.
But I will admit that Brownie Brittle grew on me big time. I could not stop opening the bag for "just one more bite." It's majorly addicting, but due to its light and crispy texture, you can enjoy it with less guilt than a thick, dense brownie. It's only natural that I would combine it with popcorn.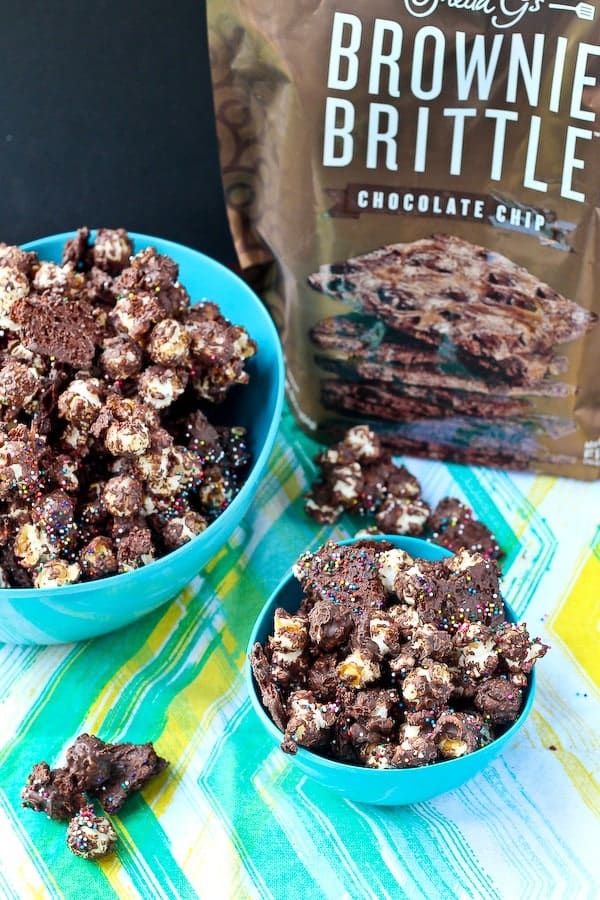 As always, I have a specific method to my madness when I make sweet-flavored popcorn recipes. First and foremost – REMOVE THE UNPOPPED KERNELS. Once they're covered in chocolate, they become undetectable until you crunch down on them. I pop my popcorn into a huge bowl, and then I give it a shake to help these un-popped kernels settle to the bottom of the bowl. Then I take out all the fully popped kernels and place them on a baking sheet. You'll be using it later, so you don't have to worry about dirtying it. Once they're all removed, you're left with the un-popped or partially popped kernels. Toss those in the trash and return the popped kernels to the bowl. Sounds tedious but it only takes about a minute.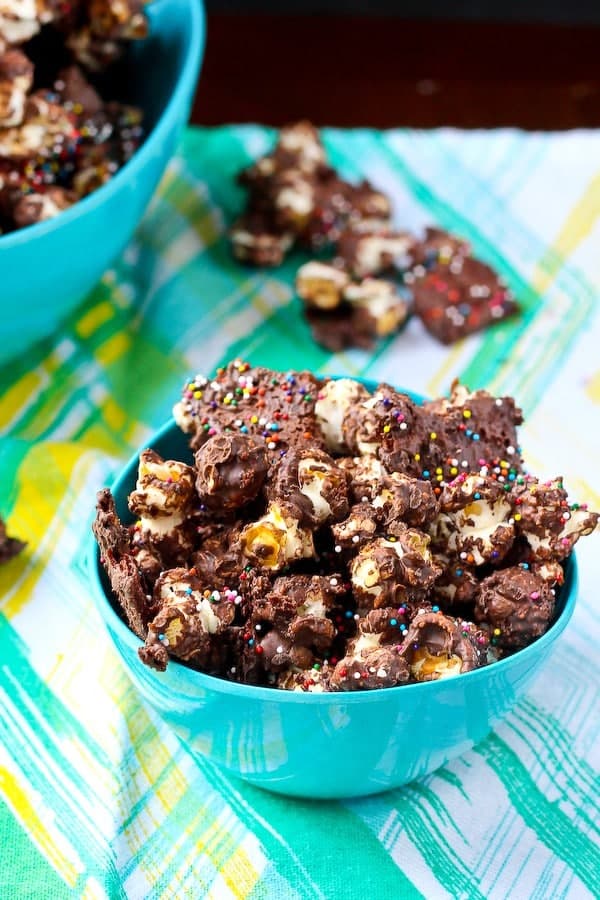 Another thing I like to do when I make popcorn is to use a mixture of large pieces of whatever I'm mixing in (in this case, Brownie Brittle) along with a crushed version of the mix in. Crushing the Brownie Brittle ensures that each bite will have that recognizable brownie flavor. Leaving some pieces whole gives you strong pops of that flavor and texture, but it also helps the person who is eating the popcorn know exactly what they are eating. I used the same technique with my Cinnamon Toast Crunch popcorn.
I added sprinkles because this popcorn was looking a little BROWN and boring – but it's totally optional. Totally recommended, but optional nonetheless. (If you like colorful popcorn, you might also enjoy Nerds popcorn!)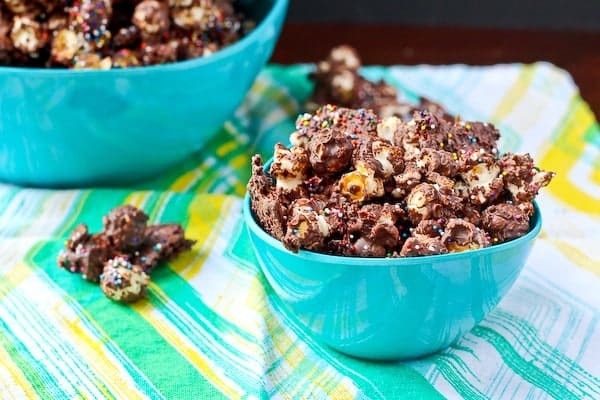 If chocolate isn't your thing but you still love popcorn, make sure to check out my peanut butter and honey popcorn.
This Brownie Brittle Popcorn recipe was originally developed for Food Fanatic. It is in no way, shape or form sponsored by Brownie Brittle.