Blueberry Apple Crisp Smoothie Bowl
Blueberry Apple Crisp Smoothie Bowl – such a great way to start the day! Complete with hidden veggies!
I go on breakfast kicks all the time. Right now I'm on a Raisin Bran kick (am I 85 years old?). I know, so boring! But gimme a break, we just started the back-to-school routine so I'm sticking to the basics. I stumble out of bed, get dressed, head downstairs and start the coffee. I pour myself a bowl of Raisin Bran and milk and grab my water and laptop and sit down to work.
Work work work until it's time to wake the kids up. Which I delay until the last possible moment. C'mon, I know you do it too! Those early moments of quiet are so important for my sanity before the chaos of the day starts. I love the chaos but ooooh I also love that early morning quiet. Just me and my coffee.
HOT COFFEE! It's actually HOT when I drink it, you guys! It's an amazing thing.
Once I get out of the Raisin Bran rut, it's going to be smoothie bowls. I'm a sucker for anything with toppings. Chili, salads, baked potatoes, and smoothie bowls. The toppings are so fun! Pile on whatever your heart desires. Or whatever you have in the fridge. It's the best because it adds a ton of variety, even if you're not really eating anything brand new.
Fruit crisps are my favorite dessert so I modeled this smoothie bowl after blueberry apple crisp. I added cinnamon to the smoothie bowl (along with apples, blueberries, and Greek yogurt). As for toppings – I wanted it to really seem like a crisp. I added oats (sweetened with a bit of maple syrup) and pecans.
I think this is the start of a beautiful relationship between me and smoothie bowls.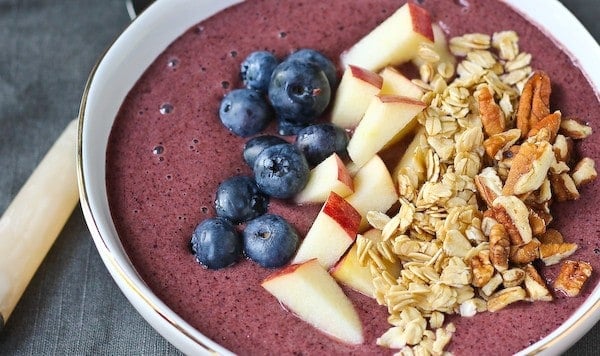 Blueberry Apple Crisp Smoothie Bowl
This blueberry apple crisp smoothie bowl is such a great way to start the day – complete with vegetables!
Ingredients:
1 cup frozen blueberries
1 large apple, roughly chopped (about 2 heaping cups), reserve about 2 tablespoons for topping
1 teaspoon cinnamon
1/2 cup plain greek yogurt
1 tightly packed cup of spinach
1 teaspoon pure maple syrup, optional
toppings:
2 tablespoons oats mixed with 1 teaspoon pure maple syrup
1 tablespoon chopped pecans
leftover chopped apple
fresh blueberries
Directions:
In a blender, add blueberries, apple (except for the ones reserved for topping), cinnamon, yogurt, and spinach. Blend until smooth. Taste and add maple syrup to taste. If you like it thicker, add ice cubes.
Pour into a bowl and top with oats, pecans, apple and blueberries. Serve immediately.
All images and text ©
.
Verdict: Love this blueberry apple crisp smoothie bowl! The obsession is beginning…
Husband's take: He devoured this!
Changes I would make: None are necessary but have fun with toppings!
Difficulty: Easy!
Looking for more fun smoothie recipes? Try: Creamy Lemon Smoothie, Clementine Vanilla Smoothie, Mango Raspberry Coconut Water Smoothie, Creamy Mango Banana Smoothie, Tropical Sun Smoothie, Chunky Monkey Smoothie, or my list of 50 juice and smoothie recipes.
**Disclosure: I am thrilled to be a dairy ambassador for Milk Means More. I have been compensated by Milk Means More for my time to develop this recipe and write this post. All opinions are as always, my own. Find out more about why Milk Means More on Twitter, Facebook, YouTube, Instagram and Pinterest.