Essential WordPress Plugins for Food Blogging
The list of WordPress plugins can be super overwhelming and it is hard to know where to start. In this post, I cover some essential WordPress plugins for food blogging that you should download, stat!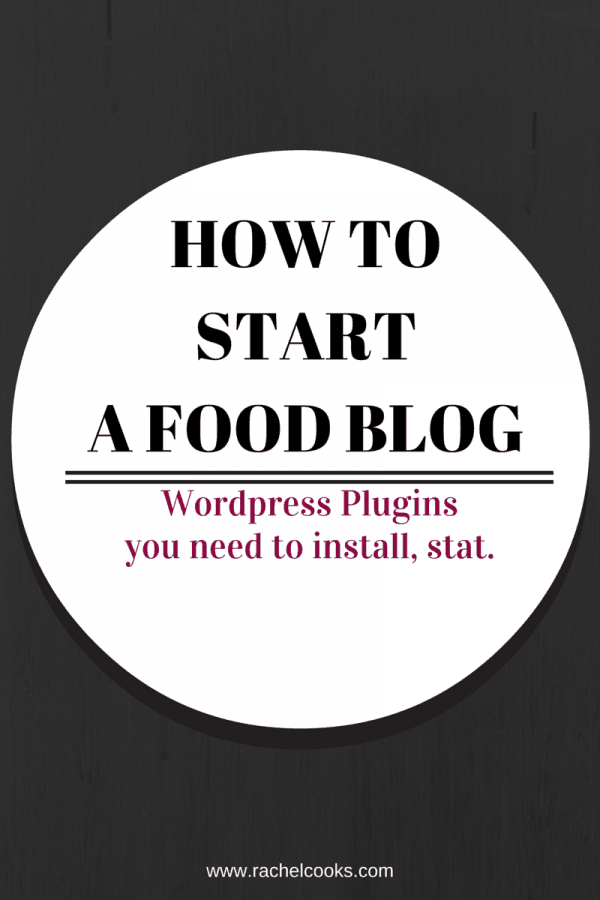 If you're here for the recipes, come back tomorrow! I'm continuing on with my series on how to start (or improve) your food blog.
So for we've talked about the first five things to do when starting a food blog, how to write an about me page, how to write a recipe, how to network with other bloggers, and the 9 must-have food blogging books.
Today, we're talking plugins. Yeah, it might sound boring, but it's pretty important. Plugins help improve your WordPress site and they each have a little job to do. There are millions to choose from, so choosing a few can be a daunting task. You want to only download and use the essentials, as too many plugins can make your site slower and also more vulnerable to attacks. I've created this guide of essential WordPress plugins for food blogging to make your choice a little easier.
To keep the spammers and jerks hackers away:
Akismet + NoSpamNX – These two plugins together do a great job of keeping the spam comments to a minimum so that you're not spending your whole day deleting spam comments. You have better things to do.
Limit Login Attempts – This plugin will lock people out of your site after the attempt to log in 5 times unsuccessfully. While doing my research for this post, I did notice that this plugin hasn't been updated in over two years. When a plugin has been updated, it can pose a security risk to your site. I asked around in my blogging circles for an alternative, which led me to…
Authy – This plugin sets up 2-step authentication to your site. You can use an app or you can get the codes via text. It's what I'm using now and so far I love it!
To keep your butt in gear yourself organized:
CoSchedule: Not technically a plugin, but I LOVE CoSchedule. CoSchedule allows me to schedule social media posts right when I am writing the post. We're all buys for one reason or another (TODDLERS!) and this allows me to rest easy knowing that when my post goes live, so will some social media mentions. I even schedule some a week out, a month out, and a year after my post goes live. It's been a huge help in promoting my content so that people besides my mom see it.
WP Editorial Calendar: I honestly do not know how I would survive wihtout this one. It makes it so easy to schedule in my new posts and plan my calendar weeks or even months out. It keeps me sane. It's definitely an essential WordPress plugin for food blogging.
To optimize your success:
WordPress SEO: Aka Yoast. I'd be lying if I didn't say my favorite thing about this plugin is that it indicates how your SEO (Search Engine Optimization – another post for another day) with a red, yellow, or green dot. Go for green and you'll know that the post you just worked so hard on might actually have a chance of being found in a Google search.
Hyper Cache: To make your site faster. Faster site = happier readers = more return readers.
EasyRecipe: Disclaimer — I don't use this plugin. My recipe formatting is custom designed by my website designer, however, I know that many many many food bloggers use this plugin for their recipe formatting and love it. You'll want to have some sort of format for your recipes for a number of reasons:
Formatting your recipes makes them more visually pleasing and easier to read for your readers.
Formatting your recipes makes Google love you more. That's the non-techie explanations.
Formatting your recipes makes them printable. You want people to actually make your recipes, right? Make it easy for them to print them!
To Get Social:
jQuery Pin It Button For Images: If you hover over any of my images, you'll see a little icon pop up that shows a thumbtack, indicating that you can pin the image to Pinterest that way. (Do it, pin it!). I have this plugin to thank for that (and my designer to thank for making it cute — but that part is actually fairly easy). This makes is much easier for readers to pin your recipes. Happy readers, happy bloggers, and lots of Pinterest traffic.
WordPress Thread Comment: This plugin notifies your readers when you reply to their questions and comments! This one is a must-have to enjoy a conversation with your readers.
Did I miss anything? What would you add? If you already have a food blog – what plugin could you not live without?
LOOKING FOR MORE PERSONALIZED, ONE-ON-ONE ASSISTANCE WITH BUILDING YOUR BLOG? Make sure to check out my blogging consulting services. I still have available spaces for new clients! One of my packages includes a few of these books shipped right to your house!