Cherry Vanilla Yogurt Bites
These cherry vanilla yogurt bites are the perfect protein-packed snack. Only three ingredients are necessary for this fun kid-friendly snack.
The other day, I had a few friends over for a play date. Imagine 7 toddlers running around screaming inside of a house. It's chaotic, but it's so fun. If the full group had been able to come over, there would have been 12 little ones. Come summer time, 15. For the record, I have nothing to do with that number increasing. Thank goodness it will be summer time though. We'll be able to escape the confines of the house and enjoy the swing set and the deck. I am SOOO ready for that. Last Friday, when I dropped E off at preschool it was -3 degrees. NEGATIVE THREE. Alright Michigan, we're done. I'm ready to walk to the park with the kids.
These little yogurt bites are a taste of summer, though. Fresh, fruity, cold and refreshing. You'll have a hard time keeping yourself from popping another in your mouth. My son, who barely eats anything, LOVED these. He could not get enough. My daughter who eats evvvvverything didn't care for these. Go figure. She said they were "too cold." It's weird, she has no issues eating ice cream, which is much colder. Kids — if I ever figure them out, I'll be a rich, rich woman.
I loved feeding these to my son though — he has an aversion to anything with protein so the fact that he was snacking on protein packed Greek yogurt made this momma very happy. These were a play date hit as well! Toddler AND adult approved.
Happy snacking!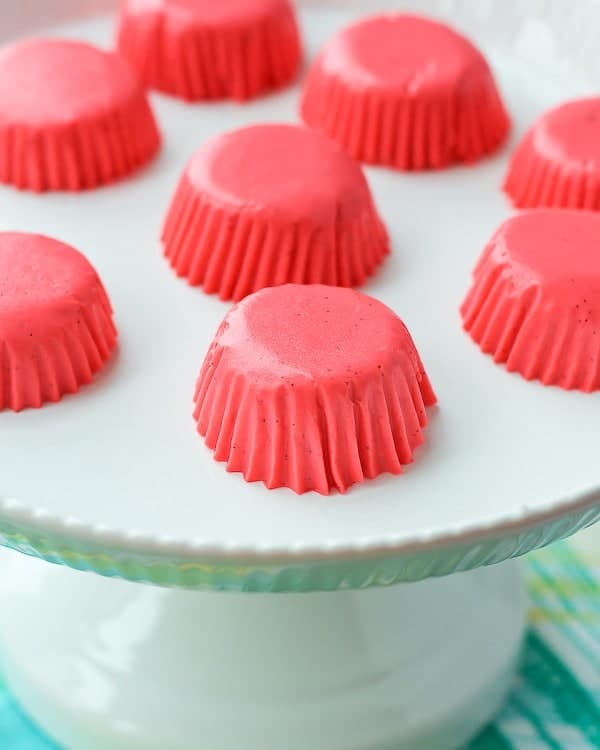 Cherry Vanilla Yogurt Bites
These cherry vanilla yogurt bites are the perfect protein-packed snack. Only three ingredients necessary for this fun kid-friendly snack.
Ingredients:
1 1/2 cups vanilla Greek yogurt
seeds scraped from one vanilla bean
1 package (3 oz.) Cherry Flavor Jello Powder
optional: Whipped cream for topping
Directions:
Mix yogurt, cherry jello mix and vanilla bean seeds in a medium sized microwavable bowl. Microwave on high for one minute; stir. Continue microwaving in one minute intervals until gelatin is dissolved (2-3 minutes total).
Spoon or scoop into 24 paper-lined mini muffin pan cups. Place in the fridge and chill at least 1 hour or until firm.
Remove yogurt bites from liners (top with whipped cream if desired) and enjoy!
adapted from Kraft
All images and text © .
Verdict: These were fun and delicious — hard to stop eating!
Husband's take: I'm not sure Ben actually tried one of these! Guess little man gobbled them up too quickly.
Changes I would make: None are necessary. If you don't want to buy or use a vanilla bean, these would be fine without. Make sure you're using vanilla yogurt for lots of great vanilla flavor. I can't wait to experiment with different flavors of these fun little treats.
Difficulty: These cherry vanilla yogurt bites are SO stinking easy.
Looking for more snacks that pack a protein punch? Try: Vanilla Bean Yogurt Dip with Fruit Skewers, Salad on a Stick with two different yogurt-based dressings, Roasted Red Pepper Yogurt Dip, Prosciutto and Fig Bite-Sized Cheeseballs, Hummus Spinach Artichoke Dip, or Blood Orange and Chocolate Yogurt Popsicles.
**Disclosure: I am thrilled to be a dairy ambassador for Milk Means More. I have been compensated by Milk Means More for my time. All opinions are as always, my own. Find out more about why Milk Means More on Twitter, Facebook, YouTube, Instagram and Pinterest.