How to Write an About Me Page
Writing a great about me page will help readers get to know you and stick around your blog! Learn how to write an about me page and you're well on your way to a great site!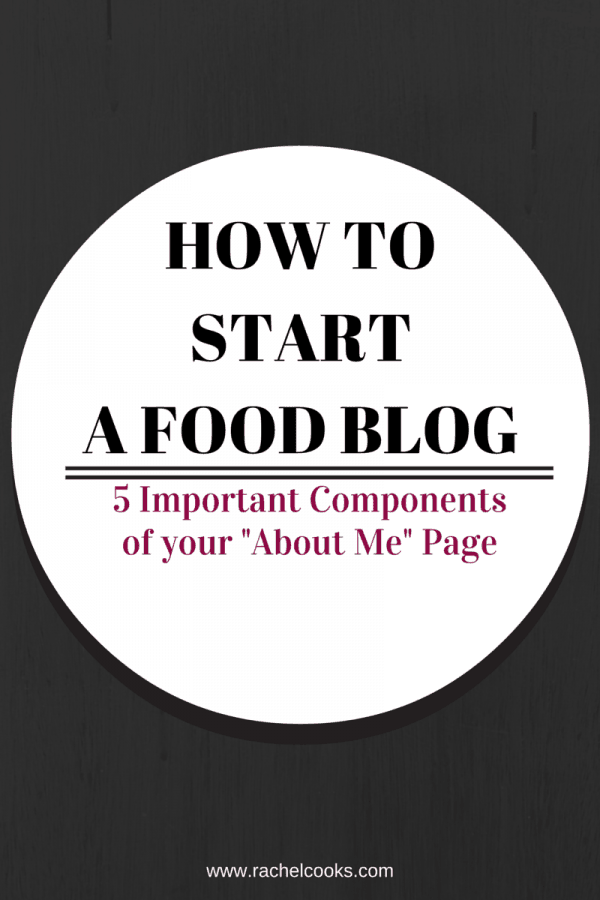 Once you decide to start a food blog – there are a number of important things to get moving on. If you missed it, go back and read my post about how to start a food blog. In that post, I cover the 5 steps that you should take first, before doing anything else.
I would argue that the next thing you should do after those first five steps is write a killer "About Me" page.
There are five important components to this page on your blog:
1. YOU.
Put your pretty (or handsome) face up there for the world to see! Posting a picture of yourself gives readers a face to put with your words. It helps readers connect with you and relate to you. If your picture happens to be 6 years old and from your honeymoon…so be it. One of these days, I'll book that appointment for new head shots….
2. Qualifications.
What makes you qualified and/or different than the other 25,594,983,548,953,489,534 (give or take a few) food bloggers out there?
It doesn't have to be a cookbook or a HuffPost mention. It doesn't have to be that you're a chef who completed training in France.
It could be that your chili always wins the cook-offs. It could be that you make the best chocolate chip cookies and people always ask for them no matter where you go. It could be that you had to make a drastic diet change for health reasons and you want to share your success. It could be that you actually hate cooking but you are on a mission to learn how to feed your family.
What makes you special? What makes you memorable? What makes you worth reading? Make sure your readers know what they can expect when they come to your page.
3. MORE ABOUT YOU.
This is the "about me" page, after all. Give us a sense of your personality, your quirks, what makes you tick, what you like, dislike, or can't get enough of it.
I did this with a list of random facts, but there are many fun ways to do it. Make sure to include a few photos to give people a more complete visualization of who you are.
4. Links.
If you're a new blogger, you won't have a lot of pages to link around to right away, and that's okay. But as you grow your blog, revisit your about me page and link to relevant pages on your site. For example, on my about page, I have a list of random facts about myself. Number 17 on that list is that my favorite spices are cumin and cinnamon. Each of those is a link which directs the reader to a recipe on my site which uses those ingredients. You want readers to stick around as long as possible and this will help achieve that. It will also help them get to know you better as they discover more of your great content.
5. Connections.
Get your readers linked in and connected via social media and your newsletter. Make sure they are following along on social media or your newsletter — you don't want to lose your readers because they aren't plugged in! Let them know how to contact you. (I actually need to add that to my page!) If they happen to be in the PR field or a brand representative, make sure they know how to find the information they need.
Examples of great About Me pages:
FoodieCrush – Love how Heidi tells readers where to start — directing them to other pages on her site. I also love how she tells the story of how FoodieCrush came to be.
How Sweet It Is – Jessica's about me page is pretty concise and to the point, but yet her voice and personality comes through strong and clear, and there are plenty of great links to important areas of her site.
Well Plated – I love Erin's use of headings in her about me page. It makes it skim-able, but yet you want to read every word because it isn't written in a boring or dull way.
Oh My Veggies – Bright photos draw you in and help tell the story of this blog. A publishing schedule is included — it's clear right away what readers can expect to see on Kiersten's site.
Kalyn's Kitchen – Kalyn's about me page clearly tells the story of her blog. It's incredibly informative and helpful to readers. Tons of links help readers navigate their way around her site and get all the information and recipes they need.
I hope I inspired you and helped you learn how to write an about me page. I know personally, I'm ready to jump into mine and revamp it!
What blogs do you think really nailed it when it comes to their about me page? Leave links in the comments!
Looking for more personalized, one-on-one assistance with building your blog? Make sure to check out my blogging consulting services. I still have available spaces for new clients!