This farro salad with chicken, beets, and broccoli is unexpectedly irresistible. The dressing made with orange zest and red wine vinegar pulls everything together perfectly.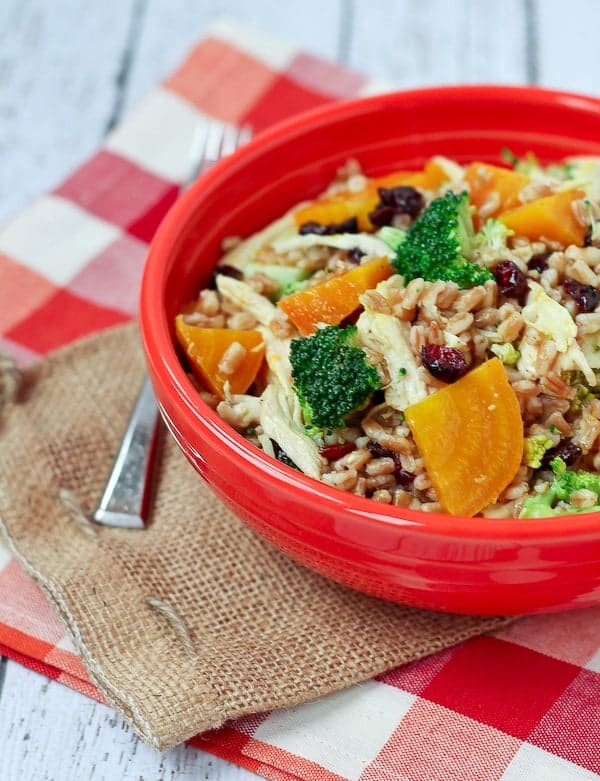 I found myself wandering the aisles of Meijer this evening (writing this on a Friday night – I'm a wild one!). My mission? Buy everything I need for the next week in attempt to NOT enter a grocery store again until after Christmas Day. The last thing I like to do is battle crowds as I pick out a perfect assortment of bananas (ranging from green to starting to brown, obviously) for my monkeys to eat. My monkeys being my toddlers and my husband, by the way. Not actual monkeys.
Shopping in the evening is weird for me because I usually do it fairly early in the mornings – again, to avoid crowds. Buuuut my little man has the stomach flu (just in time for his second birthday!) so I couldn't take him with me this morning for obvious not-so-pleasant reasons. The evening shopping crowd is much different than the morning shopping crowd. More middle-aged adult couples and a lot less mommas in yoga pants carrying around Starbucks.
I know I definitely have all the indulgent Christmas meals under control – breakfast casserole, cinnamon rolls, virgin mimosas for Christmas morning, cheesy potatoes, bacon ranch cream cheese roll-ups, cookies, and more. And I've got N's birthday dinner all planned out – it may or may not involve macaroni and cheese.
But there are still lunches, breakfasts, and dinners on all the other nights – Sunday, Monday, Tuesday. And Tuesday, since Ben is off for the holidays, I'm putting in a day of work at the hospital so I'm really trying to plan ahead. (We're having chili Tuesday night in case you're feeling nosy. Probably with cornbread and orange honey butter.)
With all those indulgent Christmas meals, I want to make sure that my family is still maintaining our everything-in-moderation healthy diet. So I plan to fill in some of those lunches and dinners with healthy and filling salads like this one. The kind of salad where you find as many vegetables in the fridge and throw them all in.
This salad is filling and hearty thanks to farro and shredded chicken. It's flavorful and tangy thanks to (Rachel Cooks Partner) Holland House red wine vinegar, fresh orange juice and zest. It's colorful and nutritious thanks to golden beets, broccoli and cranberries.
Farro Salad with Chicken, Beets and Broccoli
This farro salad with chicken, beets, and broccoli is unexpectedly irresistible. The dressing made with orange zest and red wine vinegar pulls everything together perfectly.
Ingredients:
3 1/2 cups cooked and cooled farro
3 medium golden beets, roasted and diced
2 cups finely chopped broccoli florets (raw)
3 cups shredded cooked chicken breast
1 cup dried cranberries
1/2 teaspoon orange zest
2 tablespoons fresh orange juice
3 tablespoons Holland House Red Wine Vinegar
1/4 cup extra virgin olive oil
salt and pepper to taste
Directions:
In a large bowl, mix together farro, beets, broccoli, chicken, and cranberries.
In a smaller bowl or measuring cup, combine orange zest, orange juice, Holland House Red Wine Vinegar, olive oil. Taste dressing and season with salt and pepper according to your taste.
Pour dressing over salad and mix to combine. Serve immediately or store covered in the refrigerator.
Note: Orange flavor intensifies as this salad sits in the fridge.
All images and text ©
.
Verdict: Loved this farro salad with chicken. I really like to throw grains like farro, quinoa, barley or whatever else I have on hand into salads – makes them seem a lot heartier and also keeps Ben a little happier if I'm serving a salad as a meal.
Husband's take: He's not a fan of beets ("They taste like dirt") so he picked them out. He liked this salad better the first day, the second (and I think third) days the orange flavor got a little too intense for him. If you're finding you're having the same problem, try reducing the amount of orange zest and bumping up the amount of red wine vinegar a bit.
Changes I would make: None are necessary – but it would be fun to switch it up with some different vegetables.
Difficulty: Easy.
For 150 years, Holland House has believed that every meal is an opportunity to "bring out your boldness." Holland House's versatile products (cooking wines and vinegars) allow you to sauté, simmer or stir robust flavor into everyday meals, making them more special. Find Holland House on Facebook and Pinterest.
Disclosure: This farro salad with chicken recipe was created in connection with my appointment as a contributor to the Holland House Cooking Wines and Vinegars. I have been compensated for my time but all opinions are as always mine and mine alone. Thanks for supporting my blog by reading about brands I use and love.