7 Great Gifts Under 50 Dollars
You can buy a fantastic gift without breaking the bank – here are seven great ideas for gifts under 50 dollars.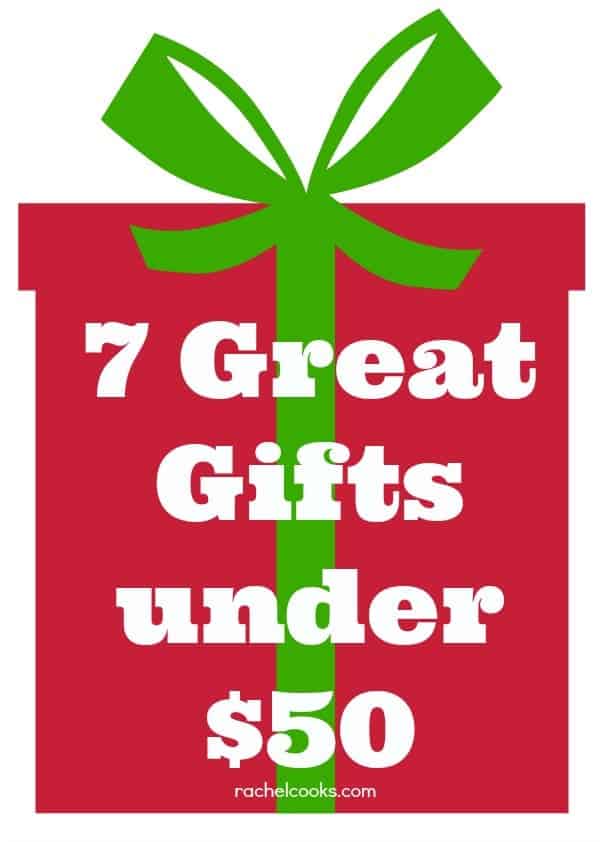 1. OXO Good Grips Grape Cutter
(9.99) If you have toddlers, or even if you don't — this little baby is a lifesaver. I'm not one to have a gadget for everything (sometimes it is easier to just use a knife), but when it comes to grapes? I couldn't possibly love this kitchen tool more. Easily and quickly quarters grapes (and grape tomatoes!) so you don't have to worry about your precious babe choking. Also great for salads, if you don't have a toddler hanging on your leg.
2. Cedar Wood Nativity Puzzle ($30) – My kids love this puzzle and I love that a) it conveys the true meaning of Christmas, b) it is attractive enough to leave out all season long and c) as a bonus, it smells great! (Use coupon code RACHEL15 for 15% off until December 15th!)
3. Paderno Tri-Blade Plastic Spiral Vegetable Slicer ($34.15)
– love this thing. Great for making zucchini noodles and much more! Makes healthy eating so much fun.
4. Le Creuset Mugs ($40-$50 for a set of four) – These are some of my favorite mugs. Love how they feel in my hands and of course the look and quality of Le Creuset.
5. For a stocking stuffer, these wine pourer/stoppers ($4.95) are awesome. They DO NOT DRIP! I love mine.
6. Boss Lady mug ($18) – Okay, really, I just want this.
7. Simple Human Soap Dispenser ($40) – Word on the street (aka via my big-mouthed toddler) is that I'm receiving this from my mother-in-law for Christmas! And I can't wait! She has one and I love it. The sensor is awesome – if your hands are coated in some kind of nastiness like raw chicken, you can get soap without getting anything else dirty.

That's my completely random list of fun inexpensive products for gift giving this year! Hope it gives you some ideas. What is on your wish list this year? Bonus points if you can get it for under 50 dollars.
If you're still looking for more gift ideas – check out my foodie gift guide of 2013 and more gift ideas from 2012!
Disclaimer: This post contains affiliate links. Prices and availability subject to change based on retailer. I received free samples of some of the products included and purchased others with my own money and am still wishing for a few others. All opinions are my own and I was not compensated monetarily to include anything in this guide.