Creamy Tomato Soup with Whole Wheat Orzo
This hearty creamy tomato soup with whole wheat orzo is flavorful, healthy, and easy to make. It's perfect for a chilly fall or winter day!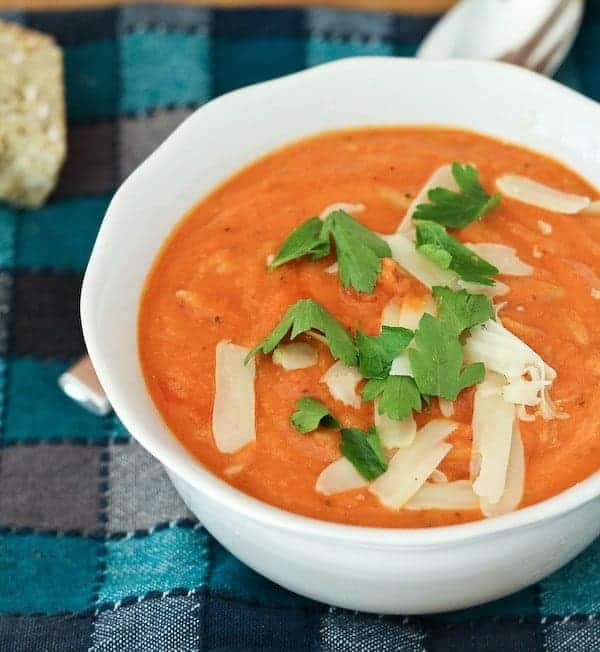 I think we can officially say that it is full-on SOUP SEASON. Leaves are falling and jackets are out (even hats & mittens for a football game this past weekend!). I've been sticking with flats and fighting my boots, but it won't be long. I'm a little excited for fall, because I do love it, but I'm not ready for that icky season that comes after fall. We can just pretend that isn't coming and continue to wear light coats and maybe a hat at football games.
Friday night football! #hsfootball #principal #family
And soup. I'm okay with soup — bring that on. I'm loving this soup in particular.
It's thick, comforting, flavorful and nutritious. Tangy, bright tomatoes are smoothed out with creamy Greek yogurt and whole wheat orzo is added to the mix to keep you full and satisfied for hours of raking leaves. Or sitting in football stands. Or picking out pumpkins. You could even throw this in a thermos and enjoy it WHILE you pick out pumpkins! Wouldn't that be fun and cute?
Not only is it delicious, but it's easy to make. If you've been around my site for more than 30 seconds, you've probably noticed that I don't like things that are super time consuming to make. I like to eat those things, but I don't like to make them. I shouldn't even say I don't like to make them, I just don't have enough hours in the day, or the energy. Maybe in 15 years you'll start seeing some of that stuff around my site. For now, easy and delicious is what we're going to stick with. And this soup falls perfectly into that category.   You start by sautéing  some onions and carrots.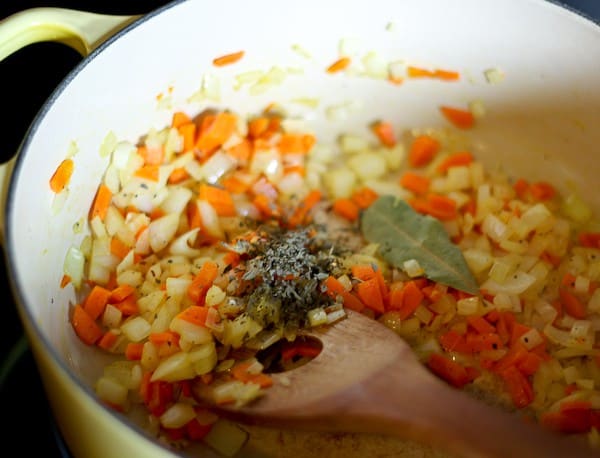 The carrots add extra vegetables and nutrition but also add great natural sweetness. Then you throw in some tomatoes.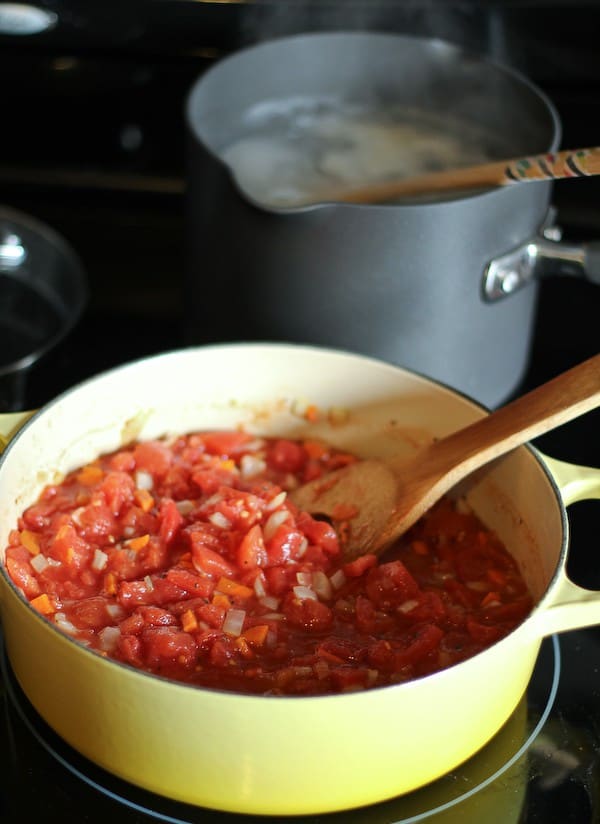 Simmer for a bit (while you cook your orzo!) and puree using a blender or immersion blender.
Right before serving, you'll stir in some whole wheat orzo and creamy Greek yogurt. The yogurt adds great protein and also gives it a fantastic thick, creamy texture and flavor.
It's simple, comforting, filling and warm. Everything you want in a bowl of creamy tomato soup. All that's left to do is dig in!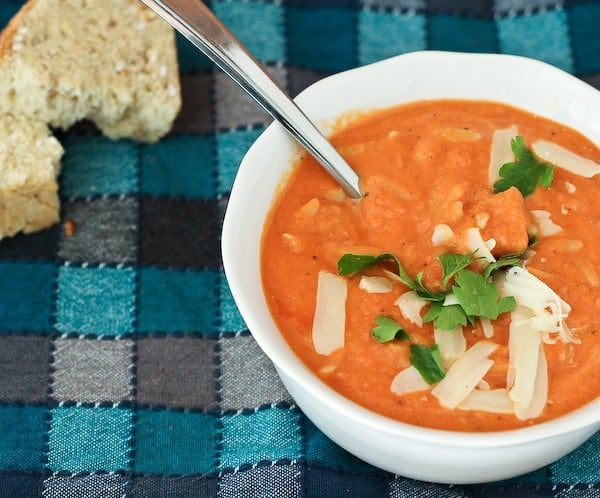 Creamy Tomato Soup with Whole Wheat Orzo
This hearty creamy tomato soup with whole wheat orzo is flavorful, healthy, and easy to make. It's perfect for a chilly fall or winter day!
Ingredients:
1 tablespoon extra virgin olive oil
1 small yellow onion, minced
1 medium carrot, diced small or grated
salt and pepper to taste
1 bay leaf
1/2 teaspoon dried basil
small pinch of red pepper flakes (more to taste)
3 cans (14.5 ounces each) diced tomatoes (with juice – do not drain)
1 cup water
1 teaspoon brown sugar
3/4 cup plain nonfat Greek yogurt
3/4 uncooked whole wheat orzo
optional garnishes: cheddar cheese and fresh herbs (I recommend parsley or basil)
Directions:
Heat oil in a large saucepan over medium heat. Add onions and carrot and season with salt and pepper. Saute until softened and onions are translucent.
Meanwhile, cook orzo according to directions on package.
To the sauteed carrots and onions, add bay leaf, basil, and red pepper flakes. Add in tomatoes, water, and brown sugar. Bring to a boil (high heat), reduce to a simmer (medium-low heat) and simmer for 15 minutes or so (no exact science here, just make sure it is heated through. – if it gets too thick, just add a little more water).
When you're ready to serve, remove from heat and use an immersion blender to puree until smooth. Stir in cooked orzo and Greek yogurt until combined.
If needed, return to low heat to reheat slightly.
Top with grated cheddar cheese and fresh herbs if desired.
All images and text ©
.
Verdict: Loved this. This kept lunch time interesting for at least a few days.
Husband's take: I think he was initially hesitant but once he tried it, he said, "Wow, this is really good." Changes I would make: None are necessary, but if I had some fresh basil, that would have been great in this soup.
Difficulty: Easy.
If you're still looking for more soup, check out these: Southwest Cheese and Corn Chowder, Slow Cooker Creamy Vegetable Barley Soup, Turkey Soup with Zucchini Noodles, Roasted Cauliflower Soup with Cheddar, or Chicken Barley Soup with Kale and Butternut Squash. If that's still not enough, here's 68 Slow Cooker Soup Recipes.
If you're stillllll looking for more soup (because let's face it, in Michigan we're facing a lot of soup weather) — check out my soup Pinterest board for lots of great ideas. Follow Rachel Cooks | Rachel Gurk's board Soups and Stews on Pinterest.
Disclosure: I am thrilled to be in an ongoing partnership with United Dairy Industry of Michigan.  I have been compensated by UDIM for my time to develop this recipe. All opinions are as always, my own. Find out more about why Milk Means More on Twitter, Facebook, YouTube and Pinterest