This flatbread with hummus and vegetables is the perfect appetizer or meal. Filling, healthy, delicious and easy to make. 
I recently had the absolute pleasure of touring the Sabra* headquarters in Richmond, Virginia and also getting a tour of the chickpea fields.
Hey, look, it's me on a chickpea farm! Farming chickpeas. Clearly. Wearing boots that took up half my suitcase. Necessities for chickpea farms.
And here are the little lovelies right off the plant…we even tried a few in this state. Chewy but tasty!
I came back inspired to create all sorts of hummus recipes (not to mention all their other great products — the yogurt dips are my favorite!). This recipe may seem simple but it's a great lunch or a fun appetizer. Plus, let's be real, we all know simple recipes are my favorite kind of recipes. This flatbread is easy to make, healthy, and so delicious. And it's totally customizable like many of my recipes are.
Bake up your favorite pizza crust (bonus points for whole wheat!). Spread on your favorite variety of Sabra hummus. Top with fresh, crunchy vegetables. Serve.
EASY.
I likened mine to one of my favorite Lebanese salads — fattoush. I mean, it's not a perfect match to the salad of course, but I topped the Sabra Classic Hummus with cucumbers, tomatoes, radishes and parsley. It's beautiful, healthy and clearly tastes wonderful. If you're in a hurry and don't want to bake a pizza crust, this whole shebang would be great on top of a big ol' pita.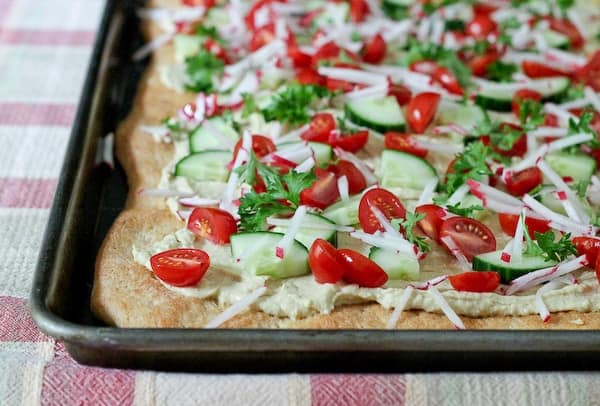 What veggies would you throw on your flatbread pizza?
Flatbread with Hummus and Vegetables
This flatbread with hummus and vegetables is the perfect appetizer or meal. Filling, healthy, delicious and easy to make.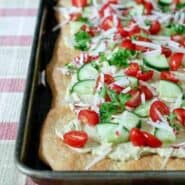 Ingredients:
1 pizza crust, cooked and cooled
10 ounce package of Sabra Classic Hummus
1/4 of an English cucumber, cut into bite-size pieces
3 radishes, thinly sliced or julienned
1 cup grape tomatoes, halved
about 1/4 cup fresh parsley, torn or chopped
Directions:
Make sure your baked pizza crust is cooled completely. Spread evenly with hummus. Top with vegetables. Cut and serve. Best served immediately, but store any leftovers in refrigerator.
Note: Feel free to sub out Classic hummus for your favorite Sabra variety.
Note: Have fun changing up this pizza with different vegetables.
All images and text ©
.
Verdict: Loved this as a healthy, filling, easy meal.
Husband's take: He loved this too!
Changes I would make: None are necessary, but as I mentioned, have fun with the toppings and the hummus flavor!
Difficulty: Easy peasy. And if it isn't easy enough, you can always pick up a pre-baked pizza crust.
Craving more hummus? Check out these recipes: Quinoa Hummus Wrap, Hummus Spinach Artichoke Dip, Lamb Lettuce Wraps with Red Pepper Hummus Sauce, Charred Corn & Steak Salad with Hummus Vinaigrette from Cooking with Books, or these super inventive Hummus Flour Tortillas from Thyme in Our Kitchen.
*Disclosure: I'm honored to have been selected to be a Sabra Tastemaker this year. I've been compensated for my time but all opinions are (as always) my own. Thanks for supporting my blog by reading about products I use and love.