Heirloom Tomato and Polenta Quiche
Perfect for brunch, everyone will love this colorful polenta quiche perfect for summer. And you'll love the unique crust!
I'm happy to have a few more friends helping me out over the next few weeks — today is the lovely Samantha of The Little Ferraro Kitchen. She's extremely talented and I cannot wait to try this recipe — I'm loving the unique polenta crust. Thanks Samantha!
~~~~~~~~~~~~
Hi Rachel Cook's readers! Or I really should say Aloha or Shalom! My name is Samantha and I blog over at The Little Ferraro Kitchen. If you haven't stopped by before, I love to share cultural and world cuisine recipes. I'm from a diverse background, growing up Jewish in Brooklyn then living in Hawaii and now settling down in Southern Cali, all of my recipes and inspiration come from cultural dishes and world travels. Learning about cultures through food is so exciting!
Another fun fact that some may already know…I am..head over heels obsessed with…TOMATOES! Weird? Funny?? Odd? Brilliant? Whatever you may think, I love, love tomatoes. And this is my absolutely favorite time of year because heirlooms are at their peak and I just go ga-ga crazy for them! I tell me husband, Joe, "don't bring me home jewelry….bring me whole an array of rainbow tomatoes". I think he likes that bargain as well.
So for today's guest post for Rachel, I wanted to bring something colorful, vibrant that will put a smile on anyone's face! I know she's incredibly busy lately with moving and selling her condo, so I thought a little rainbow of colors of this polenta quiche will do the trick!
Heirloom tomato and polenta quiche is on the menu for brunch this weekend! Instead of a traditional crust, I wanted something a little different and made a polenta one. We always have a jar of cornmeal to make polenta with. So instead of making it a creamy dish like we're used to, I spread it all over a cast iron and baked it as a crust first. Then poured in a glorious amount of eggs and a beautiful assortment of colorful heirloom tomatoes. Some of the slices began to sink into the eggs, so if you're looking for eye appeal, just use a small fork to gently prop them back in place. Then throw in the oven for a few, top with fresh torn basil and you have a gorgeous brunch centerpiece!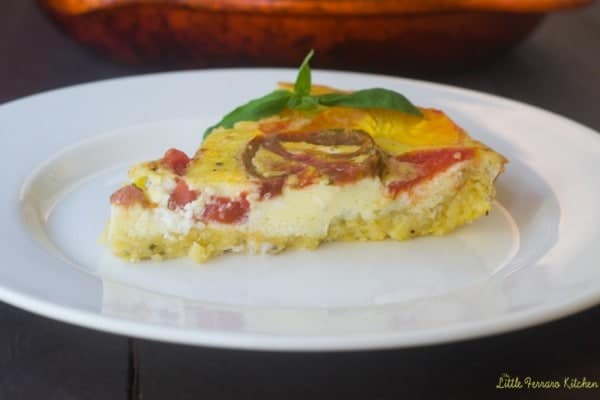 Heirloom Tomato and Polenta Quiche
Perfect for brunch, everyone will love this colorful quiche perfect for summer. And you'll love the unique crust!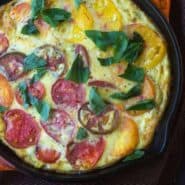 Ingredients:
Polenta Crust
1 ¾ cup vegetable stock (or chicken stock or water)
½ cup cornmeal
2 tablespoons unsalted butter
1 tablespoon freshly grated Parmesan cheese
2 sprigs thyme, leaves removed and chopped
2 sprigs rosemary, leaves removed and chopped
Salt and pepper, to taste
Quiche
4 eggs
¼ cup ricotta cheese
2 tablespoons heavy cream (or half and half)
¼ cup freshly grated Parmesan cheese
Salt and pepper, to taste
2-3 medium sized heirloom tomatoes, sliced thin
Few leaves of fresh basil, roughly torn for garnish
Directions:
Preheat oven to 425 degrees Fahrenheit.
In a small pot, bring stock to a gentle boil then add cornmeal and herbs. Mix together for about 15 minutes until it becomes thick. When it's thick, add butter, Parmesan cheese and salt and pepper. Taste for seasoning. Set aside. 
Spread polenta mixture into an oven safe skillet (I used cast iron), spreading the polenta evenly and a little up the sides. Bake at 425 degrees Fahrenheit  for 10 minutes until the crust gets slightly hard.
In another bowl, whisk together the eggs, ricotta cheese, heavy cream,  Parmesan cheese and salt and pepper.
When done, pour egg mixture onto polenta. Top with sliced heirloom tomatoes, using a fork if they happen to sink. Grate more Parmesan if needed.
Bake at 350 degrees Fahrenheit until eggs are set and cooked through, about 20-25 minutes.
 When done, allow to cool and top with freshly torn basil.
All images and text ©
.
Thank you Rachel for having me over your blog today! Aloha and Bon Appetit!
Looking for more great brunch recipes? Try these: