Coconut Hot Fudge Ice Cream Recipe
This homemade coconut hot fudge ice cream recipe will please everyone — the coconut lovers and the chocolate lovers. You won't be able to set down your spoon.
Homemade ice cream may sound intimidating, but I assure you, it's completely doable. And SO worth it!
We took the kids out to DQ (okay, not so much homemade but very fun after an evening at the park) and they were completely on cloud 9. They don't get a lot of sugar on a regular basis so when they do it is a special treat, and very fun.
Needless to say, when I told E I was making ice cream, it is ALL I heard about for the rest of the day.
"Is it ready yet?"
"Mommy…is the ice cream ready?"
"Momma can we eat the ice cream now?"
ALLDAYLONG.
Unfortunately for her, it isn't the quickest process, especially when Mommy has to take photographs of it before she can dig in.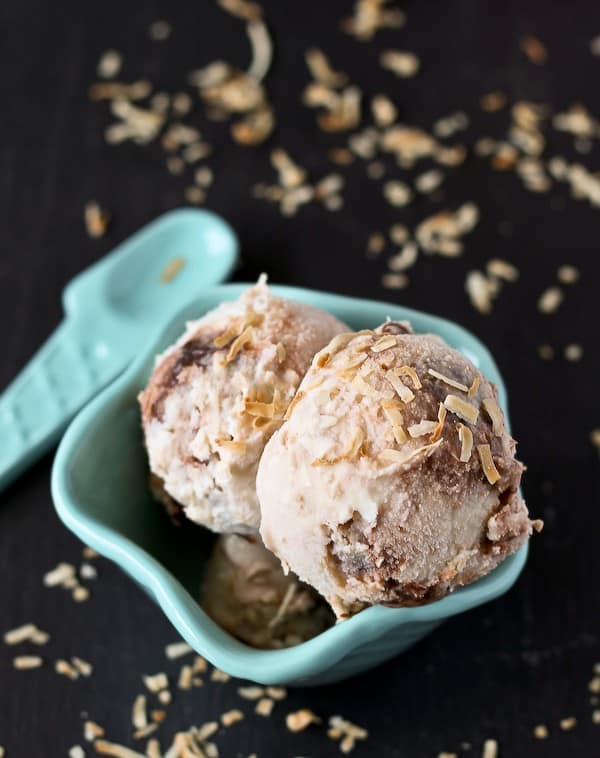 But it's totally worth the wait. I used a little coconut extract in the ice cream base along with tons of toasted coconut. After it churned away in my ice cream machine, I swirled in some hot fudge. Then I froze it until it was good and solid. And then we ate. And ate. And ate.
Celebrate National Ice Cream Month with this ice cream recipe, me (personally I celebrate all year-round), and United Dairy Industry of Michigan.  If you feel like doing a little ice cream learning (arguably the best kind of learning!) make sure to read this article about how to keep your ice cream extra tasty and the difference between ice cream, custard, sherbets, gelatos, and frozen yogurts.
Coconut Hot Fudge Ice Cream Recipe
This homemade coconut hot fudge ice cream recipe will please everyone — the coconut lovers and the chocolate lovers. Y
Ingredients:
1 cup unsweetened flake coconut
1 cup whole milk
3/4 cup granulated sugar
2 cups heavy cream
1/4 teaspoon coconut extract
1 teaspoon vanilla extract
3/4 cup hot fudge, warmed slightly but not hot
Directions:
Preheat oven to 325 degrees Fahrenheit. Spread coconut in an even layer on baking sheet. Toast in the oven for 5 minutes or until golden brown. Set aside to cool.
In a large mixing bowl, combine milk and sugar. Whisk until sugar is dissolved — this should take 2-3 minutes. Add cream, coconut extract, vanilla extract and whisk until combined. Follow ice cream machine's directions and add toasted coconut in the last 5 minutes of churning (if you have the same one as I do, I churned for 25 minutes, added the coconut and continued to churn for 5 more minutes).
Pour into a shallow container (I used a loaf pan) and drizzle in hot fudge. Use a knife to swirl the hot fudge around. Freeze until solid, or 3-4 hours.
All images and text ©

.
Verdict: Loved the flavors of this ice cream. Definitely a winner.
Husband's take: I didn't really expect him to love this because he isn't a huge coconut fan, but he actually loved it. The hot fudge sold him.
Changes I would make: None are necessary!
Difficulty: Really quite easy!
More of a chocolate lover? Not a fan of coconut ice cream recipes? Try this chocolate cocoa nib ice cream, peanut butter chocolate milkshake, espresso chocolate chip ice cream from Table for Two, dark chocolate ice cream from Baked Bree, or dark chocolate and strawberry ice cream from Love and Olive Oil.
Disclosure: I am thrilled to be in an ongoing partnership with United Dairy Industry of Michigan.  I have been compensated by UDIM for my time to develop this recipe. All opinions are as always, my own. Find out more about why Milk Means More on Twitter, Facebook, YouTube and Pinterest