These red, white and blue patriotic fruit skewers are perfect with this flavorful and light vanilla bean yogurt dip. Perfect for a 4th of July picnic!
Can you all believe that Independence Day is next week? I know I'm a broken record and every time a holiday comes around I start in with the "can you believe ______ is around the corner!?!?"
But really….can you believe it?!?
As usual, I'm working at the hospital on the actual holiday. I swear, I do it every year. Speaking of things I can't believe, I've been working as a physical therapist for five years now. Time flies when you're having fun!
So although I'll be at work on the 4th, I'm sure I'll be whipping up batches of this vanilla bean yogurt dip all summer long and dipping anything I can find into it. You all know my long standing obsession with vanilla beans — those little black dots of love make everything they touch so much better.
They lend great flavor to this dip which is simply delicious and perfect for dipping fruit and cake into. I went fairly light on the sugar in this dip because I wanted to preserve the tanginess of the yogurt which is a good contrast to the sweet fruit and angel food cake. If you taste it and it seems too tart for you, feel free to add in a little more sugar. While we're talking about sugar, I used brown sugar in this yogurt dip because I love the flavor it adds to yogurt but if you want a bright white dip, feel free to use granulated sugar or powdered sugar in place of the brown sugar.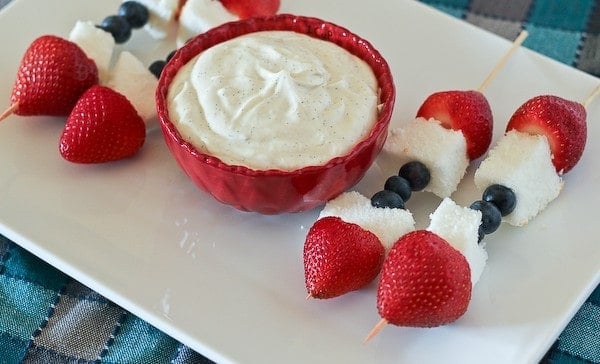 Vanilla Bean Yogurt Dip and Patriotic Fruit Skewers
These red, white and blue patriotic fruit skewers are perfect with this flavorful and light vanilla bean yogurt dip. Perfect for a 4th of July picnic!
Ingredients:
For the dip:
4 ounces cream cheese, softened (I used reduced-fat)
1 cup plain greek yogurt (I used nonfat)
3 tablespoons brown sugar
scrapings/seeds of one vanilla bean
1 teaspoon pure vanilla extract
For the skewers:
fresh blueberries
fresh strawberries
angel food cake cut into bite sized cubes (pound cake would also work)
Directions:
In a large bowl, use an electric mixer and beat the cream cheese on medium speed until smooth. Add yogurt, brown sugar, vanilla bean scrapings, and vanilla extract. Beat on medium speed until combined and smooth, scraping down sides as needed.
For the skewers, skewer your strawberries, blueberries and white angel food, alternating colors.
Serve immediately. If desired, prepare yogurt dip ahead and store covered in the fridge, but the rest should be prepared immediately prior to serving.
note: I like my dip slightly tangy, but feel free to add more sugar to taste.
note: pound cake would work in place of angel food cake
note: feel free to substitute and blue and red berries you like — raspberries, blackberries and watermelon are great options.
All images and text ©Rachel Cooks.
Verdict: This stuff was so good! I might have even just spread it on a slice of angel food cake because I couldn't be bothered with dipping.
Husband's take: Ben, E and N all loved this vanilla yogurt dip…and kids love to dip things so it is really a fun treat for kids.
Changes I would make: None are necessary.
Difficulty: Easy.
Craving more delightful dips? Try raspberry cheesecake yogurt dip, pumpkin pie dip (great any time of the year!), peanut butter cream cheese dip, cookie dough dip from How Sweet It Is (this dip is one of my faves!), or S'more Dip from Bakeaholic Mama.
Disclosure: I am thrilled to be in an ongoing partnership with United Dairy Industry of Michigan. I have been compensated by UDIM for my time to develop this recipe. All opinions are as always, my own. Find out more about why Milk Means More on Twitter, Facebook, YouTube and Pinterest