Stitch Fix Review #4
Alright….again with the selfies. This makes me uncomfortable. But it's fun to share these fun clothes that I get in the mail! If you're unfamiliar with Stitch Fix, make sure to check out my first Stitch Fix review for the full low-down.
So here we go. I took a couple months of from Stitch Fix just because they were coming a little more often than my budget could handle. But I definitely didn't want to give it up completely!
And as always, these photos were taken super quickly before I got the kids ready and drove to the post office to drop off the items I decided not to keep. So ignore the kids' bedhead and jammies…and little N grabbing stuff out of his sister's drawer. This is the chaos that is my everyday life.
And yes, I still don't have a full-length mirror. I'm a failure at being a female. And don't even get me started on hair/makeup. I'm a busy mom. In a hurry. You've all been there. Or at least a lot of you.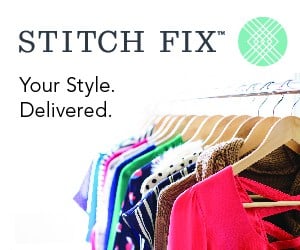 Also – I must add, I was recently blown away by Stitch Fix's customer service. I had an issue with a pair of pants I got in a previous Fix. They were fraying/tearing (in a very bad location for fraying). I contacted Stitch Fix and they responded in a timely manner and immediately credited my account $20. Then they gave me the option to either have the pants repaired (at their expense) or return the pants for a full refund. I opted to return since it wasn't really a repairable thing, so they sent me postage to print and use. Then of course, being the delinquent post-office hater that I am, I procrastinated for weeks. The person at Stitch Fix that was helping me FOLLOWED UP when my next Fix was being prepared to ask me if I still wanted to return the pants and if so, I could return them with the rest of the items in my upcoming Fix that I didn't want. I was really impressed by how they went above and beyond to make sure I was happy. Totally won me over after a couple misses in my Fixes.
So without further ado, here's what I got:
Renee C Cheli Striped Maxi Dress: $68.00
Loved the concept/style/print of this dress — and I'm totally into maxi dresses this year. However this one was too short on me (I'm 5'10") which you obviously can't see because I'm a loser that doesn't have a full-length mirror. It was also a bit see-through (would be fine with the right undergarments) AND emphasized an area of my stomach that has seen better days (pre-children). So I sent it back.
Pomelo Sedona Dot Print Shirtdress: $78.00
This dress was super cute in theory. But, again, it was too short on me. I'd probably only feel comfortable in it if I was wearing leggings. Also — the sleeves were really big and wide and overall the dress seemed too big. It reminded me a bit of a robe. Sent it back.
Liverpool Vinny Ankle Length Colored Skinny Jean $78.00
Okay. Almost kept these. Super cute and a fun length for summer. (Someday I'll buy a full length mirror, swear.) But they were on the tight side and I like to breathe and move. And hubby thought the color was a bit loud. I tried to tell him that bright colors are in style but you can guess how that conversation went. Sent these back.
Under Skies Aries Airy Knit Drape Front Cardigan $34.00
This could have been a keeper. But I was worried about it fraying/catching on things. And for some reason it seemed a bit old-ladyish to me. Sent back…
Pomelo Corinna Striped Heather Dolman Top: $48.00
Loved this one. I wear it with yoga pants for a super casual look (perfect for play dates!) or skinny jeans for a slightly more dressed up but still casual look. If I was shorter, this shirt would be adorable with leggings but it doesn't cover enough of my rear for that. Actually I'm wearing this shirt right now as I type this post! Keeper.
Oh and if you're interested, here's the outfit suggestions they sent me for this shirt:
Want to see what I got in other boxes? Check them out: 1st review, 2nd review, and 3rd review.
Fun, right? Give it a try and sign up. There's no commitment whatsoever. You can just do one month. But it does get better and better each month as your stylist gets to know you better. Or you can sign up to automatically receive fixes every other month — or every couple weeks if you want!
Disclosure: I'm not being paid to write this post but if you click through one of the links here I do get a referral credit. I'll love you forever and we'll both end up with cute new clothes. Win-win!