This chicken burger — or rather "burger" comes together with chicken plus only five additional ingredients, but it isn't lacking in flavor! It will quickly become a favorite of yours.
Remember when I made Chicken Caesar Chicken Tenders and told you all about a fun competition? Well, I'm continuing in my partnership with Just BARE chicken, and it's time to talk recipes!
But I'll back up juuuust a little bit and tell you about the process. This was a really fun challenge and stretched my skills in more than one way.
To enter the contest, all people had to do was create an ingredient list consisting of chicken plus five ingredients. They also got to choose a category for their ingredient list — from categories such as sandwich, soup/stew, salad and appetizer. This contest garnered thousands of entries! Just BARE's culinary expert Lisa Golden Schroeder then had the huge task of narrowing down that list to only 25 entries that she believed could be transformed into cohesive and delicious recipes with the addition of only salt, pepper and water (or nothing at all!). I (along with Tessa Arias of Handle the Heat, Monique Volz of Ambitious Kitchen, Cassie Laemmli of Bake Your Day and Meagen Wied of A Zesty Bite) each received 5 of these ingredient lists. We then had the challenge of choosing three and creating fun and unique recipes.
And a challenge it was!
These are the lists I created recipes from:
Boneless skinless thighs, ciabatta rolls, Gouda cheese, thick-cut applewood-smoked bacon, Dijon mustard, leeks (BURGER)

Bone-in thighs, bourbon, maple syrup, dried hot pepper flakes, pecans, cornbread (APPETIZER)

Ground chicken, za'atar spice blend, panko breadcrumbs, lemon juice, fresh mint, apricot Greek yogurt (APPETIZER)
Those ingredient lists turned into these recipes:
Chicken Burger with Bacon, Leeks and Gouda (this one!)
Maple Bourbon Chicken Thigh Roulades
Za'atar Seasoned Chicken Meatballs with Apricot Yogurt & Mint Dipping Sauce
Once I had created recipes, I handed them back over to Lisa. She then tested the 15 recipes she received from the blogger panel and chose the top 10 that are now up for voting on Just BARE's Facebook page. The five recipes with the highest combined Online Popular Vote and Culinary Score points will be awarded grand prize packages worth $1,500 that include a year's worth of Just BARE coupons, a $1,000 gift card for merchandise from Food52 & Provisions website, The Food52 Cookbook, and a one-year subscription to Eating Well magazine. Without further ado, here are the top 10:
Za'atar Seasoned Chicken Meatballs with Apricot Yogurt Mint Dipping Sauce
Chicken "Burgers" with Bacon, Leeks and Gouda
Mini Baked Crunchy Chicken Potstickers with Hoisin Dipping Sauce
Rotisserie Chicken Naan Pizza with Spinach, Queso Fresco, & Fire-Roasted Tomato-Mango Chutney Sauce
Chicken, Goat Cheese & Balsamic Blackberry Tart
Slow Cooker Marsala Chicken Thighs
Chipotle Mango Chicken Pizza
Spicy Blackened Chicken Sandwich
Shredded Brussels Sprouts & Dried Cranberry Salad with Quinoa-Crusted Chicken
Sweet and Crunchy Chicken Sandwiches
Remember to head on over to Just BARE's Facebook page to not only get the ingredient lists for all these simple and delicious recipes (the full recipes will be posted to JustBareChicken.com in May), but also to vote for a winner! Just by voting, you'll be entered to win one of five prizes — $250 in groceries!
The hardest part of this challenge was not having oil as a "free" ingredient. But…thank heavens for bacon grease. It came in very, very, very handy in this recipe.
I baked the chicken thighs for this burger/sandwich. I couldn't add oil so pan searing them would have been difficult. I could have cooked them in the bacon grease as well, but there are a fair number of steps in this recipe (despite being only six ingredients), so I wanted to simplify things by having the chicken baking in the oven while I prepared the other components of the "burger."
Once you get the chicken baking in the oven (it's brushed with Dijon and seasoned with salt and pepper for flavor), you'll get started on frying up the bacon, followed by the leeks. You'll save a little of the bacon grease to toast the ciabatta buns until they are nice and golden brown. All that is left to do at that point is to put together your "burger" and chow down!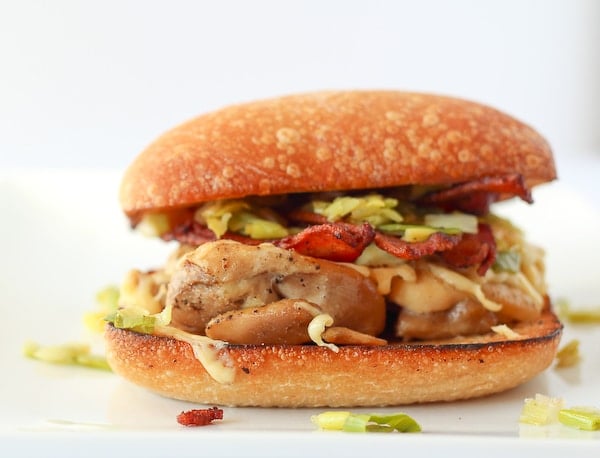 Chicken Burger with Bacon, Leeks and Gouda
This chicken burger — or rather "burger" comes together with chicken plus only five additional ingredients, but it isn't lacking in flavor! It will quickly become a favorite of yours.
Ingredients:
6 to 8 (20 ounces) Just BARE® Hand-Trimmed Boneless Skinless Chicken Thighs
Coarse salt and freshly ground pepper to taste
2 tablespoons Dijon mustard
6 slices thick-cut applewood smoked bacon, cut in half
2 medium leeks
3 large (3 to 4 ounces) ciabatta buns, split in half
¾ cup shredded Gouda cheese
Additional Dijon mustard, if desired
Directions:
Heat oven to 375?F. Arrange chicken on a foil-lined baking sheet. Season with salt and pepper; brush with 2 tablespoons mustard. Bake about 30 minutes or until no longer pink in center (165?F on an instant read thermometer).
Meanwhile, cook bacon in a large skillet over medium heat until crispy and browned. Drain bacon on paper towels, reserving 2 tablespoons bacon fat.
Trim the tough green tops from the leeks and slice them in half lengthwise. Rinse well to remove any sand or grit. Thinly slice crosswise. Heat 1 tablespoon of reserved bacon fat in large skillet; sauté leeks over medium-high heat about 10 minutes or until tender. Place in a small bowl.
Heat remaining 1 tablespoon fat in skillet over medium heat. Toast buns, cut-side down, until golden brown.
To assemble sandwiches, spread toasted buns with mustard. Slice chicken and arrange on bottom halves of toasted buns. Sprinkle with cheese*, then top with bacon and leeks.
Note: Place sandwiches under the broiler for 1 to 2 minutes to melt the cheese if desired, before topping with bacon and leeks.
All images and text ©Rachel Cooks.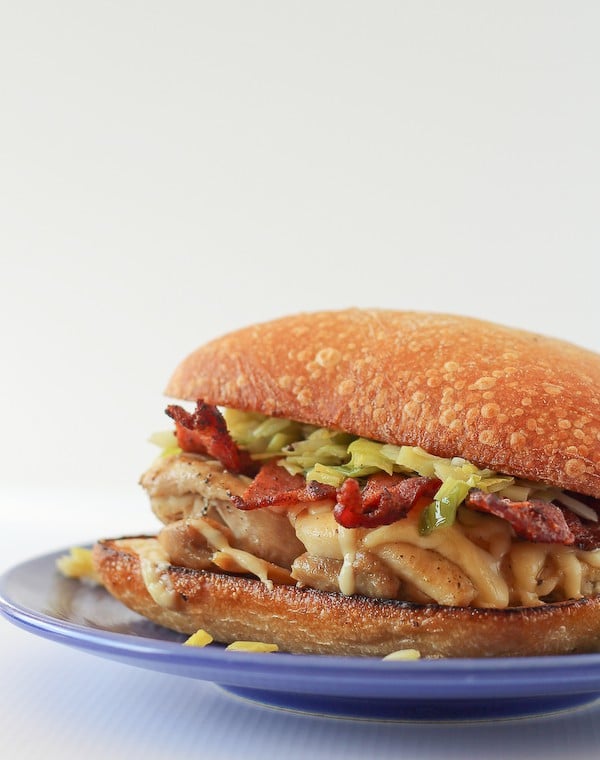 Disclosure: I was compensated to develop these recipes for Just BARE chicken but all opinions are as always my own.