This slow cooker pulled pork has a sweet and spicy barbecue sauce made with Mirabelle Plum jam and bourbon. This will become your new favorite pulled pork recipe.
Slow cooker pulled pork. One of my favorite go-to meals when I want something in the slow cooker that is going to taste great and be ready at the end of a busy day. While pulled pork is traditionally made with pork shoulder (did you know that cut is now called a Blade Pork Roast?) — I almost always opt for the pork loin (which is now referred to as a New York Pork Roast!) because it is a leaner cut and I'm always trying to watch the fat/calorie content of what we eat. Or at least I make an attempt to. Plus, once you pile on this amazing barbecue sauce, you'll never realize there less fat in this cut of meat.
I'm a little obsessed with this barbecue sauce. It's sweet, tangy, spicy, and….well, bourbon. It is SO good. I could have eaten it straight off this cute little yellow spoon. Perhaps I did? You'll never know. This is a thick barbecue sauce studded with pieces of onion as well as sweet pieces of plum from the Bonne Maman Golden Plum Mirabelle Preserves (which I could also eat straight off the spoon). And the pairing of fruit with pork is such a natural one. I'm sure you've seen recipes pairing fruit and pork — like this pork tenderloin with roasted grapes, or bourbon mango pulled pork, or this apple cranberry stuffed pork roast. And that's only a sampling! There are countless combinations. If you haven't tried pairing fruit with pork yet, you must. And using jam or preserves makes it even easier because the added sweetness gets you one step closer to perfection. Pork + fruit + sweetness = perfection. Simplified: Pork + Jam = Perfection. And I'm a nerd.
Like I mentioned, I used Bonne Maman Golden Plum Mirabelle Preserves. This flavor was new to me but I can already tell that we're going to be BFFs. Especially come time to make pulled pork. This might just be the only way I'll ever make slow cooker pulled pork.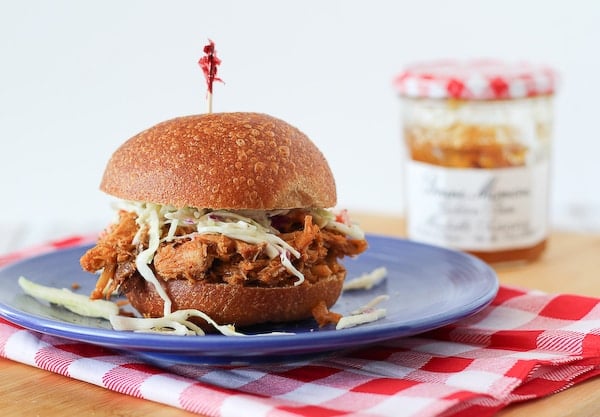 Have I convinced you get to make this for dinner tonight? The barbecue sauce is so perfectly sweet and tangy and spicy all at the same time already. I know I already said that, but it is just the way barbecue sauce should be.
And it's perfect for this slow cooker pulled pork. I alluded to some new names earlier, but did you know the National Pork Board has recently released new names for many cuts of pork? Here is a handy visual to help you navigate these new names. And while you're on the learning-train — make sure to take a look at the temperature cooking chart (print it and hang it on your fridge!) so you make sure you're not overcooking your pork (ick!). The number to remember when your thermometer is in hand is 145 degrees Fahrenheit! The National Pork Board recommends that you cook loin roasts, chops and tenderloin like you would a steak – until a digital thermometer reads an internal temperature between 145°F (medium rare), followed by a three-minute rest and 160°F (medium).
Slow Cooker Pulled Pork with Plum Bourbon BBQ Sauce
This slow cooker pulled pork has a sweet and spicy barbecue sauce made with Mirabelle Plum jam and bourbon. This will become your new favorite pulled pork recipe.
Ingredients:
4 tablespoons olive oil, divided
3 teaspoons black pepper, divided
2 teaspoons salt
1/2 teaspoon ground cinnamon
1 teaspoon chili powder
3 pound New York Pork Roast
1/4 cup balsamic vinegar
2 cups water
1 and 1/2 cup Bonne Maman Mirabelle Plum Jam, divided
1 cup finely chopped onion
1 clove of garlic, minced
1/2 cup dark brown sugar
2 tablespoons red wine vinegar
1 cup ketchup
2 tablespoons worcestershire sauce
2 shots (1.5 ounces each) of bourbon
4 teaspoons yellow mustard
1/4 teaspoon cayenne powder
buns for serving
coleslaw for serving (optional)
Directions:
In a large skillet, heat 2 tablespoons olive oil over medium-high heat. Mix together 2 teaspoons black pepper, salt, cinnamon, and chili powder in a small bowl. Rub this mixture all over the New York Pork Roast. Put the rubbed pork roast into the skillet and brown for about 2 minutes on each side or until dark golden brown. Transfer to slow cooker and add 1/2 cup Bonne Maman Mirabelle Plum Jam, 1/4 cup balsamic vinegar and 2 cups water. Cover and cook on low for 7-8 hours or until tender. Drain liquid off and shred pork using two forks. Return shredded pork to slow cooker.
While pork is cooking, prepare barbecue sauce. In a medium saucepan, heat 2 tablespoons olive oil over medium heat. Add onions and garlic and cook until onions are translucent, about 5 minutes, stirring frequently. Add 1 teaspoon black pepper, 1 cup Bonne Maman Mirabelle Plum Jam, brown sugar, red wine vinegar, ketchup, worcestershire sauce, bourbon, mustard and cayenne. Bring to a simmer and continue to simmer for 10-15 minutes or until slightly thickened.
Once you have pulled the pork, add 2 cups of barbecue sauce (there will be leftovers). Stir to combine, place the cover back on and continue to cook on low for at least an hour. Add more barbecue sauce as desired. Serve on buns.
All images and text ©
.
Still looking for more #PorkLUV like this slow cooker pulled pork? Try these great recipes:
Slow-Cooker Root Beer Ribs featuring St. Louis-style spare ribs
Honey-Ginger Pork with Carrots and Apples featuring lean pork tenderloin
Chipotle Pork and Pepper Stew featuring the savory New York pork roast
Pork Chop and Waffle Sandwiches with Maple Gravy featuring the protein-packed Porterhouse pork chop
Disclosure: This post is written on behalf of the National Pork Board and Bonne Maman. I was compensated for my time. All opinions are always my own. Thanks for supporting my blog by supporting brands I love!