This Rainbow Chard, Turkey, and Gruyere Skinny Macaroni and Cheese is a healthier macaroni and cheese alternative, packed full of lean protein and healthy greens. Plus a secret ingredient to make it extra creamy!
After yesterday's very indulgent recipe (macaroni and cheese pizza!), it's time for something a little lighter and a little easier on the waistline. It's still mac and cheese but a recipe you can feel a little less guilty about. This hearty and healthy macaroni and cheese is made using whole wheat pasta, colorful rainbow chard, lean ground turkey, and some creamy Gruyere cheese. The real secret to this macaroni and cheese is…….
…..
…..beans!!! By adding a can of pureed beans, this macaroni and cheese gets tons of added creaminess without needing tons of butter or cheese. As an additional bonus, it increases the protein content of this meal.
Have you ever seen such beautiful rainbow chard in your life? And if that wasn't good enough, this rainbow chard was delivered straight to my door! Open door, wash rainbow chard, make macaroni and cheese. It's a wonderful life I live. I mentioned Door to Door Organics in my introduction to Macaroni and Cheese Mania, but please bear with me as I sing their praises a bit more. When I signed up for Door to Door Organics months ago, I thought to myself, "Oh I'll probably just do this once and then be done with it….it probably won't be worth it….a waste of money."
Well this cheap Dutch girl is here to tell you, I was wrong. From the moment I opened that first box, I was hooked! From the humongous onions to gorgeous greens and perfectly juicy blueberries and dark orange sweet potatoes, I was in love.
I might have even bumped up my every-other-week delivery to once per week. Before I started getting these deliveries, I would typically have to go to the store midweek to restock on produce to get us through the rest of the week. And with two toddlers? Well, I'd just rather not. And now I don't have to do that any more. One more thing I don't have to do = a happier Rachel.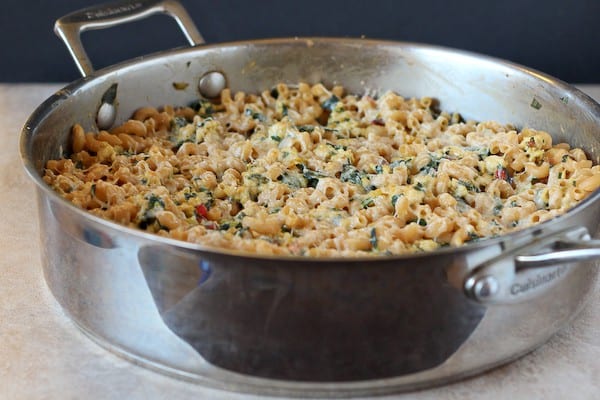 Plus, I find much of my inspiration for recipes from food itself, specifically produce. When I see a beautiful bunch of rainbow carrots, beets, or parsnips, my mind starts going a million miles a minute about all the delicious things I could make with this beautiful produce.
This macaroni and cheese is no exception. It is completely inspired by the rainbow chard and was kind of a clean-out-the-fridge meal — one that turned out beautifully!
Enjoy this third recipe of Mac and Cheese Mania!
Craving something more decadent today? My macaroni and cheese mania co-host, Brandy, created Gorgonzola Bacon Macaroni and Cheese. (!!!!)
Rainbow Chard, Turkey, and Gruyere Skinny Macaroni and Cheese
A healthier macaroni and cheese alternative, packed full of lean protein and healthy greens. Plus a secret ingredient to make it extra creamy!
Ingredients:
13.25 ounce package of whole wheat pasta (macaroni or other small pasta)
1/2 cup chicken broth
one 15.5 ounce can white beans (great northern or cannellini), drained and rinsed
2 cups milk
1 tablespoon extra virgin olive oil
1 pound extra lean ground turkey
1 yellow onion, diced
1 bunch of rainbow chard, stems removed from leaves — dice stems and roughly chop leaves — keep separate
1 clove garlic
8 ounces gruyere, grated
salt and pepper to taste
pinch of freshly ground nutmeg
1/2 cup grated parmesan cheese
Directions:
Preheat oven to 350°F. Prepare pasta according to package directions.
In a blender, puree beans with chicken broth and milk and set aside.
Meanwhile, heat olive oil in a large ovenproof skillet over medium-high heat and brown turkey, onions, and stems of chard until turkey is cooked through, about 10 minutes. Add garlic and sauté for 1 minute or until fragrant.
Add leaves of chard and cover for 2-3 minutes or until chard is wilted. Add bean mixture and heat until heated through, about 5 minutes.
Reduce heat to low, stir in grated cheese and stir until melted. Remove from heat. Add cooked pasta and stir until everything is combined. Add nutmeg, and season with salt and pepper to taste, keeping in mind that you'll be adding Parmesan which increase saltiness a touch.Top with Parmesan cheese and bake at 350°F for 45 minutes. Let rest about 10 minutes before serving.
All images and text ©Rachel Cooks.
Make sure to head over to Mac and Cheese Mania t0 see what prizes are up for grabs and find out how easy it is to enter to win!
Disclosure: I developed this recipe on behalf of Door to Door Organics but all opinions about Door to Door Organics are my own. I pay for the service with my own money and would do so regardless of if they sponsored this recipe, 10,000 recipes or zero recipes. What can I say? I love getting gorgeous rainbow chard delivered to my front door.