These cinnamon cheesecake mini cheese balls are perfect party treats and are easy to make and even easier to eat.
Still looking for a sweet treat to serve on Valentine's Day? These sweet mini cheese balls would be perfect. Little bites of cheesecake goodness in one neat little package. Most cheese balls are savory, served large and in charge with some crackers to use for dipping. I sweetened things up a bit and made these bite-sized. Super cute and fun for parties. Or for a romantic Valentine's Day date. What are your Valentine's Day plans? We typically just exchange cards. Who even knows what we'll be having for dinner. Probably something super romantic like leftovers. And I guarantee I'll be arguing with a 3-year-old about washing her hands after dinner. And I'll be telling a 1-year-old cutie to stop throwing his milk on the floor.
But I'll be surrounded by tons of love and couldn't be happier about that. Maybe there will even be mini cheese balls involved. Probably not though. Probably just leftovers.
These cinnamon cheesecake mini cheese balls are SO good. If you took a cheesecake and rolled it into cute little balls, you'd have these. And they're perfect with crackers or pretzels. I personally love pretzels for the salty-sweet combination. They are made from cream cheese, powdered sugar, cinnamon, and a cheesecake pudding mix to take that cheesecake flavor to the max. And then they are rolled in graham cracker crumbs to complete the perfect cheesecake taste.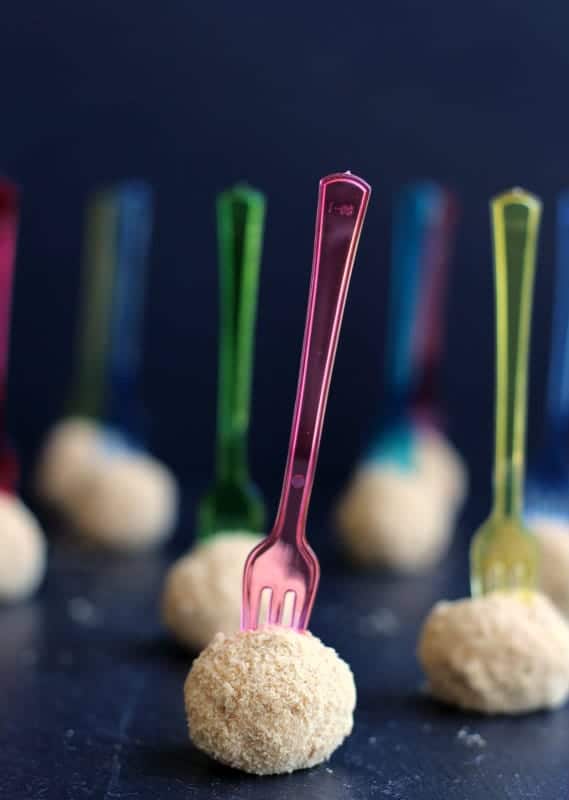 ….and I will be ever so grateful if I never have to type "cheese ball" ever again. The end.
Cinnamon Cheesecake Mini Cheese Balls
These cinnamon cheesecake mini cheese balls are perfect party treats and are easy to make and even easier to eat.
Ingredients:
one 8-ounce block of cream cheese, softened
1 stick of butter, softened
1 ounce package of cheesecake pudding mix
1/2 cup powdered sugar
1 and 1/2 teaspoons cinnamon
1/2 cup graham cracker crumbs
Directions:
Using an electric mixer, beat all ingredients together except graham cracker crumbs. Once smooth, roll into balls about 1-inch in diameter.
Coat in graham cracker crumbs and place on a rimmed baking sheet.
Chill for at least an hour. Serve with pretzels or vanilla wafers.
All images and text ©Rachel Cooks.
Verdict: Undeniably delicious.
Husband's take: He loved these cheese balls too!
Changes I would make: None are necessary but it would be fun to play with different flavor combinations.
Difficulty: Slightly time-consuming to roll into balls but overall very easy!
Thanks for reading! As always, if you love this recipe, make sure to subscribe to my newsletter so you'll never miss a recipe, or you can always find me on Twitter, Facebook, Google+, Pinterest, and Instagram.