Last Minute Valentine's Day Cookies
These Valentine's Day cookies come together so quickly — they're made using a refrigerated pie crust!
Sometimes you just want a little sweet treat. Or perhaps your son or daughter comes home from school and tells you they need to bring a treat. Tomorrow. These Valentine's Day cookies will come to the rescue! These cookies could not be easier to make. And they are so adorable.
And if you don't like hearts (umm…I don't know why you wouldn't but everyone is different), you could make these into any shape you want. All you're limited by is the cookie cutters you have or your creative knife skills.
I clearly used heart cookie cutters and my daughter and I sprinkled these with red, pink and purple sugar. Purple is her favorite color. And yes, I'm obsessed with that video. Purple! Purple! Purple!
Breakfast with the Gurk family. Now you know what it is like. Purple!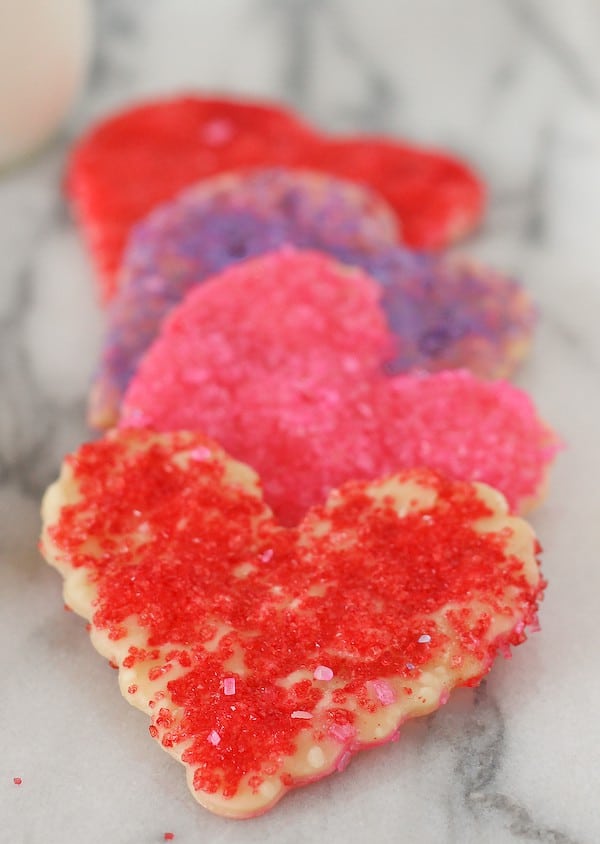 As if these weren't girly enough, I also used some "Princess" baking emulsion to flavor them. I don't even really know how to describe this flavor (citrus/almond/vanilla/butter?) except that it makes everything taste amazing. It's similar to the flavor of a sugar cookie. Or something. It's good. If you haven't baked with it, you should start. Add it to your cookies, your cakes…your coffee? I don't know. It might be good. (It's also awesome in these Meyer Lemon Poppy Seed Bars.)
Sugar. Lots and lots of sugar.
Make these for your love!
Last Minute Valentine's Day Cookies
These Valentine's Day cookies come together so quickly — they're made using a refrigerated pie crust!
Ingredients:
2 rolls refrigerated pie crust dough
2 tablespoons unsalted butter, melted
1 teaspoon Princess Bakery Emulsion (optional, but recommended)
decorating sugars in fun colors
Directions:
Preheat oven to 350 degrees Fahrenheit. Line a baking sheet with parchment paper or a Silpat baking sheet.
Roll out pie crust dough onto a clean surface and roll with a rolling pin until slightly thinner — about 1/4-inch thickness. Using cookie cutters, cut out hearts and transfer onto prepared baking sheet.
In a small bowl, mix together melted butter and bakery emulsion. Brush cookies generously with this mixture and then top with (a lot!) of decorating sugar.
Bake for 10-12 minutes or until they start to become golden brown around the edges.
Cook completely on trays before transferring to an airtight container for storing.
All images and text ©

.
Verdict: Tasty! Love the crunchy sugar topping on these Valentine's Day cookies.
Husband's take: No complaints from him!
Changes I would make: None are necessary.
Difficulty: Easy.
Thanks for reading! As always, if you love this recipe, make sure to subscribe to my newsletter so you'll never miss a recipe, or you can always find me on Twitter, Facebook, Google+, Pinterest, and Instagram.
Post contains affiliate link.