Easy Red Velvet Cookies
These red velvet cookies couldn't be simpler to make. Great for a last-minute Valentine's Day treat!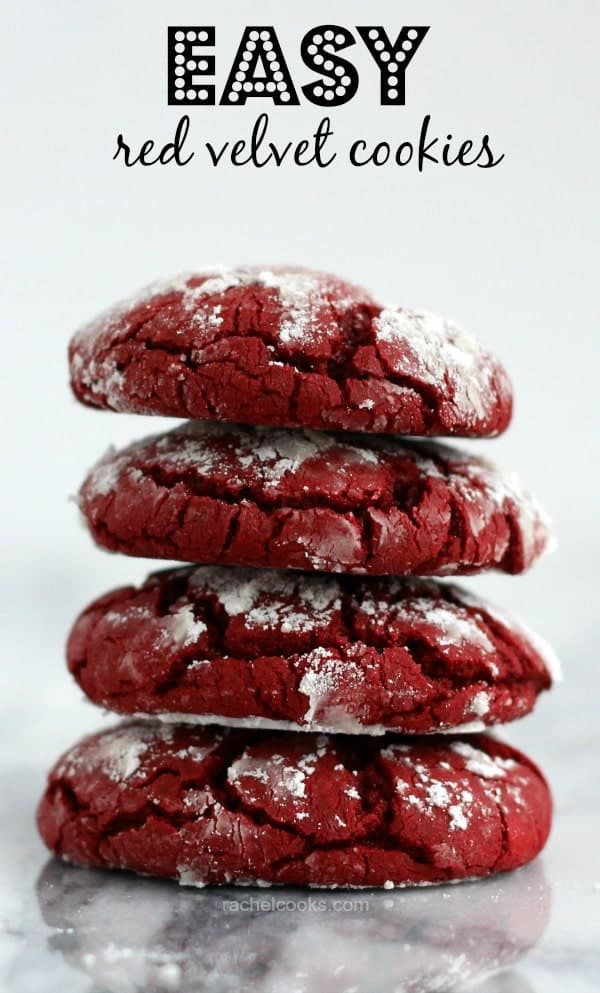 These days — you see "red velvet" everything. I featured a few of those gems yesterday in my round-up of decadent chocolate Valentine's Day desserts. Red Velvet pancakes, red velvet dip, red velvet bars, cheesecake, cookies and more.
Some are labor intensive, some easy, but all have the chocolate taste you love and that unmistakable red hue. Red velvet is perfect for the upcoming love bird holiday (great for Christmas too!) but I say it's great any time of the year.
These red velvet cookies are unbelievably easy to make. Next time you're at the grocery store, pick up a box of red velvet cake mix (any brand!). That's where the fun begins. To that, you add melted butter, a couple of eggs and stir stir stir! Then you roll the batter into balls, coat in some powdered sugar and cornstarch and bake.
So easy and delicious!
You're left with thick, chewy cookies full of the red velvet flavor you love. These would be perfect to send off to school with your kids. Or for a Valentine's bake sale. Or to mail to a friend who might need a little surprise on Valentine's Day.
Or you could just eat them yourself. That would be a good idea too. A very good idea.
If you're still looking for some fun cookie recipes, make sure to check out these dark chocolate and pecan cookies, whole wheat chocolate chip cookies, or these last-minute Valentine's Day cookies.
I'm also loving these easy three ingredient peanut butter cookies from Barefeet in the Kitchen!
Get the red velvet cookie recipe on Food Fanatic or read on —