These soft sugar cookies are just like the Lofthouse cookies you find in your grocery store except with a fun peppermint twist for the holiday season.
Lofthouse sugar cookies — do you know the ones I am talking about? The soft white cookies in the bakery department? With the colorful frosting and sprinkles. They always call my name but what is better than being able to make those same cookies at home? Fresher, cheaper and tastier. I added a fun holiday twist to these with some peppermint extract and Christmas colored sprinkles.
I swear, 3/4 of the cookies I've made this Christmas season have been peppermint this or that. Peppermint shortbread, peppermint pattie cookies, peppermint crinkles…umm do I have a problem? I also made these cream cheese shortbread cookies with chopped up Andes mints. SO good.
Tis the season, right?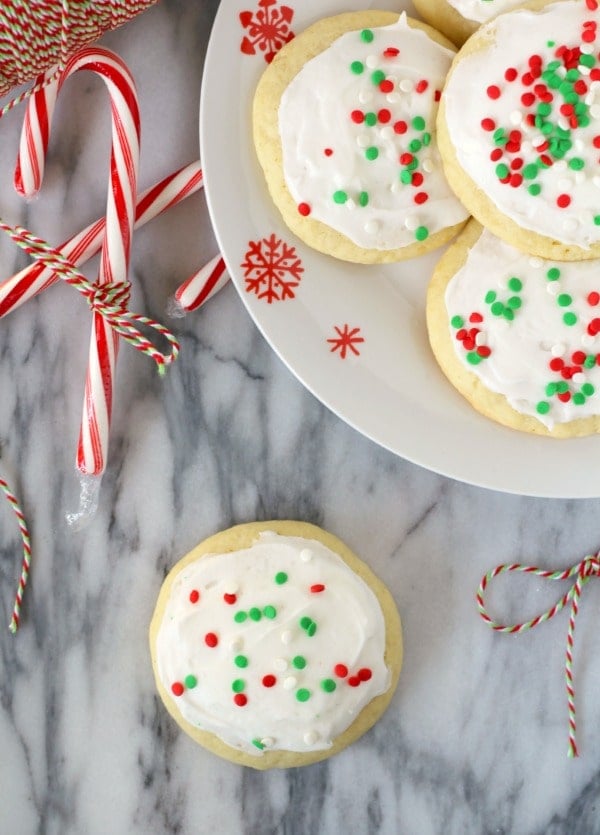 These are really quite simple to make at home. And what can beat a soft, sugary cookie with creamy icing and fun sprinkles? These will look beautiful on your cookie tray and they'll disappear quickly. Let's be real — cookies with frosting are always eaten before the other cookies. It's just a fact of life.
Peppermint Lofthouse Sugar Cookies
These soft sugar cookies are just like the Lofthouse cookies you find in your grocery store except with a fun peppermint twist for the holiday season.
Ingredients:
for the cookies
3/4 cup unsalted butter, softened
3/4 cup granulated sugar
1 large egg
1 egg yolk
1 teaspoon pure vanilla extract
1/2 teaspoon peppermint extract
1/2 teaspoon salt
2 and 1/4 teaspoons baking powder
2 and 1/4 cups all-purpose flour
for the frosting
2 and 1/2 cups powdered sugar
3 tablespoons unsalted butter, softened
1/2 teaspoon peppermint extract
4-5 tablespoons water
Sprinkles, optional
Directions:
In the bowl of a stand mixer fitted with the paddle attachment, Cream together butter and sugar until light in color and fluffy. Add in the egg, egg yolk, peppermint extract, and vanilla extract, mix until combined. Add in the dry ingredients (salt, baking powder and flour) and mix until just combined.
Chill dough for at least an hour in the fridge.
When ready to bake, preheat oven to 350 degrees Fahrenheit. Scoop out about two tablespoons of the dough and roll into a ball. Flatten ball slightly and place on a parchment paper or Silpat-lined baking sheet, about 9 per sheet. Bake for 10-12 minutes or until just starting to barely brown around the edges. Cool a couple of minutes on baking sheet before moving to a wire rack to cool completely.
When ready to frost, use a hand mixer (or a stand mixer) to whip together butter, powdered sugar, peppermint extract and water. Add water in one tablespoon at a time until a spreadable consistency is achieved. Spread over cooled cookies and immediately add sprinkles. Let frosting harden before storing in an airtight container. If they last that long.
Verdict: What is there NOT to love about these? I obviously adored these cookies.
Husband's take: No complaints from my man!
Changes I would make: None are necessary but these cookies give the perfect opportunity to play around with new flavor combinations.
Difficulty: Easy.
And while you're busy making up those cookie trays — don't forget to make your family a healthy dinner! I know it can be so hard in the hustle and bustle to get dinner on the table so I'm over on Eat 2 Gather sharing some of my tips. With a one-year-old (UMMM can we talk about the fact that he is ONE?!) and a three-year-old, getting dinner made is not always an easy feat! I shared 4 tips for making dinner that make my life a little easier. Hopefully they'll help you too!